Few things can beat a
homemade pound cake
baked to perfection. My sister and I baked this cake during a short vacation in Kottayam and we ended up with a beautiful, perfect pound cake that was gone in less than 10 mins – we have a large family who all love cake you see!
It was challenging. We braved lack of sufficient vanilla extract, too-small eggs, frequent power cuts that had me beat mixture in 5 intervals, and amma didn't have a loaf pan (her regular cake pan was too big for this amount of batter) so we improvised by using a steel vessel lined with aluminium foil. In hindsight, we could have made use of the method used in this steamed chocolate cake recipe.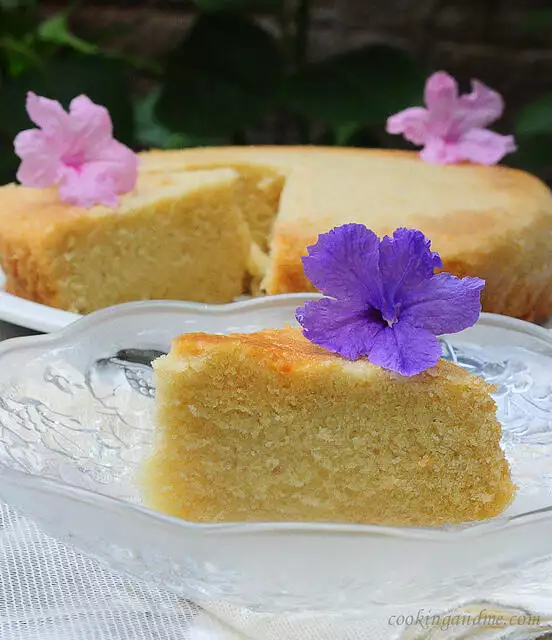 Thankfully the power stayed put while the cake was baking and it came out lovely, crumbly, and perfect as the recipe says. Our crust cracked but turned a lovely golden brown. What you see in the picture in an overturned cake.
We have chosen a recipe from The Cake Bible
, where Rose has come up with a new method of baking the pound cake, very different from the butter-sugar creaming and wet+dry ingredients, the usual cake route. This method, according to Rose, ensures a tight crumb.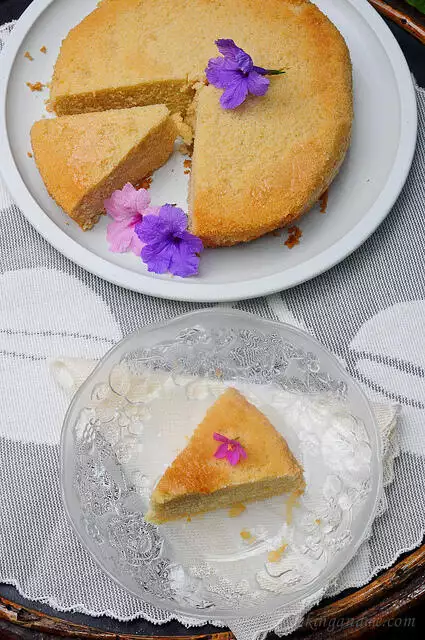 Perfect Pound Cake Recipe
Recipe source: The Cake Bible



Ingredients:
3 tablespoons Milk
3 large Eggs
1 ½ teaspoons vanilla essence
1 ½ cups sifted cake flour (150gm) – recipe for cake flour below
¾ cup sugar
¾ teaspoon baking powder
¼ teaspoon salt
13 Tablespoons unsalted butter, softened (184 gms)
Instructions:
1. Preheat your oven to 350 F. Butter an 8 inch by 4 by 2.5 inch loaf pan, or any six cup loaf or fluted tube pan.
2. Lightly whisk together milk, eggs and vanilla in a medium bowl.
3. Place dry ingredients in a large bowl and mix on low speed for 30 seconds, until blended. Add the butter and half the egg mixture, and mix until dry ingredients are moistened. On medium speed, beat for one minute. This will aerate and develop the cake's structure. Scrape down sides.
4. Add the remaining egg mixture in two batches, beating for 20 seconds between each addition. Scrape down sides.
5. Pour batter into prepared pan. Smooth surface with a spatula. Bake for 55-65 minutes (35-45 minutes if baking in a fluted tube pan), until a wooden toothpick inserted into the center comes out clean. Let cake cool on a rack in the pan for 10 minuets before inverting onto a greased wire rack. If using a loaf pan, flip the cake over so the top is up.
For making cake flour at home – Take one cup of all purpose flour and remove 2 tbsp from it.Replace the 2 tbsp flour with cornflour and sift together 2-3 times. Cake flour is ready to use.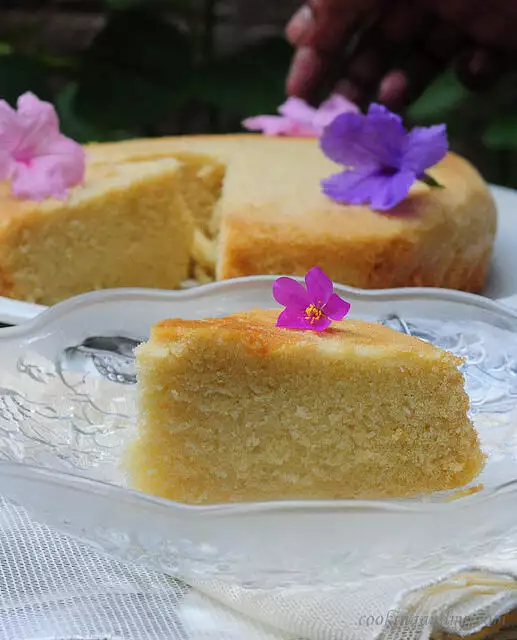 Thanks for baking with me sis!