While growing up, I was exposed to quite a wide variety of food thanks to my mom's interest in cooking and baking. It's funny, however, that she knew more continental and Indo-Chinese recipes than North Indian ones. For instance, she hardly cooked with paneer or rajma but vegetable fried rice was a staple in our home, made at least once a week. I distinctly remember a Kerala-style Pepper Chicken recipe that got passed to her by someone which was interesting because the look of the dish was western but the taste was really like nadan Pepper Chicken.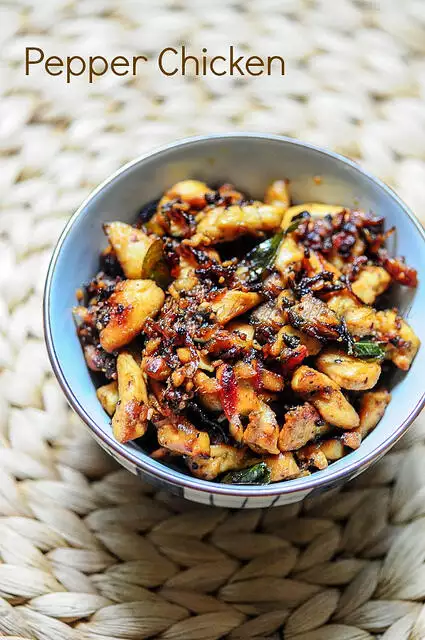 It was the same story with Indo-Chinese non-vegetarian recipes. She had quite a variety of recipes in hand and was especially good at making them. Back then, restaurants were fewer and her cooking was deemed truly restaurant-style.
This Pepper Chicken, however, is a humble concoction of her daughter, yours truly. There was some chicken at home, amma was not sure what to make with it and said I can do what I wanted. Ah, the golden words. Since we already had a couple vegetable curries for lunch anyway, I was under no pressure to match my chicken dish with anything – it could be anything I wanted. So this simple Kerala-style Pepper Chicken came to be.

Dry Indian Pepper Chicken Recipe-Pepper Chicken Masala Recipe
Preparation time: 10 minutes
Cooking time: 20 minutes
Serves 2
Ingredients:
250 gm of boneless chicken breast, cleaned and cut into long strips
1 cup of sliced onions
1.5 tsp of whole black pepper corn
1 tsp of fennel seeds (saunf / perumjeerakam)
1 tsp of coriander powder
1 tsp of chicken masala (or meat masala or garam masala)
3 cloves of garlic, crushed
1 small piece of ginger, crushed
1 tbsp of oil (preferably coconut oil)
1/4 tsp of mustard seeds
1 strand of curry leaves
1/2 tsp of vinegar or lemon juice
How to make Pepper Chicken:
1. Heat oil and add the mustard seeds. When they pop, add the sliced onions and sautè until they turn golden brown. I like the onions very nicely roasted so I let it stay longer.
2. Meanwhile, coarsely crush or grind the peppercorn and fennel seeds.
3. Once the onions are brown, add the pepper+fennel powder along with the coriander powder and chicken masala. Top off with the ginger and garlic. Fry for a minute.
4. Next, add the chicken pieces and curry leaves. Mix well and add 1/4 cup water. Let it come to boil and cook covered on low heat until the chicken pieces are soft and tender (about 15 mins). Make sure you give it a stir every now and then.
5. When the chicken is cooked, cook further leaving the pan open so that any extra moisture is absorbed. Remember this is a dry pepper chicken preparation. Finally add the vinegar or lemon juice along with salt, cook for another 2-3 mins, and remove from fire. You can add some more freshly ground pepper powder on top before serving the Pepper Chicken.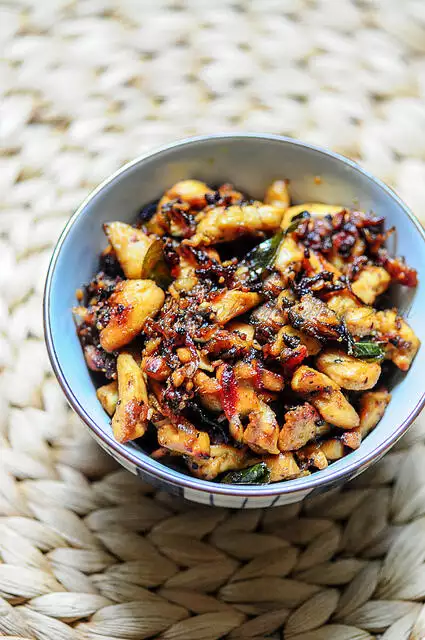 Serve Pepper Chicken hot with steamed rice, thoran, and mezhukkupuratti of choice.