Sundal to me is either
chana sundal
or
payaru sundal
. Although I saw the beach type sundal on Jey's and a couple other blogs, that was really the first I'd heard of them and I hadn't ever tasted it.
So it was a pleasant surprise when I landed in Coimbatore last week and my TH's mom had made pattani thenga mangai sundal (peas sundal with coconut and raw mango). It was delicious with small bites of sour mango pieces, softly cooked peas with coconut and was a great pairing with some spicy rasam and rice. It tastes great as it is for evening snack too.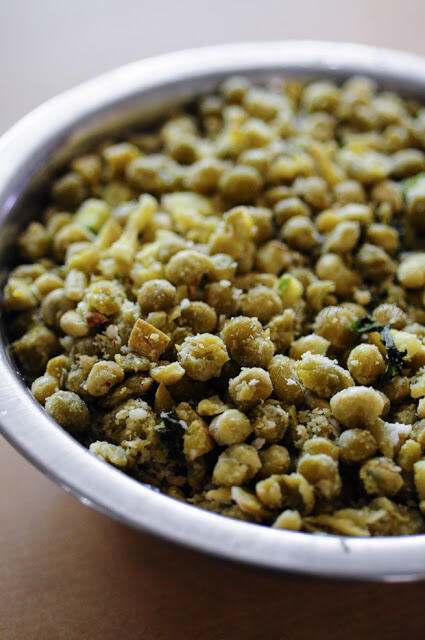 Ideally, you should use the white dried peas for this and not the green kind but she said due to Navaratri, the white peas was sold out in the nearby store! Green peas is a decent substitute and that's what we used.
Pattani Thenga Mangai Sundal (Green Peas Sundal Recipe)
Preparation time: 8 hours
Cooking time: 10 mins
Serves: 4
Ingredients:
1 cup dried peas (use white or green)
1/3 cup grated coconut
2-3 green chillies, split
1/4 cup diced raw mango
2 tsp oil
1/4 tsp black mustard seeds
A pinch of hing (asafoetida or perungaayam)
A few curry leaves
Salt to taste
Instrustions:
1. Soak the dried peas overnight or at least for 8 hours. Drain and pressure cook for 2 whistles until soft yet not mushy. It's safer to use an open pot with boiling water to cook the peas so you can check and stop when it's done. Sometimes, pressure cooking may overcook the peas.
2. Heat oil in a pan and add the mustard seeds. When they start to pop, add the green chillies and curry leaves. Fry for a few seconds and add the cooked, drained peas and the asafoetida along with the salt. Mix well and add the diced mango and coconut.
3. Let it sit on low flame until the moisture is completely absorbed. Serve hot.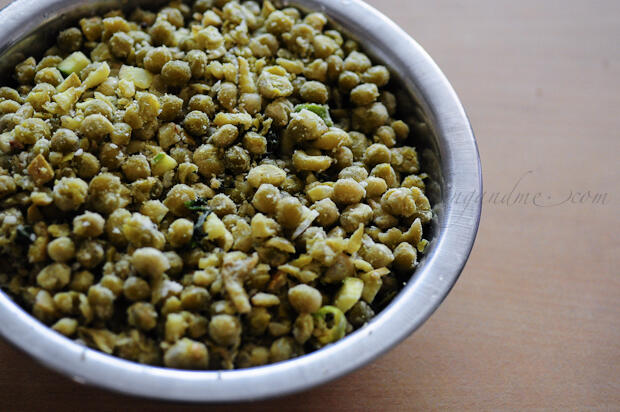 Pin