Papadom thoran is a very simple thoran recipe from Kerala but what makes this special is the fact that Amma made this for me, especially to post in the blog, the day she returned from the hospital after her knee replacement surgery. The recipe is from Ponnamma, the maid who took care of aAmma in the hospital. Amma is very adamant, didn't listen to any of us saying she should rest, and went and made this thoran, partially sitting on a chair in the kitchen.
This post is dedicated to her and all other mothers who selflessly love their children.
For more Kerala thoran recipes, check out cheera thoran (spinach), breadfruit thoran, black eyed beans thoran.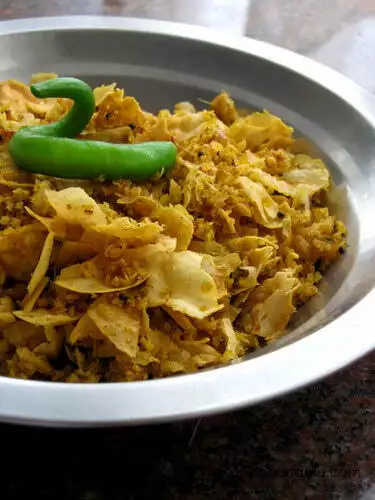 Pappadam / Papadom Thoran
Serves: 2
Ingredients:
10 pappadam, cut into squares (use clean kitchen scissors)
3 tbsp oil
1/4 tsp mustard seeds
1/2 tsp urad dal / uzhunnu parippu / ulutham paruppu
1/2 tsp jeera
2 cloves garlic
1/2″ piece ginger
1/2 red chilli powder
2 green chillies (adjust to taste)
4 tbsp grated coconut
A few curry leaves
Salt, only if needed
How to Prepare:
1. Heat the oil in a pan and fry the pappadam pieces. Drain and set aside on a kitchen towel.
2. If there's too much oil left, remove some. About 1-2 tsp oil is enough for the rest of the preparation. Add mustard seeds and urad dal to the hot oil. When the mustard seeds pop, add the jeera and the ginger and garlic (crushed together in a pestle and mortar or in a small mixie jar).
3. When the ginger-garlic paste is fried (about 2 mins), add the curry leaves, chilli powder, and the green chillies along with the coconut. Mix well and add the pappadam pieces.
4. Mix again for about a minute, test for salt and add only if needed. The pappadams should be salty enough.
Serve hot and fresh with rice and moru kaachiyathu / curry of choice. If you keep it longer, the papads get soft, but not soggy. Still tasty but I highly recommend that you eat it when still hot and crisp.