This is another recipe from Geeta Perima of the
instant sambar powder recipe
fame. A lot of you wrote in saying you tried it and loved it for its simplicity. This is another nice dish that she had made us for dinner on the night we landed. Paired with some mildly sweet Gujarati Khadi and potato chips, this made for an amazing dinner.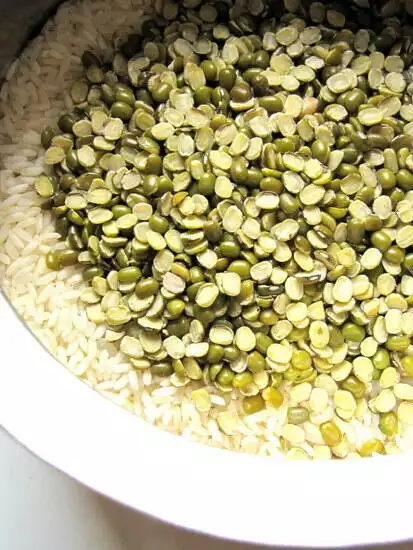 You'll need some good quality halved green gram and normal rice that you use every day. I bought this green dal from Bombay and it was so fresh and shiny and dirt-free!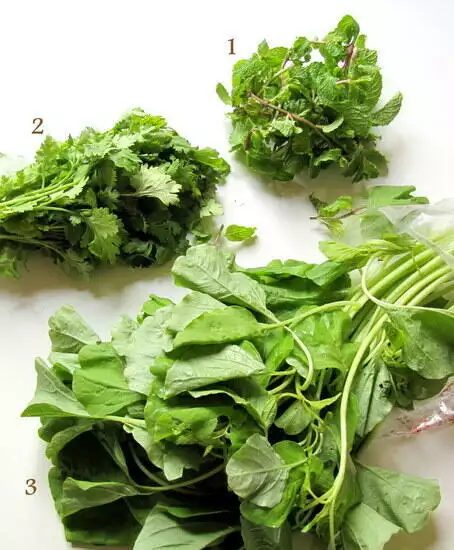 You'll also need three kinds of greens for the recipe:
1. Green spinach or palak
2. Fresh coriander leaves/cilantro or kothmeer/kothamalli/malliyila
3. Mint leaves/pudina.
I got all three bunches fresh from Little India, especially to make this dish myself 🙂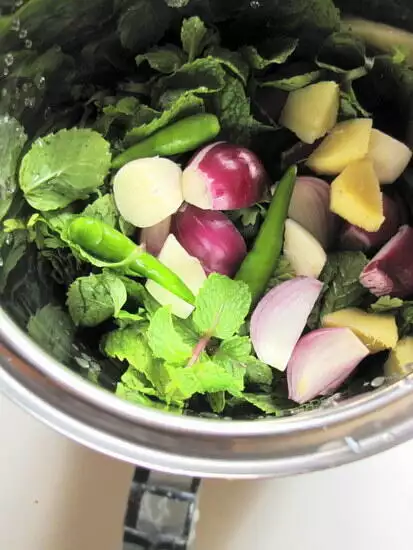 PinYou will also need to grind up some stuff. This is the essence of the recipe so, read on.
Palak Khichdi Recipe

Source: Geetha Perima

Serves: 2 to 3

What I Used:

2 cups rice

1 cup halved green dal (always use 2:1 ratio for rice:dal)

1 bunch green spinach, chopped fine

1 large onion, chopped

1 tsp jeera/cumin

1/4 tsp turmeric powder

1/2 tsp red chilli powder

1/2 tsp garam masala or goda masala

1 tsp ghee (optional)

1 tbsp oil

Salt to taste

To grind:

1 cup loosely packed fresh coriander leaves

1/2 cup loosely packed mint leaves

2 green chillies, or to taste

A 1″ piece of ginger

4 cloves of garlic

2 tomatoes

5-6 pearl onions/shallots

How I Made It:

1. Wash and soak the dal and rice together for 30 mins.

2. Grind all the ingredients under the 'to grind' list adding no water.

3. Heat the oil in a pressure cooker pan and add the jeera. When it splutters, add the chopped onion. Fry until golden brown. Then add the chopped spinach and stir until soft and wilted.

4. To this, add the ground paste and mix well with salt, turmeric, red chilli powder and garam masala. Let it cook for a min.

5. Now add the soaked rice and dal. Add 4 cups water. Cook for 4-5 whistles in the pressure cooker. If you are using a normal pan, make sure you cook covered until the rice and dal is cooked thoroughly.

6. While hot, mix in 1 tsp ghee and serve.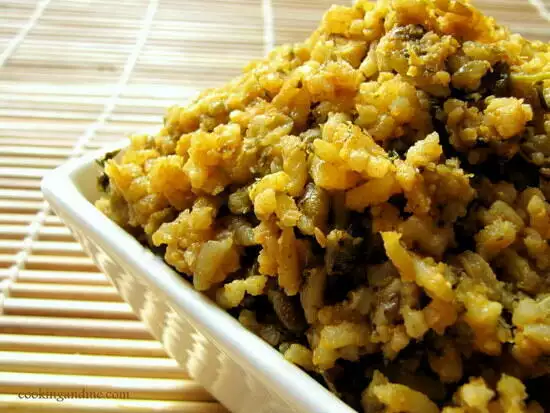 Best served with Gujarati Khadi. I had made some but the pictures turned out really bad so will post the next time I make it.