Kerala-style egg curry is a staple side dish for us every weekend. The base of the egg curry is very simple and extremely customizable. I use an equal amount of onions and tomatoes, more or less, to adjust the sweet and tangy flavours in the egg curry. Sometimes, if this is the only side dish I have for rice or roti (chapati), I add one potato, cubed. The potato adds a nice depth to the egg curry but it's totally optional too. You can pick your heat, either go with green chillies for a sharper spice kick or red chilli powder for a more overall rounded heat for your egg curry. Even with the eggs, there are few different things you can do. The most common way is, of course, to boil the eggs and add it to the gravy. I have also added it to the boiling curry poached-egg style. This way, the egg curry gets cooked much quicker.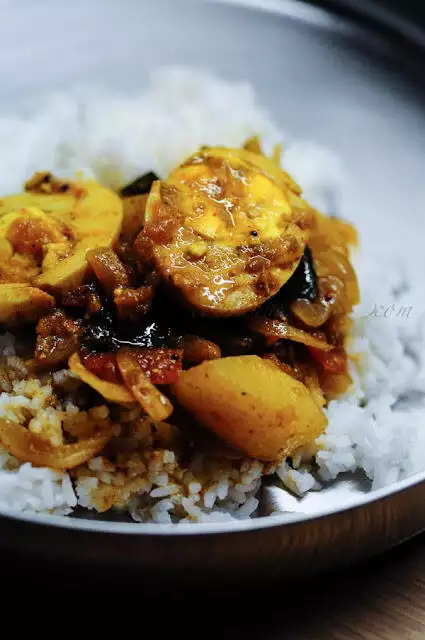 Kerala-Style Egg Curry with Potatoes, served on a bed of rice
I have served this egg curry with rice many a weeknight when the last thing I wanted to do was chop up vegetables or grind up a time-consuming masala. It also works great when you are spending some on time making chapatis and want a side dish that'll pretty much cook up on its own once you set it on the stove on simmer.
Also check out Malabar Egg Curry which uses coconut milk. If you love eggs as much as we do, click here for all egg recipes in Edible Garden. This egg biryani recipe is another favourite in my house.
Nadan Mutta Curry – Kerala Style Egg Curry Recipe
Serves 2
Ingredients:
Eggs : 2
Onions : 2
Tomatoes : 2
Green chillies : 3 sliced
Chilly powder : 1 teaspoon
Jeera powder (jeeraka podi) : 1/2 teaspoon
Dhania powder (malli podi) : 3 teaspoons
Ginger-garlic paste : 2 teaspoons
Oil : 3 tablespoons
Mustard seeds : 1/2 teaspoon
Curry leaves : one strand
Salt : to taste
Sugar : one pinch, optional
How to Make Egg Curry:
1. Boil the eggs, shell, slice and keep aside.
2. Heat oil, put the mustard seeds in to crackle. Saute the onions till they turn golden brown. Adding a little salt to it makes it wilt quicker (tip from my Grandmom).
3. Add ginger-garlic paste to the golden brown onions and fry for a minute. Then add the masala – chilly powder, jeera, dhania – green chillies, curry leaves, and fry well till the raw smell leaves the paste, which should take a good 3 minutes.
4. Once the masala is well cooked, add the finely chopped tomatoes and saute till it blends with the curry.
5. Add one cup water (or more if you like the curry thin) and bring to boil. Add the boiled egg and remove from fire after 2 minutes.
Note: I use coconut oil to make this curry sometimes and this gives it a more 'Kerala' taste. This egg curry goes well with almost anything – chappathi, parotta, rice, dosa, palappam, idli, puttu, etc.
Hope you all enjoy it!