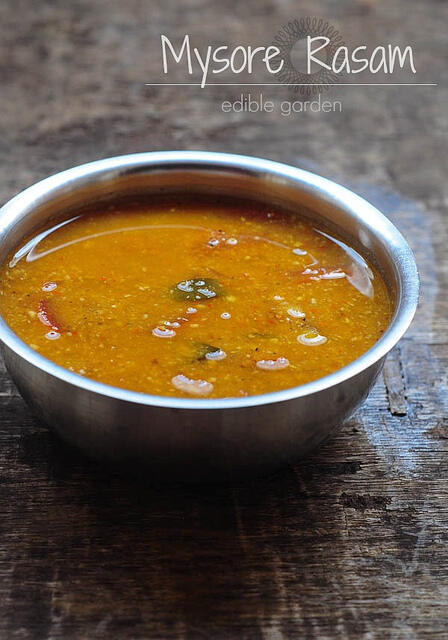 Mysore Rasam is a delicious rasam recipe with coconut in the fresh rasam powder. I had been meaning to try my mom in law's Mysore rasam for a while and she had even passed on the recipe to me long back but I never ended up doing it so I did what any self-respecting food blogger would do. I made her cook Mysore rasam and stood around taking pictures!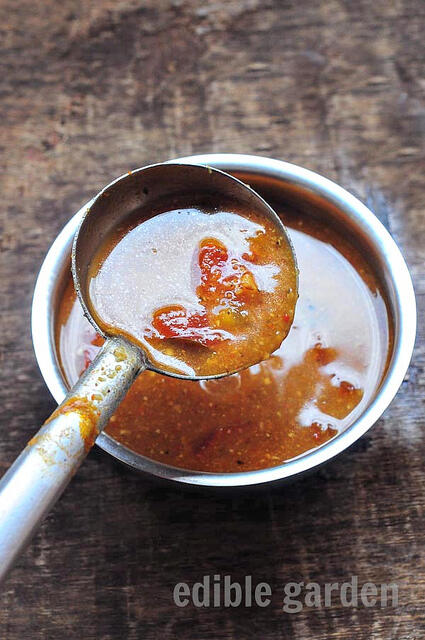 My mom in law makes amazing rasam so it's no surprise that the Mysore rasam was really amazing. She used freshly roasted rasam powder for it so the flavours were great and it was just the right amount of spicy vs sour. I really shouldn't have waited this long to get on board the Mysore rasam fan club.
Other rasam recipes I love – Pepper Rasam, Instant Tomato Rasam, Coconut Milk Rasam, and of course, Lemon Rasam.
MYSORE RASAM RECIPE
Preparation time: 5 minutes
Cooking time: 25 minutes
Serves 4
Recipe Source: Mom-in-Law
INGREDIENTS:
1 lime-sized ball of tamarind
1/2 cup of chopped tomato
1/2 tsp of turmeric powder
1/4 tsp of hing or asafoetida
A few curry leaves
2 tsp of ghee or oil
1/2 tsp of black mustard seeds
1/2 cup of cooked and mashed toor dal
To Roast and Grind:
1 tbsp of coriander seeds
2 tbsp of channa dal or kadala paruppu
2-3 dry red chillies
1 tsp of jeera or cumin seeds
1/2 tsp of whole black pepper
1/3 cup of grated coconut
1/2 tsp of oil
INSTRUCTIONS:
0. Soak the tamarind in 1 cup warm water for 10 mins. Extract juice by adding 1 more cup as you go and discard the seeds and pulp.
1. Heat oil in a pan and roast the ingredients listed under "to roast and grind". Make sure the dal turns a golden brown.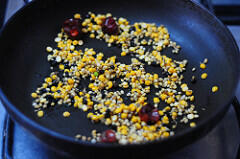 2. Turn off flame and add the coconut, stirring well to make sure it mixes uniformly with the rest of the roasted spices. Set aside to cool.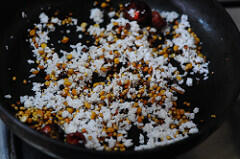 3. Meanwhile, add 1 more cup of water to the 2 cups tamarind juice and let it come to boil. To this, add the chopped tomato, turmeric, some salt, and the hing.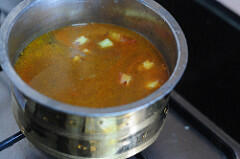 4. Once it has come to a boil, simmer for about 10-15 mins until the mixture is almost half its quantity and the tomatoes are soft.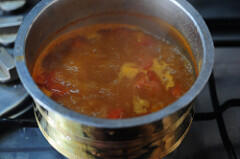 5. Meanwhile, grind the roasted spices + coconut mixture using no water. This is the base of Mysore rasam or Mysore rasam powder.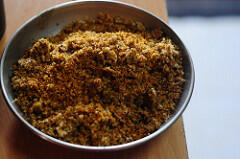 6. Add about 4-5 tbsp of the Mysore rasam powder to the simmering tamarind water.
7. Let it come to boil and immediately add the cooked and mashed toor dal. Mix well and adjust salt or rasam powder if required.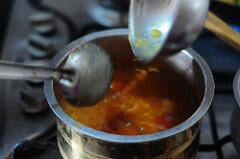 8. Add the curry leaves and simmer for another minute but not for too long, otherwise the flavour or the rasam will go down.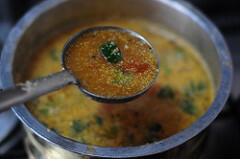 9. For tempering, heat the ghee in a small pan and add the mustard seeds. Whey they pop, dunk into the prepared Mysore rasam.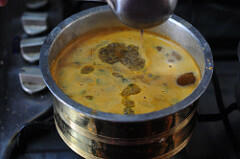 Serve Mysore Rasam hot with rice and any side dish like simple potato roast, beans mezhukkupuratti, vazhakka podimas, etc.