Mysore Masala Dosa is really just a spicier version of our good old potato masala dosa with the addition of a delicious red chutney specifically meant for masala dosa. Learn how to make Mysore Masala Dosa using this easy step by step recipe.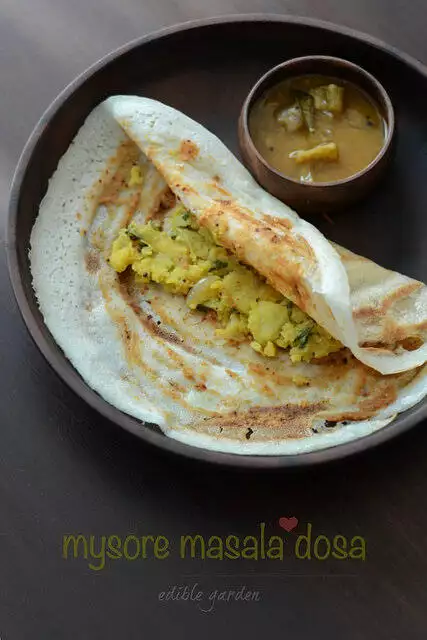 I've come to boil potatoes in bigger batches and make a few things with it, like potato masala, aloo bonda, and masala dosa. Since I almost always have dosa batter ready to go, making masala dosas has really become a breeze.
Ok, so a few things to remember to make Mysore masala dosa at home.
– You can prepare ahead by making the red chutney and potato masala filling in advance
– You can even make the side dishes like sambar a day ahead if you'd like but I recommend making coconut chutney fresh before serving
– The chutney can be stored in the refrigerator for up to 4 days and the masala can be stored for a day
– I like my potato masala for masala dosa on the drier side with lots of onions so my recipe will reflect that. Do adapt to your taste and consistency preference
– You can use the red chutney as a side dish for dosa and idli too, it's really delicious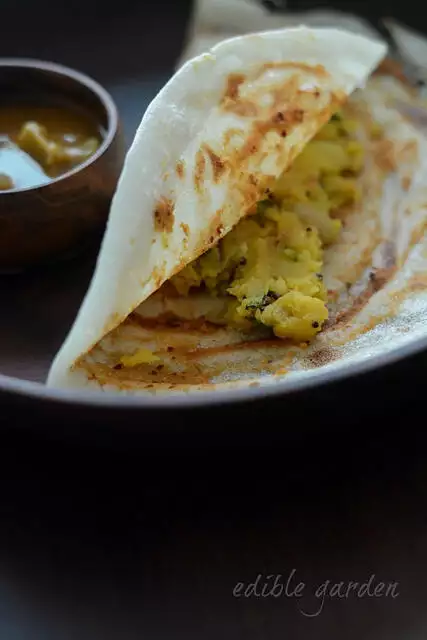 If you love dosa as much as my family and I do, I'd highly recommend checking out the following links:
– plain dosa recipe
– instant rava dosa
– masala dosa
– sago dosa
– no-grind dosa batter recipe
The following instructions assume that you have dosa batter ready to use. You can use store-bought batter but if you'd like to make your own dosa batter, please following the instructions in my detailed post.
Ok, now let's go make some Mysore Masala Dosa!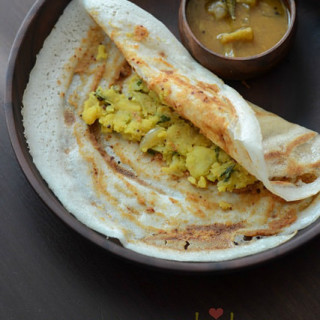 Mysore Masala Dosa Recipe
Mysore Masala Dosa is a classic favourite masala dosa recipe with a spicy red chutney slathered on the dosa before layering it with the potato masala filling
Ingredients
For dosa:
6

cups

of dosa batter

6

tbsp

of Indian sesame oil

gingelly oil
For potato masala:
2

of potatoes

boiled or steamed and mashed coarsely

1/2

cup

of sliced onions

1

tsp

of oil

1/4

tsp

of black mustard seeds

1/2

tsp

of split urad dal

ulutham paruppu

1/2

tsp

of grated ginger

1/4

tsp

of turmeric powder

1/2

tsp

of red chilli powder

adjust to taste

2

tbsp

of chopped coriander leaves

or use curry leaves

For red chilli chutney:

2-3

of dry red chillies

1/2

cup

of shallots

chinna vengayam, ulli or onions, chopped fine

2

tbsp

of roasted gram

pottukadalai

2

cloves

of garlic

A small piece of tamarind

1/2

tsp

of salt

or to taste

A pinch of sugar
Instructions
To make potato masala for masala dosa filling:
Heat oil and add the mustard seeds. When they pop, add the urad dal. Roast until golden brown.

Next, add the sliced onions and ginger and cook on low heat until soft and transparent. Do not fry or roast them, just about cooked softly is perfect for us.

Add the turmeric powder and some red chilli powder. You can also add chopped green chillies but we find it unpleasant to bite into green chillies when eating masala dosa so I generally use chilli powder for heat. Mix well and cook for a minute longer.

Now add the roughly mashed potatoes and salt. Mix well to combine everything.

Turn off heat and top off with the chopped coriander leaves. Mix again and set aside.
To make red chutney for masala dosa:
Grind together all ingredients - roasted gram, shallots, red chillies, garlic, tamarind, salt, and some water - to make a smooth paste. The consistency should be spreadable and not too watery so add water accordingly.
To prepare the Mysore masala dosa:
Heat an iron tawa (or non stick) and pour about 1/2 cup batter and spread into a thin circle.

Sprinkle sesame oil over the dosa and allow it to cook.

When the top of the dosa starts to cook and firm up, gently press down with a spatula to create an even top. This will help the dosa to cook properly since we won't be flipping it over.

Cover and cook on medium-low heat for another minute.

Next, spread about 1 tsp of the red chilli chutney over the dosa. You can use as much or as little as you'd like, based on your spice tolerance.

Then, add about 2-3 tbsp of the potato masala towards one side of the dosa. Flatten it a bit so that the dosa can be folded in half comfortably.

Gently fold one side of the dosa over the side with the masala and transfer to a plate.

Serve hot with sambar and chutney. I didn't make any chutney since I didn't have coconut in the house but masala dosa and dosa is really a fabulous combination by itself.
Step by step pictures for preparing Mysore masala dosa:
First, the potato masala:
Heat oil and add the mustard seeds and urad dal.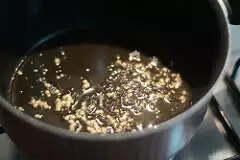 When the mustard pops and urad dal turns golden brown, add the sliced onions and ginger.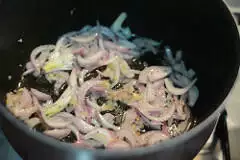 When the onions turn pink and soft, add the chilli powder and turmeric. Mix well.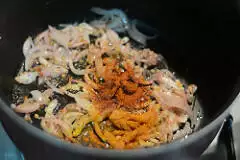 Then add the mashed potatoes and salt. Mix again to combine all ingredients. Turn off heat.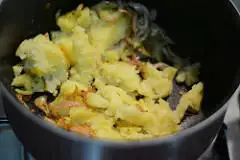 Add chopped coriander leaves and mix again.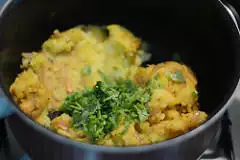 Set aside until needed.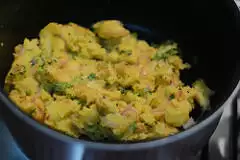 To make the red chilli chutney:
Add all ingredients for chutney in a small spice jar.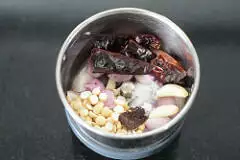 Grind to a smooth paste with little water. The chutney should be spreadable consistency. Adjust spice levels and salt to your preference.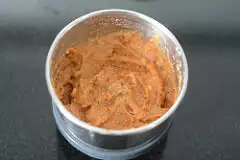 To make the masala dosas:
Heat your dosa griddle. Some use iron tawa and some use non-stick. Any of this will work. I use a traditional iron dosa "kallu" from TamilNadu. Once the tawa is hot, pour about 3/4 cup batter to the centre of the tawa and spread into a thin circle with the back of a rounded spoon.
Sprinkle a few drops of sesame oil over this and let it cook for 2 minutes or so on medium heat.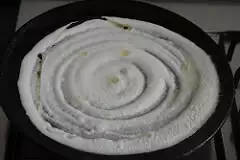 Once the top of the dosa has cooked somewhat, press down with your spatula to make it even. This is to ensure more even cooking since we won't be flipping the dosa. This is an optional step but I find that it helps. Now cook the dosa covered for another minute or so.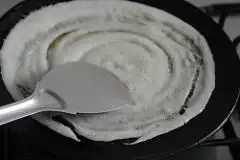 Then, add about 1/2 tsp to 1 tsp red chutney on the dosa and spread evenly. Depending on your spice preference and tolerance you can add more or less of the chutney.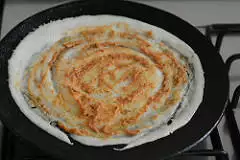 Then add about 2-3 tbsp of the potato masala towards one side of the dosa.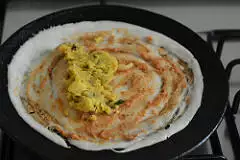 Gently fold the dosa and remove from the tawa.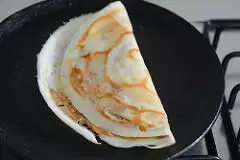 Serve hot with sambar and chutney.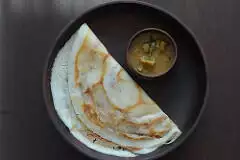 Mysore Masala Dosa ready! You can adapt the masala filling to your choice by adding more vegetables, omitting onions, etc. Even the red chutney is quite flexible and you can adjust the spice levels and such to your liking.
Drop a comment below or tag me on Instagram if you try this recipe 🙂
This post has been edited on 21st Feb 2015 with an updated recipe and better, step by step images.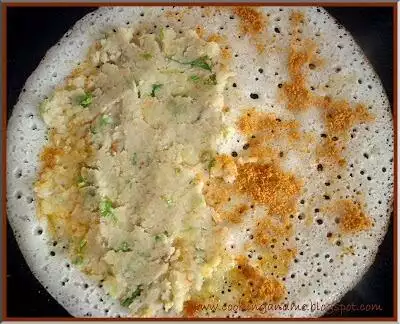 For Mysore Masala Dosa recipe in tamil, telugu, kannada, urdu, hindi, etc, please use the Google translate button in the sidebar.