I didn't even realise that something called Mysore Bonda existed until I was complaining to my MIL that I can never master the shape of ulundu vadai and end up making them into round blobs each time.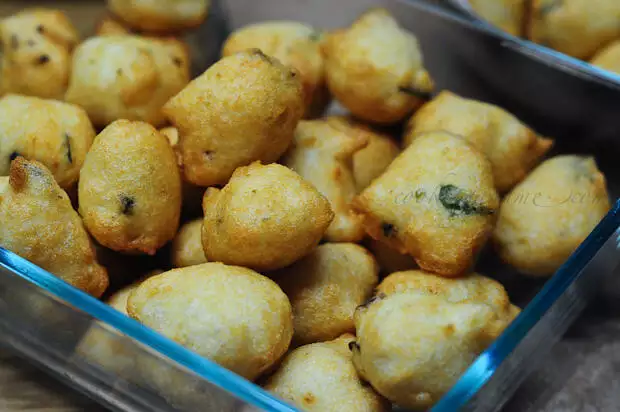 She suggested I just alter the recipe slightly and call them Mysore Bondas instead. Genius! So while I master getting the shape of ulundu vadai right, here's something I am going to use in the mean time.
Make no mistake, ulundu vadai (or medhu vadai) and Mysore bonda have the same basic ingredients but they do have some differences. For instance, we add fresh coconut pieces (thenga kothu) in Mysore Bonda that gives it a lovely texture. Also, our version uses no ginger.
Mysore Bonda or Ulundu Bonda Recipe
Preparation time: 2 hours
Cooking time: 30 minutes
Makes 20-25 bondas
Recipe Source: MIL
Ingredients:
1.5 cups of urad dal / ulutham paruppu / uzhunnu parippu
4 tbsp of fresh coconut pieces (thenga kothu)
2 of green chillies
1 tbsp of whole black peppercorns
A few of fresh curry leaves
Salt of to taste
Oil of for deep frying
How to Make Mysore Bonda:
1. Soak the urad dal in water for about 2 hours. Grind with little water to a smooth paste along with the green chillies and salt. The amount of water depends on the quality and age of the urad dal you are using. Don't add too much water or the bondas will become too oily. Add little at a time and if the dal is grinding up fine, stop there.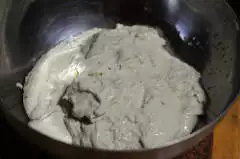 2. Add the peppercorns, coconut pieces, and curry leaves to the ground urad dal batter. Mix well. The batter looks a bit looser in the below picture because of the mixing we did, so no need to add water after grinding.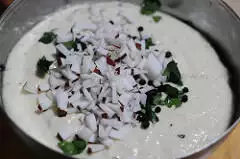 3. Heat oil in a kadai and add spoonfuls of batter into it. I just use my fingertips, take a small blog of batter, shape it roughly into a ball and drop it in. Start with one bonda to make sure it's hot enough. If the oil sizzles around the bonda as you drop it in, then it's ready. Don't make it smoking hot.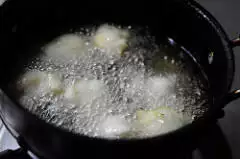 4. Fry until the bondas are golden brown. Don't overcrowd them in the oil, otherwise, they oil temperature will go down too much resulting in soggy oily bondas.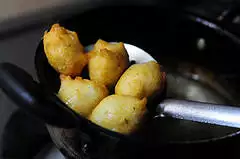 5. Drain on a kitchen napkin. I usually fry one and test it for spice/saltiness/doneness and then proceed with the rest of the batch.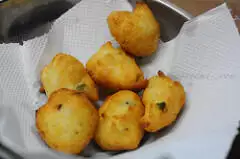 Notes:
– you can add some grated ginger to the batter if you'd like
– the fresh coconut pieces are a star ingredient so try to get your hands on some. grated coconut may not work so that's not a good substitute
– i served these with tomato thokku once and bottled vatha kozhambu from Grand Sweets another time. regular thenga chutney (coconut chutney) works well too
– serve hot or at least warm. if they sit for a bit, they get soft. still edible but definitely not as tasty