Learn how to make mushroom tikka, an easy starter or appetizer recipe with mushrooms that you can make in less than thirty minutes. Mushroom tikka shouldn't be confused with the delicious
mushroom tikkis
though, something I tend to make quite often for its ease of making and serving.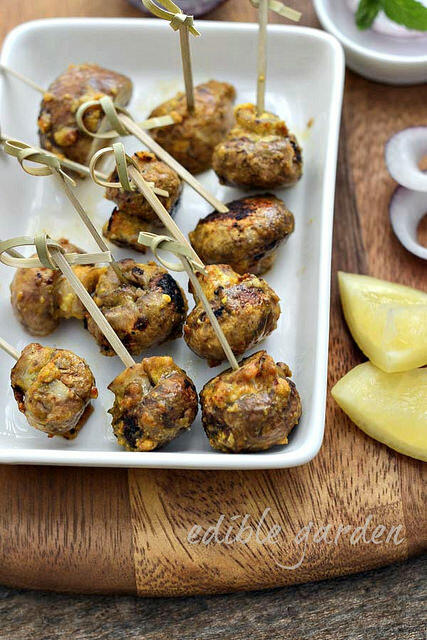 I love having people over for a meal and spend an inordinate amount of time planning the menu, adjusting the ingredients and dishes so there's something for everyone, and everything goes well together. Mushrooms are not a usual addition to my menu because I find that not many people love its texture and meatiness like TH and I do. If cooked right, mushrooms play really well with Indian spices and this mushroom tikka is a great example of that.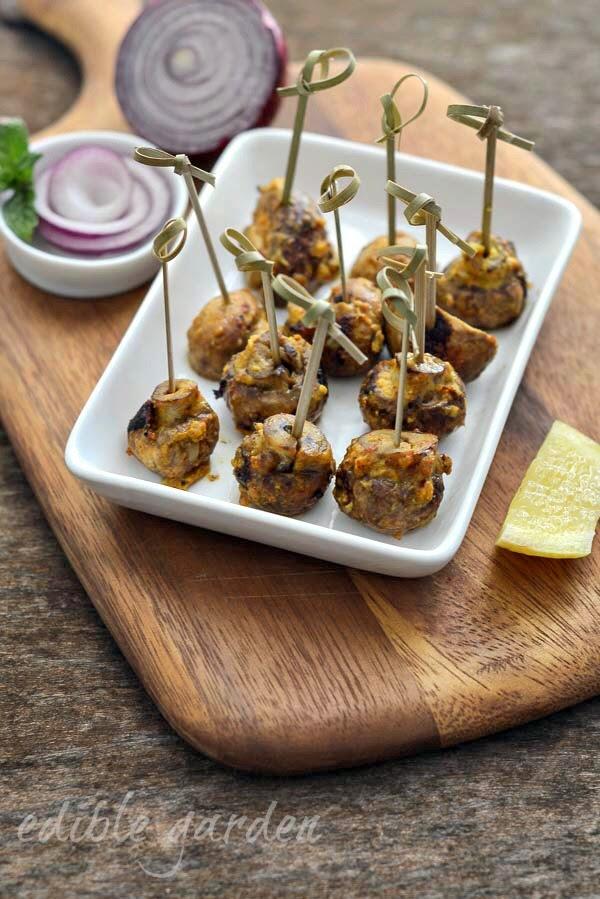 Mushroom tikka is very easy to put together and unlike paneer tikka, it doesn't need a lot of marinating time. I used super fresh shiitake mushrooms we got from the Orange Grove markets, one of my favourite farmers markets in Sydney. You can also use fresh button mushrooms to make this, make sure to pick small sized ones so they cook evenly.
MUSHROOM TIKKA RECIPE
Preparation time: 10 minutes
Cooking time: 10 minutes
Serves 2
INGREDIENTS:
15 small fresh mushrooms
2 tbsp plain curd
1/2 tsp red chilli powder (adjust to taste)
1/4 tsp roasted jeera powder
1/2 tsp garam masala or chaat masala
1-2 tbsp besan (gram flour)
1/2 tsp garlic paste
1/4 tsp ginger paste (optional)
4 tbsp oil
Salt
INSTRUCTIONS:
1. In Sydney, when you buy mushrooms, they give them in paper bags that have instructions on how to clean them. Apparently washing mushrooms makes them mushy when cooked so the best way to clean them is by brushing lightly to remove the dirt and dust. This is the method I use now to clean mushrooms. Do the same with whichever mushrooms you are using. Choose small, whole ones.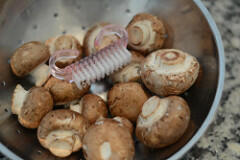 2. Add the remaining ingredients (except oil) to the above mushrooms and mix gently by hand.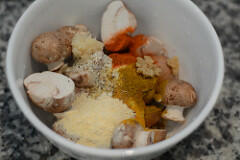 3. Set aside for a few minutes. I have even cooked them immediately with good results but for best results, leave this aside for about 30 mins to an hour.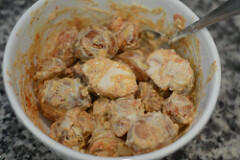 4. Heat the oil in a large pan (preferably cast iron) and either string the mushrooms on kebab sticks and roast grill them until browned or add as individual pieces until nicely grilled.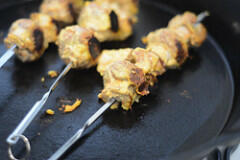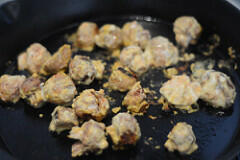 5. Stick toothpicks through the mushrooms and serve with green chutney, raw onions, and lemon pieces.