Mushroom Biryani is a great recipe to stray away from the usual vegetable biryani or egg biryani we all know and love. Learn how to make this delicious and easy mushroom biryani using very simple ingredients.
With all that talk of non vegetarian biryani yesterday, I simply had to share the Mushroom Biryani Recipe I tried a couple of weekends back. I usually follow a pretty standard recipe when I make biryani but I opted to make this one a bit more spicy and sour (with tomatoes) than usual. We loved it and I am making some more for a potluck tomorrow.
Mushroom Biryani can be made in advance and kept in the refrigerator for up to two days. I find that this elevates the flavours as they mingle together and when you reheat and serve it, it tastes fantastic. Mushroom Biryani is also a great recipe for lunch boxes and packing on a trip since it's a great one pot meal that few people would dislike. Just pack along a raita to accompany the mushroom biryani and you are all set.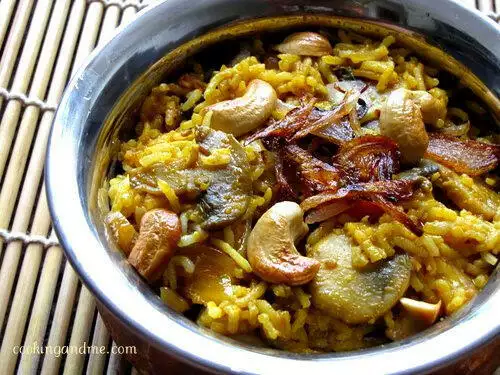 You may also like – mushroom fried rice, mushroom pulao, mushroom korma, and mushroom tikki recipe.

Mushroom Biryani Recipe
Serves: 2-4
Ingredients:
2 cups cooked basmati rice
1 cup chopped button mushrooms
1 large onion, sliced long
2 large tomatoes, pureed
1 tsp tomato paste (or tomato ketchup)
1/2 tsp turmeric powder
1/2 tsp red chilli powder (or to taste)
1 tsp garam masala / biryani masala
1 tbsp oil
1 tbsp butter / ghee (or another tbsp of oil)
Salt to taste
Grind Together:
1 onion
5 green chillies
1″ piece of ginger
4-5 garlic cloves
1″ piece of cinnamon
3 cloves
3 cardamom pods
A few stalks of coriander leaves (optional)
For Garnish:
1 large onion, sliced long and fried golden brown
A handful of tasted cashewnuts
Chopped coriander leaves
How to Make Mushroom Biryani:
1. Heat oil and ghee and throw in the onions. When they are golden brown, add the ground masala paste. Don't worry if some of the spices are not ground fine. Mix well until nicely fried, for about 2-3 mins. Then add the chopped mushrooms.
2. The mushrooms will give out some water, so cook until the mushrooms are soft and the water has all evaporated. Then add the chilli powder, turmeric, garam / biryani masala and fry for a minute. After this, add the pureed tomato and tomato paste / ketchup. Stir well and cook well until all the ingredients come together. No need to add water at any stage. Add salt.
3. Gently mix in the cooked basmati rice and garnish with the fried onions, cashewnuts and coriander leaves.
Serve Mushroom Biryani hot with raita.