A sweet and sour dal recipe with moong dal, one of my favourite ways to cook dal and serve with chapatis or rotis.
Towards the end of last year, I decided to cook my way through Raghavan Iyer's 660 Curries. Then I decided to wake up and get a life. That project, if I'd gone through with it, would have killed me for sure. I did make over a dozen recipes from the book as a start and this simple sweet and sour moong dal tadka is one of my favourites which I've made repeatedly since the first time I tried it almost a year back. This moong dal recipe also uses no onion or garlic, perfect dal recipe during fasting or if you avoid onion and garlic from your diet. You may also like this simple jeera dal, tomato dal with no onion or garlic, and a simple dal with watercress leaves.
There are thousands (millions?) of different ways to cook with dal or lentils in India and I have my small collection going on here in Edible Garden too. Pick your favourites from all
dal recipes
here.


Sweet and Sour Moong Dal Tadka
Preparation time: 5 minutes
Cooking time: 25 minutes
Serves 4
Recipe adapted from: The Amazing Book – 660 Curries
Ingredients:
1/2 cup of split moong dal / cherupayar / paasi paruppu
2 tsp of ghee or oil
1/4 tsp of mustard seeds
1 tsp of cumin seeds / jeera
1/2 tsp of red chilli powder (adjust to taste)
A large pinch of turmeric powder
1/4 tsp of asafoetida / hing
1 tbsp of grated jaggery, brown sugar, or sugar
1 strand of curry leaves
Salt to taste
1 large tomato, chopped into small pieces
Instructions:

1. Pressure cook the moong dal with turmeric powder until soft and mushy. You can also cook it in a pot with enough water to cover the dal. This will take you much longer, about 45 mins to an hour, to get the dal mushy and ready.
2. Heat the ghee or oil and add the mustard seeds. When they pop, add the curry leaves and the jaggery (or sugar), cumin seeds, asafoetida, and red chilli powder. Keep roasting the tomatoes until they turn soft and mushy – about 3-5 mins. Add salt.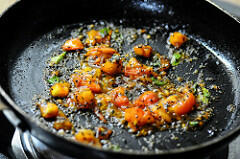 3. Add the cooked moong dal and mix well. Add more water and bring to boil if it's too thick. If too thin, let the dal cook on medium-high heat until the desired consistency is reached. Check for salt and remove from fire.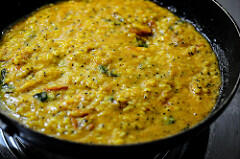 Serve hot with chapatis / rotis or jeera rice.
Raghavan's version doesn't have tomato added but I decided to add some to make the dal more tart. Tomato pappu with toor dal is one of my favourites and it really works well with moong dal too.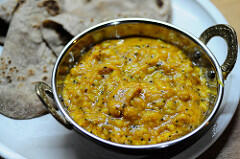 For this dal recipe in Hindi, Tamil, Telugu, Urdu, etc please use the Google translate button in the sidebar