It's been raining chocolate in the blogosphere for a while now. Not to mention all those delicious looking fruit cakes and yule logs.The moment I read about Bindiya's 'These are a few of my Favourite Things – Chocolate' event and AFAM – Dry Fruits, I knew what I had to make. This is my favourite, my best and the yummiest of all desserts. Its so easy to make that I used to make it when I was in the 8th standard. And many times over after that too.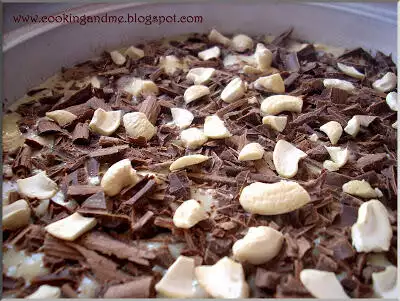 For some reason, we have always called it Mom's Delight at home. So here it is, presenting to you..
Mom's Delight Recipe
Ingredients:
Powdered Marie Biscuits – 1 cup
Grated Coconut – 4 tbsp (optional)
Sweetened Condensed Milk – 1/2 cup
Bittersweet Chocolate Shavings – 1/2 cup
**or Cocoa Powder – 3 tbsp
Dried Chopped nuts – 1/2 cup
Butter – 2 tbsp
Instructions:
1. Melt the butter and pour it into a pudding dish.
2. Layer the powdered marie biscuits and press lightly.
3. Sprinkle the coconut over it.
4. Pour the condensed milk gently on top of this.
5. Next layer is the chocolate. If you are using shavings, just lay it over the mixture. If using cocoa powder, mix it with a little condensed milk and pour.
6. Lay the chopped nuts on the top.
7. Bake for 10-12 mins. at 350 degree F/180 degree C.
8. Cool, cut and serve. Tastes delicious as is or even better with a scoop of vanilla ice-cream.
The pudding would be a little loose in consistency. I normally find it hard to cut it into perfect squares so just scoop it out and serve. It tastes awesome no matter what form you eat it in.