Recipe for simple mixed vegetable curry
– Amma makes different kinds of Mixed Vegetable Curries. Some of them use coconut or coconut milk and will be a South Indian Kurma style (recipe coming soon), some vegetables curries will be without coconut and just use very simple masala or spices that is usually served along with roti or chapati.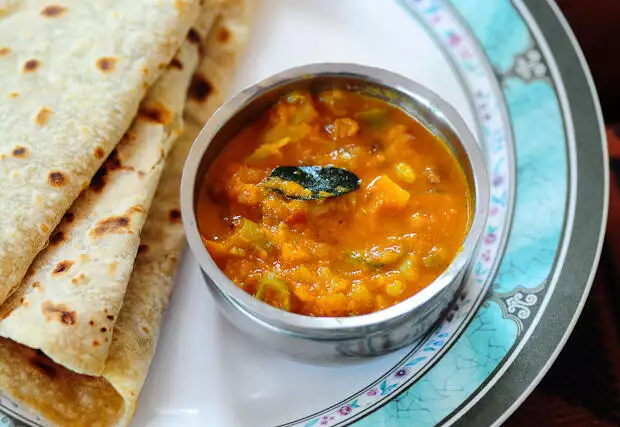 A couple of years back, she discovered Kalpasi. I searched online but didn't find more info on this spice called Kalpasi that's used extensively in Chettinad recipes and cooking.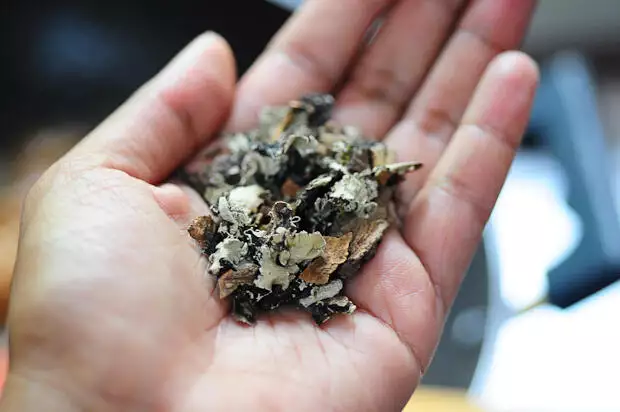 Kalpasi – A popular Chettinad Spice used in most Chettinad Recipes
It has a bark-like appearance but is spongy and doesn't have much flavour on its own if you smell it. But add it to a mixed vegetable curry and you have a terrific restaurant-style (Chettinad-style too!) mixed vegetable curry that needs no other spices or masala. Amma buys this from Trichy or Nagercoil when she visits family so it's definitely available in Tamil Nadu.
More info on Kalpasi or Dagad Phool: A bunch of you awesome people recognised Kalpasi and left notes in the comments section. I am moving some snippets here so others can benefit. Arundati says "Its called Dagad Phool in urdu. Extensively used in hyderabadi food and its a kind of lichen. Called Stone flower in english…. has a lovely woody fragrance and smoky aroma". Prathibha says "dagad phool is used in many Maharashtrian and Konkani recipes too".
If Kalpasi is not available where you live, you can, of course, add garam masala as a substitute. If you like Chettinad Recipes, you may also like this Chettinad-style Mushroom Masala Recipe.
Also check out: mixed vegetable kurma recipe, paneer korma, soya chunks kurma.
Mixed Vegetable Curry – Vegetable Curry Recipe – Chettinad-Style
Preparation time: 2 hours
Cooking time: 20 minutes
Serves 4 people as a side dish for roti / chapati
Recipe source: Amma
Ingredients for Mixed Vegetable Curry:
2 onions, sliced
4 cups of mixed vegetables (carrot, potato, beans, cauliflower, cabbage, peas, capsicum, etc)
2 green chillies, slit lenghtwise
1/4 cup of cow peas or black-eyed peas, soaked overnight (optional)
2 tomatoes, chopped
1 tsp of red chilli powder (adjust to taste)
1/4 tsp of turmeric powder
A generous pinch of kalpasi (dagad phool)
1 strand of curry leaves
A small bunch of coriander leaves
2 tsp of salt (adjust to taste)
1 tsp of ginger-garlic paste
2 tbsp of oil
1/2 tsp of sugar (optional)
How to make Mixed Vegetable Curry (Chettinad-Style):
1. Cut all the vegetables you are using into bite-sized pieces. You can use whatever you have in hand but capsicum (bell pepper), potato, and carrots are recommended.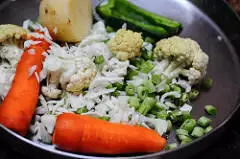 2. Add the vegetables, soaked cow peas (if using), salt and green chillies to a pressure cooker pan along with 1/2 cup water and pressure cook for one whistle.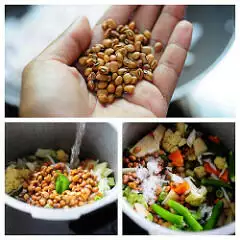 3. Meanwhile, heat oil and add the sliced onions (the oil quantity in the picture looks like a lot because amma was cooking for 12 people that day. I am giving the scaled measurement here). Fry the onions until golden brown and add the ginger garlic paste and kalpasi (or garam masala).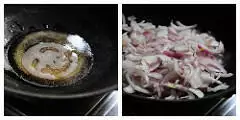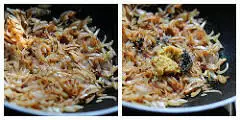 4. Fry this mixture for 2 mins and add the chopped tomatoes. Saute until the tomates are cooked and mushy. Then add the red chilli powder and turmeric powder. Fry for another minute.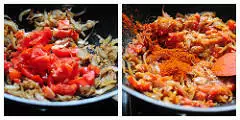 5. Cool this mixture, transfer to a small mixer and grind to a smooth paste. Set aside.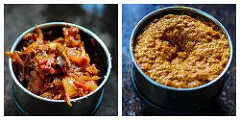 6. I hope you kept an eye on the pressure cooker with our vegetables! One whistle is usually enough to cook the vegetables but they still maintain their shape. Transfer the vegetables into the same pan used before and add the ground paste. Add water if required. Bring to boil. Adjust salt, add sugar and the curry leaves and chopped coriander leaves. Mix well and remove from fire.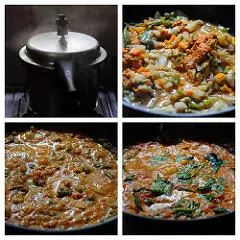 Serve hot with hot phulkas / rotis / chapati for a delicious and balanced dinner.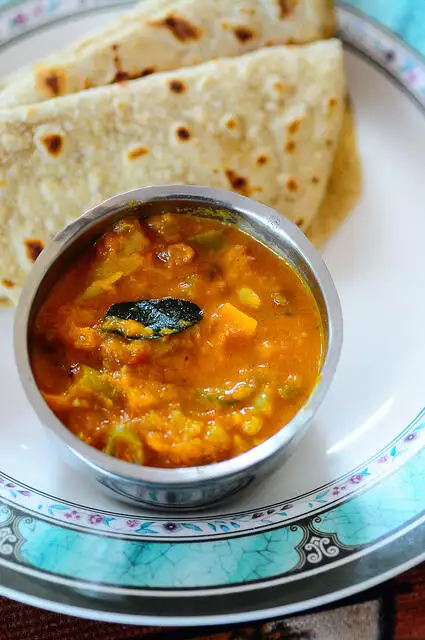 I love mixed vegetable curries of any sort simply because the flavours from any one vegetable doesn't dominate. Amma makes this Chettinad-style mixed vegetable curry very often since it's easy to make in large batches and tastes delicious with minimum spices and masala.