I love methi and its unique flavour. Although I stock up on kasuri methi (dried fenugreek leaves / vendhaya keerai) which is lovely for flavouring the likes of
Paneer Butter Masala
,
Paneer Tikka Masala
, etc. The fresh leaves are best for for making
Methi Paratha
(which I absolutely adore) and this Methi Pulao which is so very simple to prepare makes me a very happy person too.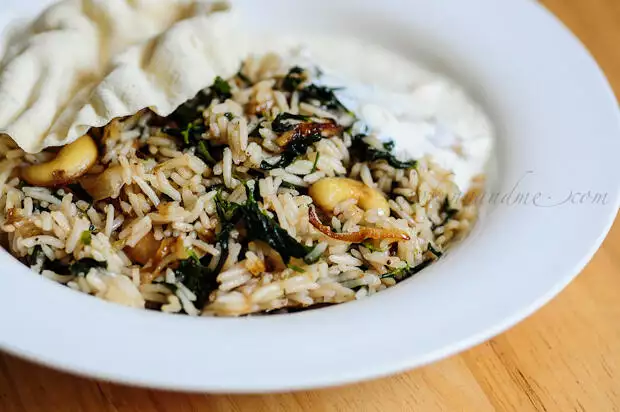 I often make pulao as a one-pot meal complimenting it with a simple raita and papad. This methi pulao doesn't have any vegetables in it so you may want to make a mixed vegetable raita or a side dish to compliment it. I love the flavours and wanted to keep it simple (I am also a very lazy person on a Saturday morning!), so served just this.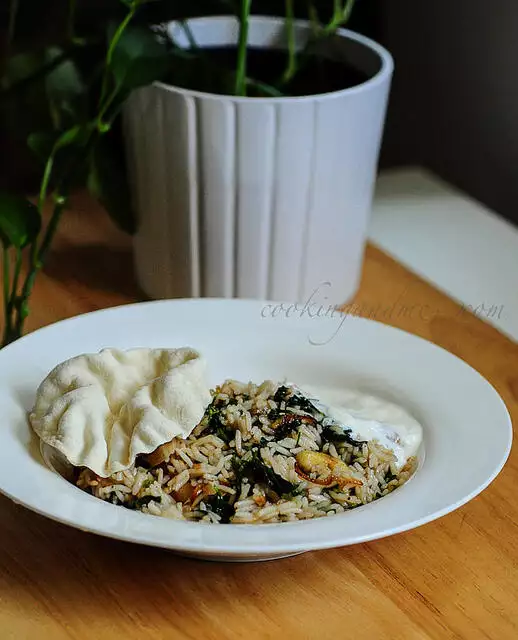 Methi Pulao-Methi Rice-Fenugreek Leaves Pilaf
Preparation time: 10 minutes
Cooking time: 30 minutes
Serves 2-3 people
Ingredients:
1.5 cups of basmati rice
1 bunch of fresh methi leaves (fenugreek leaves)
1large onion, sliced long
1-2 tbsp of ghee (make your own ghee)
10 cashew nuts
2 green chillies (adjust to taste)
1 small piece of ginger
3-4 cloves of garlic
1″ piece of cinnamon
3 cloves
3 green cardamom pods
1 cup of thick coconut milk (can use water too, but why would you?)
Salt to taste
How I Made It:

0. Wash the rice and soak in water for 30 mins while you go about the rest of the preparations.
1. Wash the methi leaves thoroughly and separate the leaves and thin stems from the thicker stems. Set aside.
2. Heat the ghee in a pan and add the sliced onion. Fry until the onions turn golden brown. Keep stirring the onions otherwise they will not uniformly brown. I do a million other things while frying onions so mine are definitely not uniformly browned. Don't be like me. Drain and set the fried onions aside.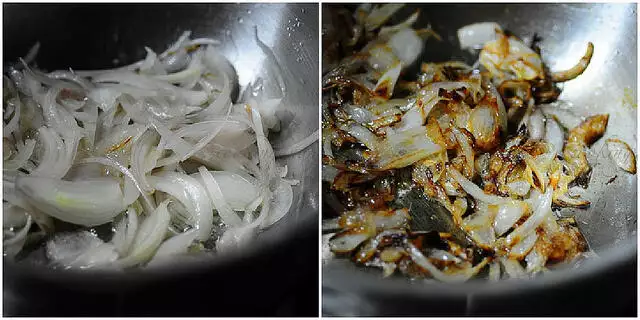 3. To the same pan, add the cashew nuts and fry until they turn brown. Drain and set aside along with the onions. Switch off fire.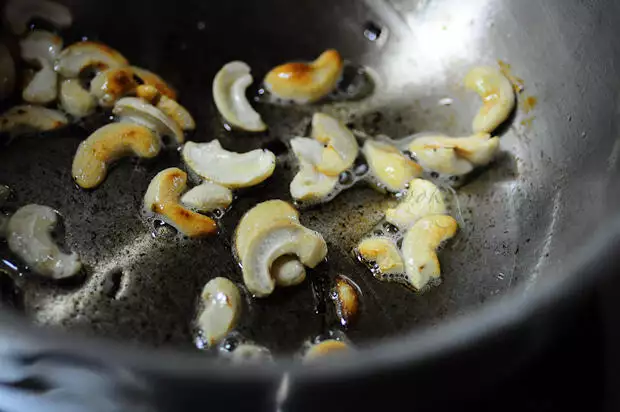 4. Grind the green chillies, ginger, garlic, cinnamon, cloves, and cardamom into a course powder. Turn the pan back on heat and add this ground masala paste to the ghee. You can add more ghee if you feel like you need it but I got through the entire pulao in 2 tbsp ghee (that's not a small quantity anyway).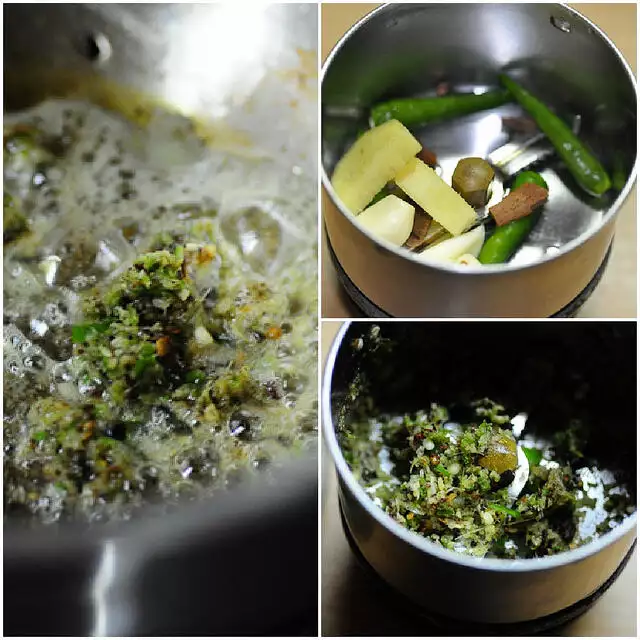 5. Fry the masala for a minute taking care not to burn it. Then add the washed and drained methi leaves and stir-cook until the leaves start to wilt.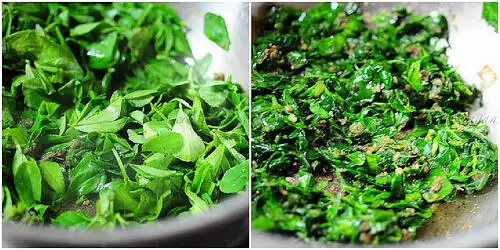 6. Next, add the soaked rice and the coconut milk. Top up with another 1.5 cups of water and salt and mix well.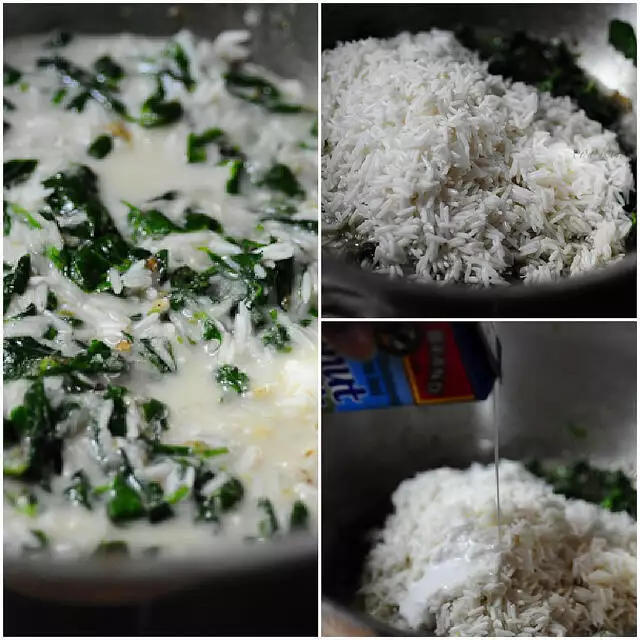 7. Cook covered on low heat for about 12 mins stirring a couple times in between if you need. The rice should be cooked yet firm and retain its shape. The time will depend on the quality of rice and the heat, etc so keep an eye on the dish starting from 10 mins. If the rice is cooked and there's moisture left, cook in the open pan until it's all absorbed.
Once done, switch off flame and add the fried onion and cashew nuts. Stir gently.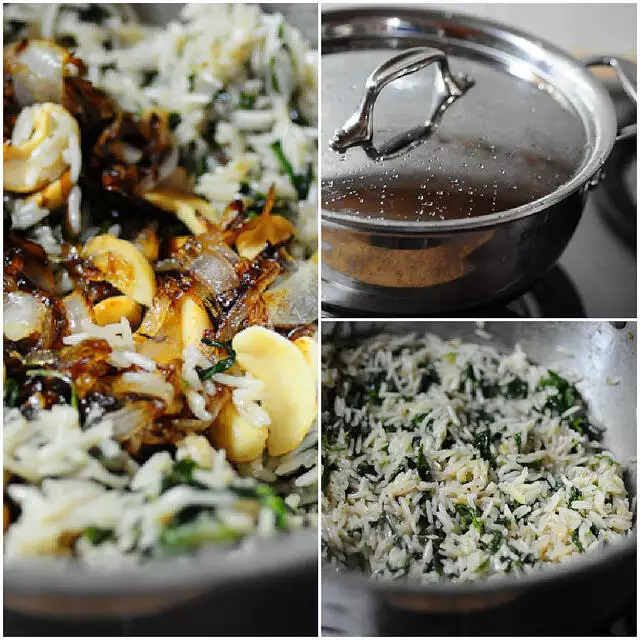 Serve hot with papad and a simple raita.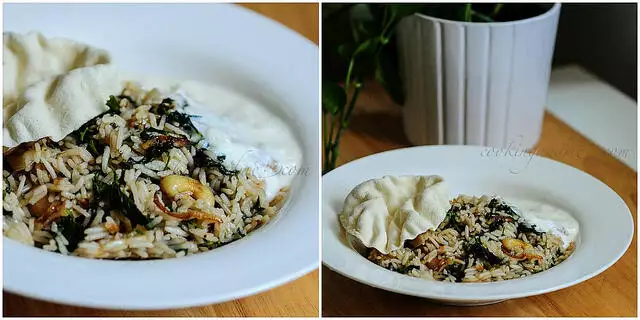 Lovely!
What's your favourite recipe with methi leaves?