Melon pan, melon bread, or melon bun is a popular Japanese bread (also popular in Taiwan, Hong Kong, etc) that's basically buns covered in a crunchy cookie crust. Interesting, eh? The method for making these melon pan buns seemed a bit complicated when I read the recipe but once I started making them on a Saturday morning, I realised it's really nothing but making a basic bread dough, some cookie dough, and layering them before baking. The resultant buns were soft inside and crunchy outside, a perfect tea (or coffee) time snack.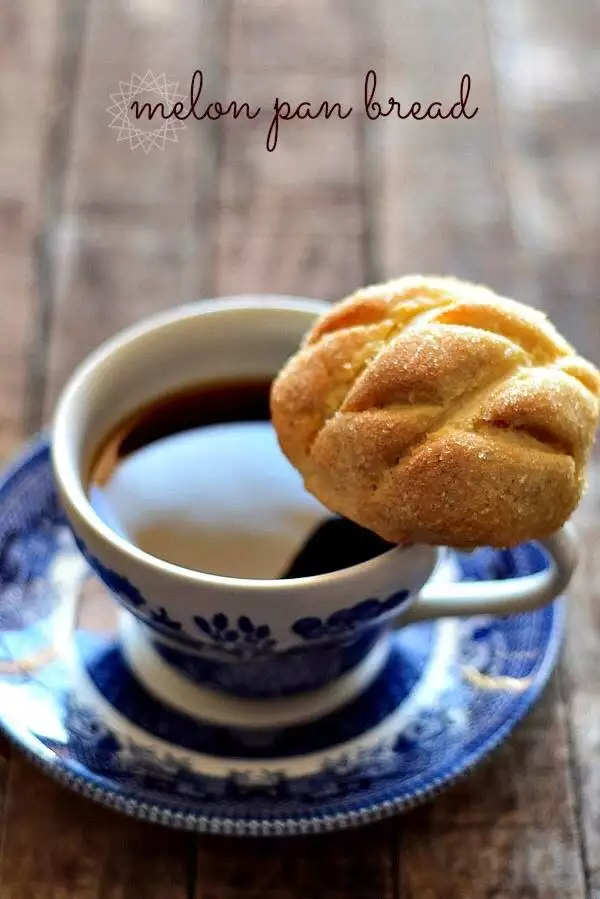 The criss-cross design on the buns make it super adorable and I chose to make them into smaller, almost two-bite-sized buns. While they are best eaten fresh and preferably warm out of the oven, you can warm them slightly before serving if keeping them for the next day. I don't recommend storing these buns beyond 2 days.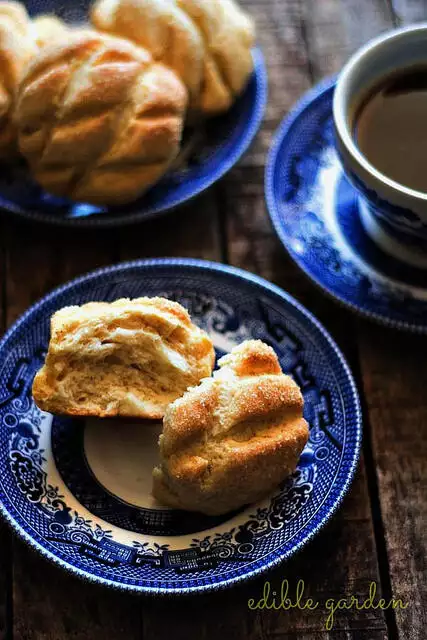 If you are looking for more simple bakes, check out these eggless garlic rolls, Indian pav, or just browse all bread recipes so you can pick for yourself.
MELON PAN BREAD RECIPE
Preparation time: 2 hours 30 minutes
Cooking time: 20 minutes
Makes 10 small buns
Recipe adapted from various sources
INGREDIENTS:
For bread dough:
1 3/4 cups all-purpose flour (plus extra for dusting)
2 tbsp milk powder
1 tsp instant yeast
1/2 tsp salt
1/3 cup cold water
1 egg, beaten
1 tbsp sugar
25gm butter, at room temperature
For cookie dough:
1 1/3 cups all-purpose flour
3/4 teaspoon baking powder
A large pinch of salt
60gm butter, at room temperature
1/3 cup sugar (this makes a sweet bun)
1 egg
1/2 teaspoon vanilla extract
Sugar for dusting (I used raw sugar)
INSTRUCTIONS:
To make the bread dough, whisk together the flour, powdered milk, yeast, and salt in the bowl (or the bowl of your stand machine if using one). In a smaller bowl, beat the egg and cold water together with a fork till well blended. Add this to the flour mixture in the bowl.
Knead (on low speed in the machine) till it all come together as a dough and then (on medium speed) until you have a somewhat stiff dough.
Add the sugar and knead well.
Now add the soft butter and knead (first at slow speed and then on medium) until the butter is completely incorporated into the dough and the dough becomes smooth and elastic. I transferred it to a board dusted with flour and kneaded by hand for 5 mins until it became soft.
Transfer to a lightly oiled bowl and keep covered in a warm place for an hour or until about 50% puffed up.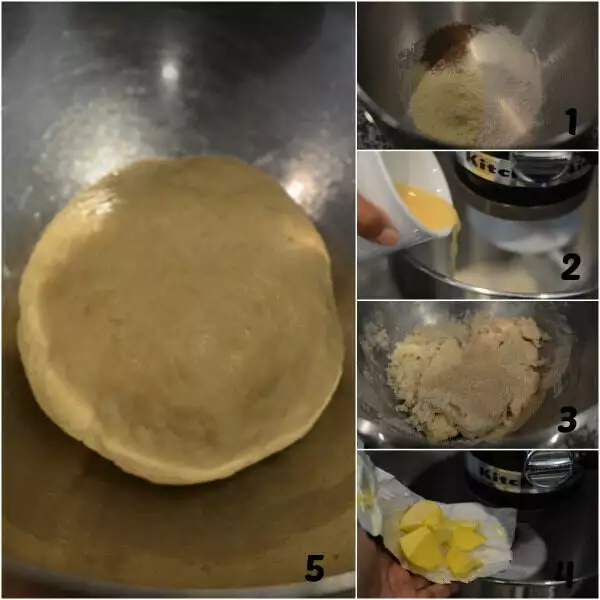 While the dough rises, make the cookie dough. In a bowl, cream the soft butter and sugar till well combined. Add the egg and vanilla extract and beat till combined.
Whisk together the flour, baking powder and salt in a separate bowl and add this to the bowl. Mix together until just combined.
Shape the dough into a cylinder (this will make the dough easy to divide and cut out later), and wrap in cling film. Refrigerate the dough until required.

Once the bread dough has risen, take it out of the bowl, flatten it gently with your fingers, and divide into equal balls. You can decide the size of the buns at this time.
Take out the cooke dough from the refrigerator and cut into equal pieces. Place each piece between two pieces of cling film and press down with the bottom of a small round container. This will form a dish of cooke dough (keep it to about 1/4″ thickness).

Make smooth balls of the dough and place the cooke disc over it. Press over gently and bring to the bottom so the dough ball is mostly covered.
Dip this in sugar until generously coated.

Make criss-cross patterns with a knife, making sure it's deep enough to reach down to the dough layer inside (or else the dough will rise and the pattern will be lost). Repeat with all dough balls and cookie dough discs. Place on a greased or lined baking sheet. Let this rise for another hour.
Meanwhile, pre-heat oven to 350F/180C. Bake the risen buns for 15-20 mins (longer if you shaped them larger) or until the top turns a light golden brown.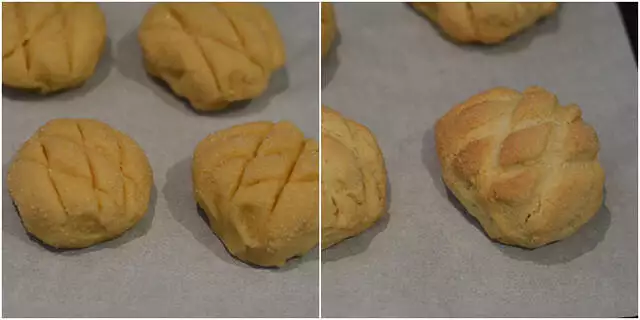 Serve warm.
Notes:
This video gives an idea of how to knead, shape, and make the buns. The recipe used above is a bit different
You can add chocolate chips to the bread dough for a variation. Adding lemon zest to the cookie dough gives it a nice zing too.