Recipe for meen peera or meen pattichathu
. I love Kerala-style fish cooked with coconut and if asked what I'd like for dinner, I'd either opt for the
Kerala Fish Fry
or this meen peera or meen pattichathu. You can use a variety of fish with bones for this recipe but it works especially well with netholi (also called uzhuva or large anchovies).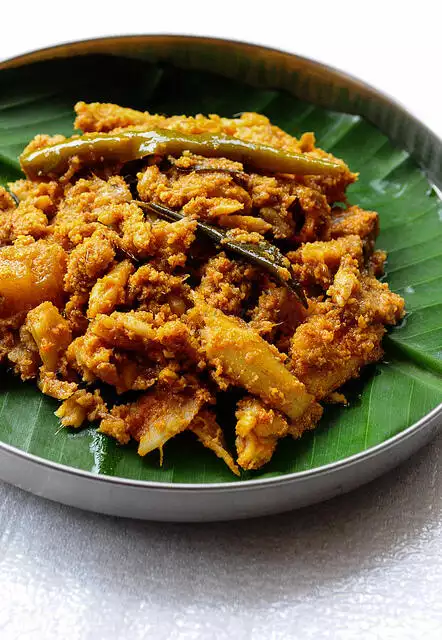 Each time I head home to Kottayam, amma makes it a point to cook this up with whatever fish is available. I do feel that to get the authentic taste we get in Kerala, especially for fish dishes, it's essential to get the freshest fish possible and the amazing sweet coconut that grow back home. The frozen kind we get outside just don't cut it, especially for recipes that concentrate on simple flavours such as this one.
For more fish recipes, check out Kerala fish curry (without coconut), spicy prawn masala,
Amma uses coconut quite liberally in her dishes and this one is no exception. If you want to have more fish and less coconut (she uses them in almost equal quantities), then please adjust that as you prefer.
Meen Peera Recipe
Preparation time: 20 minutes
Cooking time: 20 minutes
Serves 4-6
Recipe source: Amma
Ingredients:
500gm of fish with bones, cleaned and sliced (we used anchovies which can be used whole with heads removed)
3 kudam puli – the blackened tamarind that's used in most Kerala fish curries
4-6 green chillies, depending on taste
1 cup of grated coconut
3 cloves of garlic
6-8 shallots / cheriya ulli
1″ piece of ginger
1/4 tsp of turmeric powder
A few curry leaves
2 tbsp of coconut oil
Salt to taste
Instructions:
1. Grind the coconut, garlic, shallots, ginger, turmeric, and chillies together into a coarse paste with some added water.
2. Add the cleaned fish, ground coconut paste, kudam puli, and salt to a wide pan and mix gently until combined. Bring this mixture together with a spatula and press down firmly, keep flame on low and cook covered until the fish is cooked and soft – depending on the type of fish used, this will take anywhere between 12-20 mins.
3. When done, add the coconut oil and curry leaves, mix gently, and keep covered until ready to serve.
Note – if raw mangoes are in season, Amma adds a few pieces of that for sourness instead of the kudam puli. It's delicious and pairs well with the fish and coconut.
Meen peera is a wonderfully light yet flavourful fish recipe from God's Own Country. Can't wait for my next vacation! 🙂