Learn how to make Masala Vada or Vadai, a popular South Indian tea time snack of soaked and ground chana dal mixed with onions and masala which is then shaped and deep fried.
Masala vadai or medhu vadai is a choice that's often as confusing to South Indians as coffee or tea but sometimes, the preference is strong and clear. I have always liked masala vadai better whereas TH wouldn't even think twice before reaching out for his medhu vada. I love either types of vadai with some spicy green chilli coconut chutney. That combination is just out of this world!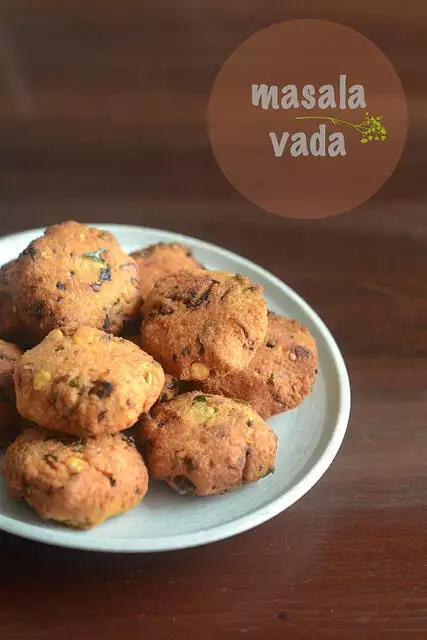 Masala vadai is also a popular festival snack prepared during Navratri or Diwali and the onion is usually omitted during these times. Check out 12 popular Navratri recipes here.
Interestingly, the popular Kerala team time snack parippu vada is made with peas dal rather than chana dal but the rest of the process is very similar. I find these vadais a very welcome snack to whip up if I am expecting guests. Apart from soaking the dal, the time taken to make these is very minimal and the results are sure to please pretty much anyone.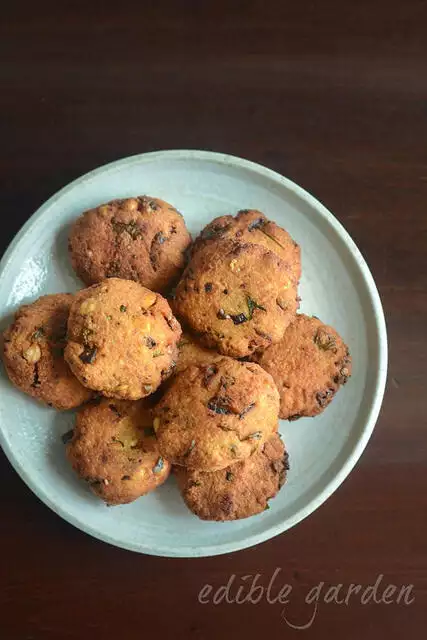 The only tricky part in making masala vada is the temperature used to fry them. This needs to be optimal so that the outside gets crispy and the inside is cooked yet soft. Now, as you may know, Indians don't check the temperature of their oil with gadgets before frying – ever! That just isn't something that we do so the best bet is to follow a few easy tips to get gorgeous golden and crisp vadas.
Depending on the quantity you are drying, choose a deep wok or kadai
Add enough oil to submerge the vada fully. That's the whole point of deep frying anyway. Since vada are thin discs, this shouldn't need a lot of oil
Drop a bit of vada batter into the hot oil and see if it immediately sizzles up. If so, the oil is ready. If not, heat longer
Once the oil is ready, add the vada one by one making sure there's no overlapping or overcrowding
Adjust the heat once the vada are half done, if you feel like they are getting too brown along the edges then the heat needs to be lowered. If the sizzle is not strong enough, increase the heat. You would need to adjust this as you fry the vada in batches.
Remember: when you drop the fresh vada in, the temperature of the oil will get a lot lowered so adjust heat accordingly
Ok with that out of the way, let's look at some deep fried Indian snack recipes that you are sure to love:
Ulli vada
Kerala parippu vada
Banana kofta
Methi pakoda
MASALA VADA RECIPE
Preparation time: 2 hours
Cooking time: 15 minutes
Makes 12-15 vada
INGREDIENTS:
2.5 cups of chana dal (split bengal gram, kadalai paruppu, kadala parippu)
3-4 dry red chillies (adjust to taste)
2 tsp of minced garlic (3-4 flakes of garlic)
A small piece of ginger
1/2 cup of finely chopped onoins
1/2 tsp of fennel seeds
2 tbsp of chopped coriander leaves
A few curry leaves, torn into small pieces
Oil for deep frying
Salt to taste
INSTRUCTIONS:
Soak the dal for vada for a minimum of 2 hours. Chana dal is a hardy legume and takes longer than regular lentils to soak. Use warm water to speed up the process if you are pressed for time
Prepare all the other ingredients as the dal is soaking
Grind the ginger, garlic, and chillies together into an almost smooth paste. Make sure no large chunks are left behind since that may burn in the oil when you are frying the vada
Set this paste aside and grind the chana dal without adding any water. Make it a smooth paste for uniform frying but you can reserve 1-2 tablespoon soaked dal to add to the batter late for some texture.
Add the ground dal, chilli-ginger-garlic paste, onions, fennel seeds, coriander leaves, curry leaves, and some salt to a bowl
Mix well with your fingertips until well incorporated
Taste the batter and adjust salt if needed
Dip your fingers in water and take a lemon-sized amount of the batter
Shape into a ball and flatten with your palms to form a fairly fat disc
Place on a plate and repeat with the rest of the batter to get uniform-sized vada discs
Keep covered as you heat the oil
Follow tips I have outlined above as you deep fry the vada in small batches without overcrowding them
Drain and set aside on a plate lined with paper towels
Serve hot
Step by step pictures to make Masala Vada
Soak chana dal in warm water for minimum two hours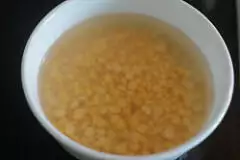 Grind together ginger, garlic, and red chillies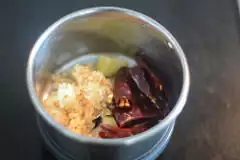 Make a coarse paste (do not add water) and set aside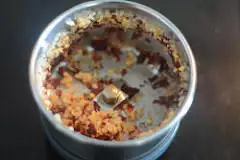 Once the dal is soaked, grind into a smooth paste.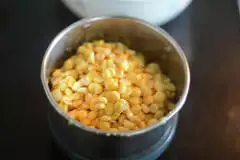 Do not add any water while grinding and ensure that the ground dal is mostly smooth. If the mixture gets too dry and heats up the grinder, add few drops of water to help it along.
Reserve 1-2 tablespoon whole dal if you wish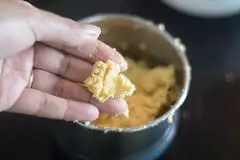 Transfer the ground dal to a bowl and add chilli-ginger-garlic paste, onions, fennel seeds, coriander leaves, curry leaves, and some salt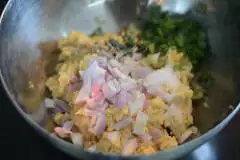 Mix well and your dal batter is ready. It shouldn't be too moist and should be able to shape easily.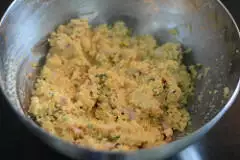 Make lemon-sized balls and flatten between your palms.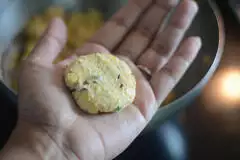 Heat oil and when ready, drop the vada gently into it. They should immediately sizzle up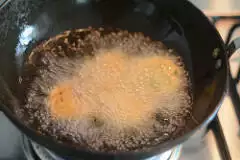 Fry until golden brown on both sides. Make sure you flip them as they start browning, to ensure uniform cooking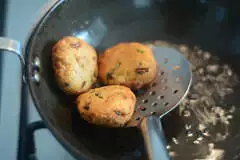 Once golden brown, drain and set aside on plate lined with paper towels to drain the excess oil.
Serve hot either on its own or with coconut chutney and tomato thokku (unconventional I know, but we love the combo).
Note: this post was updated on Oct 15th, 2015 with a better recipe, more tips on deep frying, and step by step images. The original post is from 2010.
For masala vada recipe in Tamil, Telugu, Kannada, Urdu, Hindi, etc, please use the Google translate button in the sidebar