Learn how to make your own muffin or cupcake tray at home using readily available utensils
Baking can seem a daunting thing when you are just starting out and realise you need different types of baking trays to get started making cupcakes and muffins. It's often not a great idea to go out and buy everything you see or feel you need especially if you are just trying your hand at baking and may not even end up liking it that much (although that's hard for me to imagine!). That's why learning how to make some basic bakeware at home really helps. So here's how you can improvise and make your own cupcake tray using an Indian spice box and small cups inside.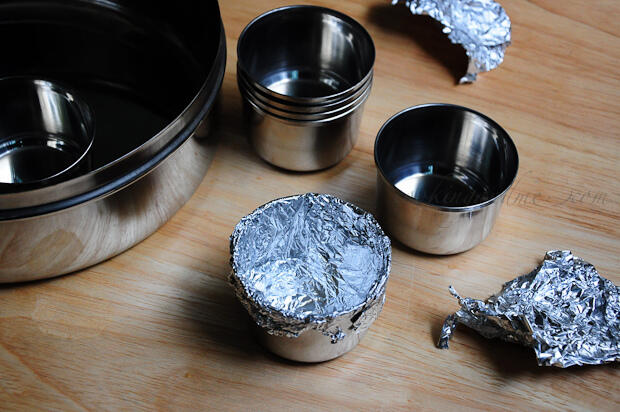 Pin
All of us have to start baking at some point in our lives. I started when I was 10 because I have a mom who baked a lot. Even then, we had just 2 cake trays – one was round and the other was heart-shaped. We had no cupcake trays so we never baked cupcakes.
But, that really shouldn't stop you. Here's a quick tip on how to bake cupcakes with no cupcake moulds using your Indian spice box – or masala dabba as we call it back home.
– Take out the individual holders inside and clean it if you were using it for your spices
– Dry well with a clean kitchen towel
– LIne evenly with aluminium foil (this is for even baking)
That's it! Pour your batter 3/4 of the way and play on a baking tray in the oven. You will get perfectly shaped cupcakes of the same size each time and you don't have to spend on an extra cupcake tray unless you bake very often.
My sis and I also did this for the perfect pound cake we baked when back in Kottayam. We I mentioned, our mom only has 2 trays and both were too big for the amount of batter we had so we improved by using the masala dabba container. We removed the smaller containers from inside), lined it with aluminium foil, and baked as normal.