I have posted a recipe for butterscotch blondies before. They are super simple and usually a welcome change from chocolate brownies.
The M&M used in the recipe can be substituted with milk chocolate chips, white chocolate chips, chopped walnuts, or anything else that catches your fancy.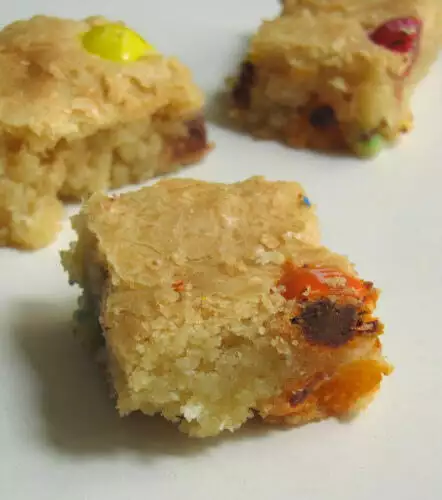 Pin
M&M Brown Butter Blondies Recipe
Adapted from The Recipe Girl
Makes 12 large squares
Ingredients:
1/2 cup + 2 tbsp butter (total of 10 tbsp)
1 cup packed brown sugar
2 tbsp regular white sugar
1 egg
2 tsp vanilla extract
¼ tsp salt
1 ¼ cups all-purpose flour
1/2 cup desiccated coconut (fresh won't work)
3/4 cup M&Ms + few more to lay on top
How I Made It:
1. Preheat oven to 350F/180C. Grease a cake pan or brownie pan.
2. Heat butter in a small saucepan over medium heat until it browns and begins to smell nutty (watch it closely so it doesn't burn – takes about 5-7 mins). Let the butter cool for a few minutes, until just barely warm.
3. In a large mixing bowl, combine the browned butter and sugars. With a wooden spoon, stir in egg, vanilla and salt. Stir in flour, coconut and M&Ms until batter is blended.
4. Pour the batter into the prepared pan and smooth the top with a rubber spatula. Sprinkle a few additional M&Ms on top. Bake 25 to 30 minutes. Let the blondies cool before turning them out onto a cutting board and slicing into squares (chilling them will make that process even easier).
Pin
The brown butter gives the blondies a lovely flavour. The coconut gives a nice crunch too. I lowered the quantity of coconut a lot in my version, it really is enough without being overpowering.