Egg roast with
appam
or
idiyappam
is the quintessential Kerala-style breakfast. Egg roast or mutta roast is one of those recipes that has a few different variations especially in spice levels and consistency. We prefer our egg roast with some gravy while
restaurant-style Kerala egg roast
tends to have a richer, thicker gravy. No matter how you prefer to make egg roast, it uses the same basic ingredients and is very easy to prepare.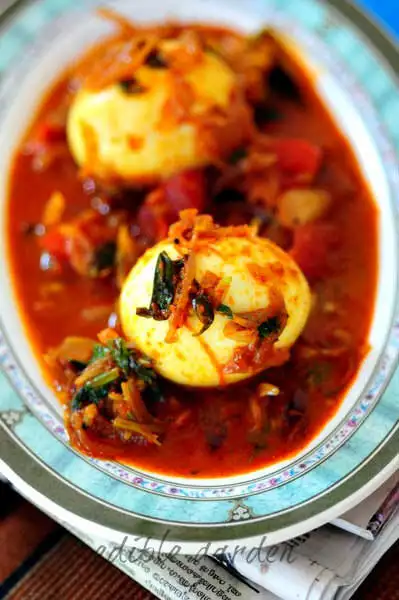 Egg roast has a very strong tie to my brother. During his time in Dubai, he'd land in the Cochin airport and before even saying hello, would start with "let's get mutta roast on the way home". It's a 2-hour drive from Cochin airport to our home in Kottayam and all the way, we'd be on the hunt for the perfect egg roast. Sometimes, you find them in the smallest roadside stalls where a chettan and his family would be making hot Kerala breakfast items like appam, puttu, idiyappam and such with a big bowl of kadala curry and egg roast to go with these. Such deliciousness!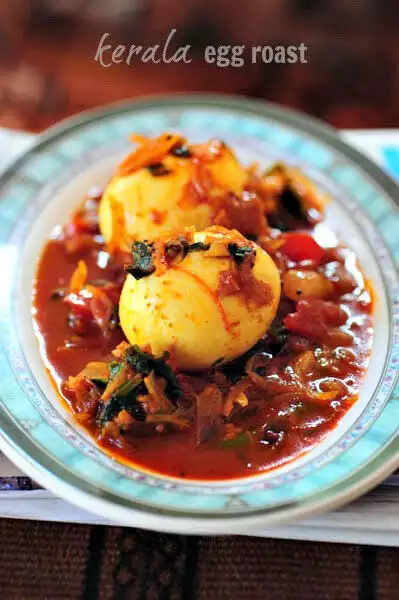 After we get a hot steaming breakfast on the way, my mom would declare that she can make an equally good egg roast a home, if not better. And so during the 1-2 week customary stay, we would get to taste her homemade version of mutta roast with either appam or idiyappam. This is my amma's recipe, the way we love it.
For more Kerala recipes from my hometown, check out Malabar egg curry recipe, Kerala kadala curry, kothu roti recipe, and this spicy egg curry recipe.
KERALA EGG ROAST RECIPE
Preparation time: 10 minutes
Cooking time: 30 minutes
Serves 4
Recipe source: Amma
Note: I have scaled down the recipe to serve 4, the portion in the pictures below was for 10 people
INGREDIENTS:
4 eggs
2.5 cups of onions, sliced thin, tightly packed
1 cup of ripe tomatoes, cut into small cubes
A fistful of fresh curry leaves
2 tbsp of coconut oil
1/2 tsp of red chilli powder (adjust to taste)
1/2 tsp of cumin powder (jeerakam powder)
1 tsp of coriander powder (malli powder)
1/4 tsp of turmeric powder
1/4 tsp of black pepper powder
2 green chillies (split – optional – adjust red chilli powder quantity accordingly)
3 tbsp of finely chopped coriander leaves (cilantro) for garnish
1/2 tsp of mustard seeds
1 tsp of freshly crushed garlic
1 tsp of grated fresh ginger
INSTRUCTIONS:
To Boil the Eggs:
Here's how I make perfect boiled eggs after seeing the instructions on Martha Stewart's website.
Wash the eggs thoroughly under running water and add to a pan of tap water. Use a large enough pan so that the eggs are not on top of each other and make sure there's enough water to cover the eggs completely.
Place on medium heat and bring the water to a rolling boil. Once it starts boiling well, turn off heat and cover the pan. Set aside for 30 mins or so while you prepare the gravy for egg roast.
To Make Kerala Egg Roast Gravy
In a large pan (we use cast iron pan usually and this gives the gravy a darker colour), add the coconut oil and mustard seeds. When the mustard seeds start to pop, add the sliced onions and curry leaves.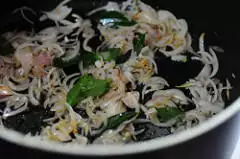 Roast the onions on low heat until uniformly light brown in colour. The key here is to not overcook or fry the onions too much. We are looking for cooked yet soft onions for the gravy. Keeping flame low makes sure the sides of the onions don't get burned.
Now add the ginger and garlic and saute for 30 seconds until fragrant. Then add all the spices – chilli powder, jeera powder, coriander powder, turmeric, and pepper. Fry for a minute on low heat.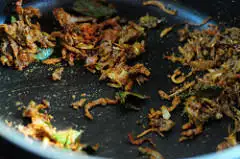 Next, add the cubed tomatoes and green chillies (if using) along with 1 cup water. Remember to adjust the level of heat you'd prefer. We like our egg roast on the spicy side. Cook this gravy until the tomatoes are soft. This takes about 7 mins or so. Add more water if the gravy becomes too thick but too not too much. Egg roast is meant to have a thick non-watery gravy.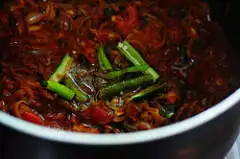 When the gravy is cooked and mushy, add chopped coriander leaves and salt. A pinch of sugar is a good idea too.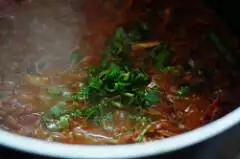 Now go back to our pan of boiled eggs and shell them carefully. Make small slits on the side of the eggs and pour the gravy on top.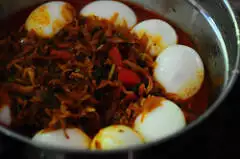 Give the egg roast a gentle mix and let it sit for 10-15 mins for the eggs to soak up the gravy a bit.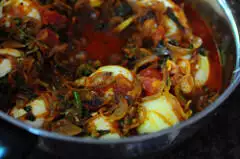 All done! Serve Kerala egg roast with any side of your choice.