Cabbage Thoran
, or rather,
Thoran
in general, is an everyday dry curry for rice made in Kerala using any vegetable of choice, grated coconut, shallots, cumin, and chillies or chilli powder.
Thoran
is a mild and very lightly spiced with the flavours of the vegetables shining through. In northern Kerala, thoran is referred to as
upperi
but to us, upperi refers to the
Kerala Banana Chips
.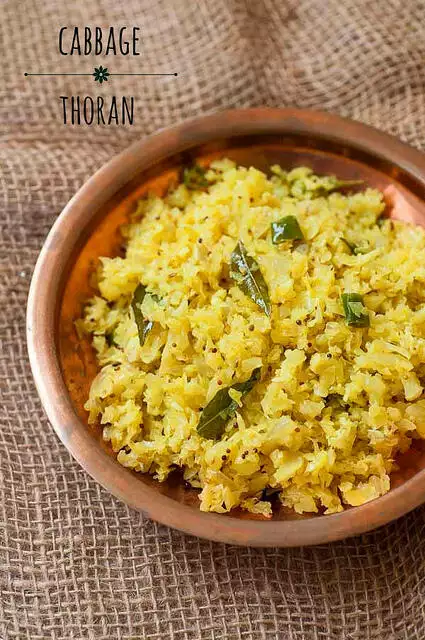 When we were newly-weds, it used to irk me that TH refers to every vegetable side dish as "curry". So he'd call Cabbage Thoran cabbage curry! I would keep correcting him and finally he can recognise a thoran. Mission accomplished! To balance our tastes, I always add lesser coconut in a thoran than what someone living in Kerala or has access to lots and lots of fresh coconut would. Even then, Thoran is soul-food for me, and I love cooking up different versions depending on the vegetables in hand.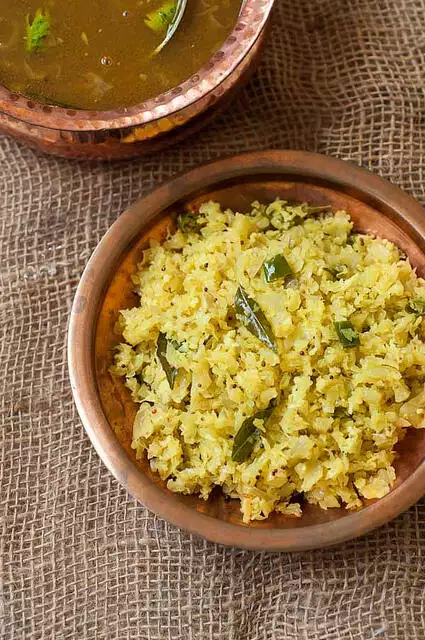 Cabbage Thoran is a pretty standard dish in any Kerala Sadya Recipe List since it's easy to make and goes well with the Parippu Curry and Kerala Sambar served at a Sadya. Also, if you are someone who dreads the nasty smell of cooking cabbage, fear not. The shallots and cumin seeds in thoran make it go away completely. Trust me on this.
Amma cooks certain types of thoran in a very no-hassle way. Just mix up all the ingredients, add it to the kadai and sort of steam cook it until done. You can leave the thoran to cook and go about the rest of your cooking for the day. We also cook Raw Papaya Thoran in a similar way. Also, here's the recipe for Tamil-Style Cabbage Poriyal, which is made slightly differently.
CABBAGE THORAN RECIPE
Preparation time: 10 minutes
Cooking time: 15 minutes
Serves 4 as a side
Recipe source: Amma
Ingredients:
2 cups of finely shredded cabbage (I use one of my fave kitchen gadgets for this)
1/2 tsp of turmeric powder
2 green chillies, chopped
4-5 of shallots, ulli – chopped fine
1/2 cup of grated coconut
3/4 tsp of cumin seeds, jeera, slightly crushed
A few of curry leaves, roughtly torn
2 tsp of coconut oil
1/2 tsp of black mustard seeds

How to Make Cabbage Thoran:
1. In a wide bowl or plate, mix the cabbage, turmeric, curry leaves, shallots, cumin, coconut, and salt. Let it sit for 5 mins – the cabbage will let out some water.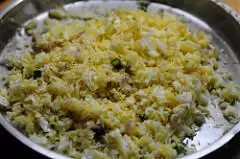 2. Heat oil in a pan and add the mustard seeds. The bubbles are because of the coconut oil.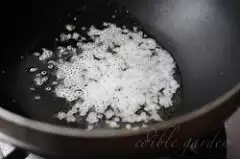 3. When they pop, add the cabbage mixture and stir well to coat the oil and the ingredients well. Pat down tightly and close the pan. Cook on very low heat for 12-15 mins. You can check in between to make sure that the bottom is not getting burned but if you keep the flame super low, you should be fine.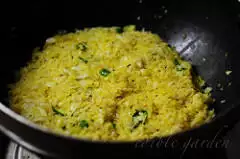 4. Uncover, stir through to make sure the cabbage is cooked (if not, cook for a while longer) and adjust salt if required.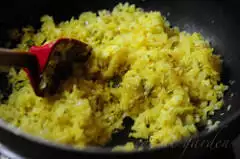 That's it. No-fuss, hands-free Cabbage Thoran is ready!