While the
Kerala-style Thoran recipes
and the
Tamil-style Poriyal recipes
are often confused with each other, they do have some differences in how they are cooked.
Thoran is usually made with a vegetable (sometimes two, like this carrot beans thoran) and a coarsely ground mixture of coconut, jeera, chillies, turmeric powder, shallots, and salt. The typical Kerala-style thoran that we make in Kottayam uses no water, not even to cook the vegetable. The most amma does is sprinkle water on the vegetable as it cookes but always before the coconut mixture is added to the thoran.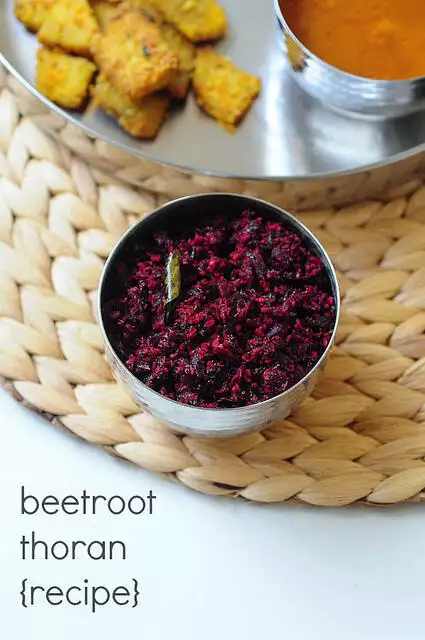 I have mostly been indifferent to beetroot while growing up. Amma used to make only two recipes with beetroot – one was this beetroot thoran and the other was a carrot and beetroot mezhupuratti which I absolutely loved. Beets and carrots are a great combination and lend their sweetness and colour to each other while they cook together. I need to get the exact recipe of the mezhukkupuratti from amma but meanwhile let's check out how to make beetroot thoran.
Since beetroot takes time to cook, it's best to grate it before making a thoran. if you are patient enough, you can finely chop it but I just peel it, wash it, and hand it to TH who does all the grating work in our home.
Kerala Beetroot Thoran Recipe
Preparation time: 5 minutes
Cooking time: 20 minutes
Serves 4
Ingredients:
2 cups of grated beetroots
1/2 cup of grated coconut
1 tsp of cumin seeds, jeerakam
2-3 shallots, ulli
1 tsp of red chilli powder
1/4 tsp of turmeric powder
1 tbsp of coconut oil
1/2 tsp of black mustard seeds
1/2 tsp of split urad, uzhunnu parippu
1 strand of curry leaves
1 tsp of salt (adjust to taste)
1 clove of garlic
How to Make Beetroot Thoran:
1. Heat oil and add the mustard seeds and urad dal.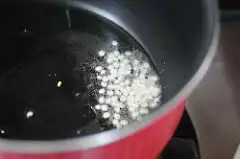 2. When the mustards pop, add the grated beetroot and some salt. Mix well to coat the beets with the oil and cook on low flame, stirring occasionally.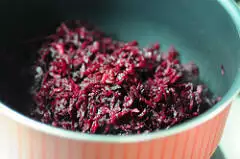 3. Meanwhile, grate the coconut, shallots, chilli powder, turmeric, garlic, and cumin…
… into a course mixture without adding any water.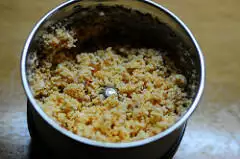 4. When the beets are almost soft, add the ground coconut mixture to it along with the curry leaves. Mix well and continue to cook on low flame, stirring occasionally, until the beetroots are completely cooked and soft.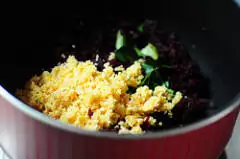 Kerala-Style Beetroot Thoran is now ready. This is a great recipe to make in larger quantities since grating beets is much easier than chopping a bunch of vegetables.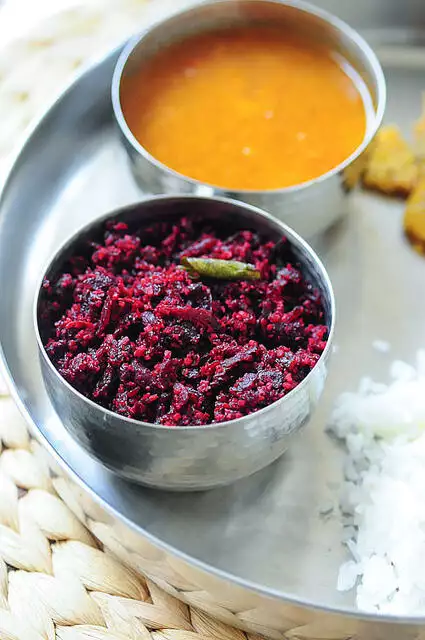 Beetroot Thoran goes really well with Kerala Sambar but on this particular day, I served it with Tomato Juice Rasam and Tawa Yam Fry.
Notes:
– Sprinkle some water if you feel the beetroot is starting to burn as you cook it. Do not add more water than is absolutely required
– You may need more red chilli powder than you think because beetroots are sweet and the dish may need more spice to kick it up a notch