Every time I go on a trip and share the pictures, I get questions on my camera bag. When I upgraded to a Nikon D90 over 2 years back, I got one of those
ugly
functional bags from Nikon. I put up with it because I was too excited about my new camera to care too much about the bag I was carrying it around in. Then it struck me how God-awful it looks and even worse, I was carrying the camera bag
and
my handbag making it immensely uncomfortable and unsightly.
So I started doing some research on the best camera bags for women. There were quite a few options and I was pretty surprised I hadn't come across any of these before. Most of the brands were from independent sellers and they looked stylish and very unlike the regular camera bags. So you can carry them around just like you would regular hand bags with your cameras practically hidden inside.
Of all the options I saw, Kelly Moore bags really called out to me. After much deliberation and trial-and-error (more on that below), I finally got the B-Hobo Bag in Grassy Green.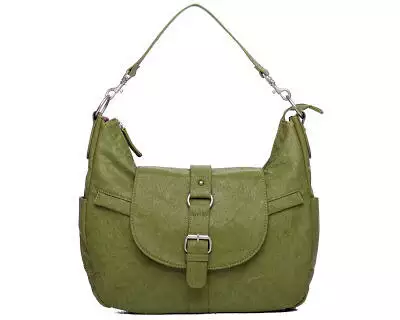 I had initially ordered the Libby bag in Sapphire because I absolutely loved the colour and it looked very functional with enough space for a camera body, 2 lenses, laptop and misc things like your purse, a book, etc. Since I was traveling to the US for a short time, I got it delivered a week before my trip to Anu's place where I was staying. When I finally landed and got to see it, I realised it's way too big to be an everyday camera bag. Everything was great except the size. I panicked a bit because I was only going to be in the US for a week and returning and shipping takes way longer. So I wrote to Kelly and she responded saying she's happy to exchange the Libby for a B-Hobo, refund the difference, and also absorb the shipping costs to Singapore! Gotta love that service!
My new bag, the Grassy Green B-Hobo, arrived about 3 weeks later and I was one happy cookie. The colour is a gorgeous green and the inside is a very pretty purple. The bag is sturdy and has enough padding to fully protect your camera and gear.
I carry my camera bag everywhere, and it's especially useful when I am traveling, which is quite often. It can fit all the essentials like my wallet, passport, a medium-sized book or my Kindle, sunglasses, and misc things like a pen and lip gloss, in addition to the camera attached to one lens + one additional lens.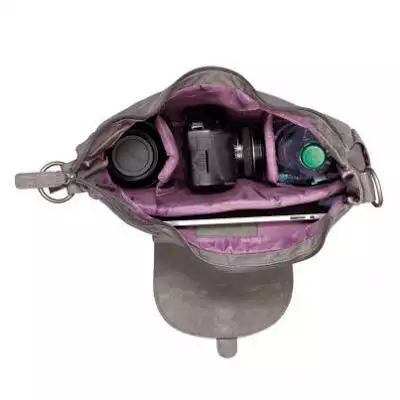 In the picture above, it shows how you can also store a tablet but since I don't use one, I use that extra space for my essentials. A 500ml water bottle can easily be placed inside the bag too. And here's something I had totally forgotten! The B-Hobo bag comes with a longer detachable handle that you can use to wear the bag cross-body or messenger-style. Mine is tucked away somewhere since I only use the shorter handle, but I must pull it out and use it, especially when I travel to a cold place (I am looking at you, London in winter) and the jacket tends to be a bit slippery, making it hard to carry an over-the-shoulder bag that's heavy.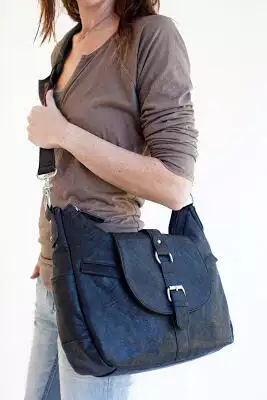 The newer B-Hobo bags come with a detachable inner basket design so you can remove the padding in one go (mine is removable too but in three pieces, not in one go) and turn it into a regular bag. The lavender B-Hobo looks absolutely gorgeous!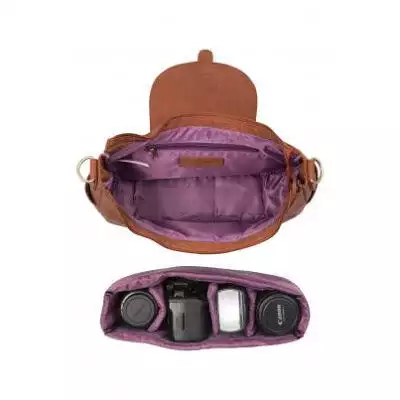 My second favourite was the grey B-Hobo back when I bought mine. Isn't it lovely? I am sure it would go with most of your outfits. But I decided to be a bit bold and went with the green.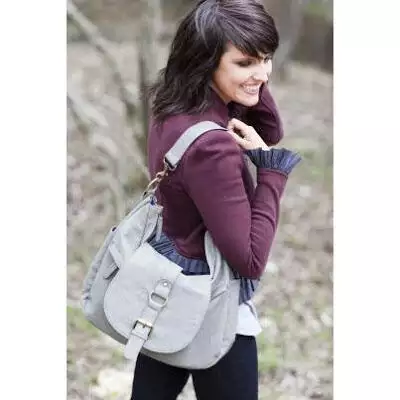 So in a nutshell, here are the pros and cons of getting a Kelly Moore B-Hobo Camera Bag for Women:
Pros:
1. It's very well made and is durable, protects your camera and other belongings well
2. It's very stylish and comes in a range of lovely colours, often two-toned
3. There's a zipper that closes on top along the length of the bag and also the flap that goes over it. this is very useful because you can get away with not zipping up your bag all the time, especially when you constantly need to access things inside
4. The compartments inside the bag are customisable; you can re-adjust the partitions as you please; they are stuck to the side of the bag using velcro
5. I have been using mine for almost 2 years now and I have traveled a LOT with the bag. It still looks new
6. I have received compliments from many people, both friends and strangers, on how pretty my bag looks. Someone once thought it's a baby bag and asked where I got it from (thankfully, she didn't ask where the baby is! What an irresponsible mom I would have seemed like to her). Coming to think of it, you could use this as a baby bag because you can arrange a lot of things inside upright, although I am not sure diapers need so much padding
7. The b-hobo handles are the perfect length and they fit snugly under your arm. I haven't used the cross-body handles yet so can't comment on that
8. The price is reasonable, in my opinion. Agreed, the material is not leather but I would rather they keep it that way considering how much of rough-handling the bags need to take when you travel
9. Oh, and this is a big one. The bag sits upright if you place it down. This is HUGE you guys. Once you have owned a bag that can do this, there's really no going back to the ones that plonk down and spread out on a table or the floor when you put it down. The B-Hobo is stiff (in a good way) and can sit upright on pretty much any surface
10. There are a ton of pockets all around the bag for you to easily store your personal things. I keep my passport and tickets in the back zipper, pen, phone and business cards in the front slots with zippers, and lip gloss and hand cream in the side slots
Cons:
– it's not super easy to take the camera out of the bag if you want to get it out quickly. Generally, this doesn't bother me because when we are out and about, I take out the camera and sling it around my shoulder, take all the pictures I want, and then put it back inside until I need it again. So what I mean is, you can't really get the camera out while the bag is over your shoulder. I generally ask TH to hold it as I take the camera out which takes all of 5 seconds but initially this irritated me a bit. Since the bag can stand up on its own, you can also put it down and take the camera out.
– you can't make the men in your lives carry this bag for you. Well you can, if you are one of those people but personally I think TH would look ridiculous carrying this and for my own sake, I wouldn't want him walking around with a green bag slung over his shoulder or arm. So, when you are tired, the weight of the camera can get irritating. TH carries the camera on its own in such cases and I take it back when we need to put it away for a while.
– this is not so much a con of the bag itself but I feel like I am holding this bag in every single travel picture of ours! Since it's been almost 2 years since I got it, I am almost tired of it. Once you use this, there's really no going back to a regular camera bag and it's hard to carry two handbags so you tend to just carry this with your personal things inside too. That means it's the same handbag everywhere I go!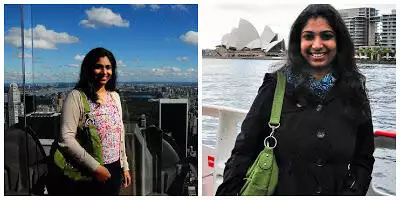 See what I mean? That bag is everywhere! But, ah well, so are the compliments, so guess I'm
good. Also, while you may think the green will be too jarring with certain outfits, I find that it goes with pretty much anything I wear.
Kelly Moore has a new design that's out now called Riva that looks adorable. It's on the smaller side so maybe you can carry it as an exclusive camera bag along with a backpack while you are traveling.
Bottomline: if you are looking for a pretty and stylish camera bag to carry your stuff in, then Kelly Moore is one of the better options out there. Obviously I have only used one of her bags and my views are based on that. There are videos on each of her bag pages that you can view (scroll down a bit) to get a better idea of how the bags look inside, what you can store inside, etc. I found them immensely useful while making a decision.
So go ahead and browse the Kelly Moore website to find yours.
This is not a paid review. I paid for the bag and purchased it in March 2011. All opinions are my own. However, the post contains affiliate links.