I can't believe I haven't shared this
Vegetable Fried Rice recipe
yet. Amma makes the best vegetable fried rice. In fact, in my opinion, she makes the best Indo-Chinese food. She cooks it effortlessly and fried rice is often made when she's lazy or doesn't want to cook anything elaborate. The good thing about her vegetable fried rice is that it has all the vegetables and lots of flavour so you don't really need a side dish for it. We usually have it with a light salad or an onion-tomato raita. So let's check out
how to make Vegetable Fried Rice
using her recipe.
Oh wait, before I get into the recipe, an important thing. I waited to go back and share amma's exact recipe with you because there's an essential ingredient that makes it truly like restaurant-style Vegetable Fried Rice. The flavour and aroma is unmatchable and you have to use this if you want your fried rice to shine. Ok, I'll tell you already. It's celery! Spring onions are important too but the most important ingredient to give flavour to fried rice is ***drumrolls*** celery.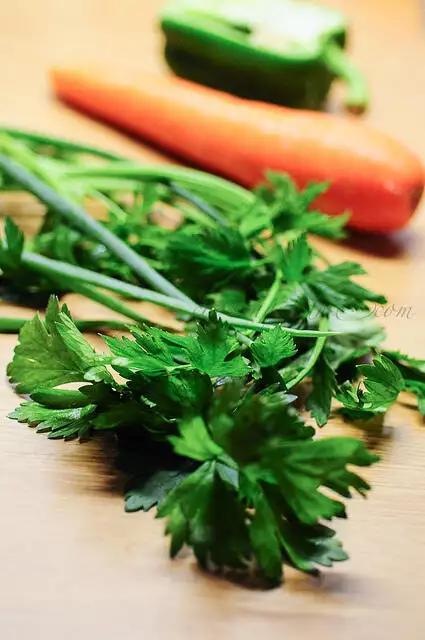 Chinese Celery
In Singapore we gets two kinds of celery – one is the Chinese celery which is leaner and smaller and the other is the American celery which has thick stalks, usually used to snack on or make smoothies with. In India I have mostly seen the Chinese celery since that's what we use to make vegetable fried rice but if you live in a place where you get both, choose the smaller kind for the best flavour.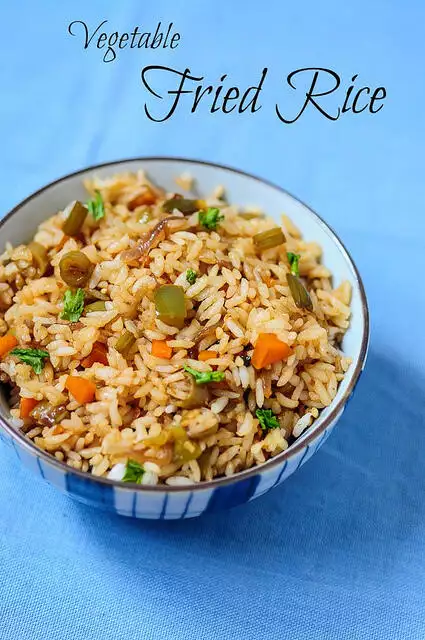 Generally, one-day-old rice works best for making fried rice since the grains are drier and stay separate, easy for you to toss with the vegetables and sauces. However, here's how to make rice for fried rice so you don't have to use old rice, necessarily.
Vegetable Fried Rice Recipe (Indian Chinese Recipe)
Preparation time: 20 minutes
Cooking time: 15 minutes
Serves 4
Recipe source: Amma
Ingredients for Fried Rice:
4 cups of cooked rice (here's how to cook rice for fried rice)
2 cups of mixed vegetables, chopped fine (use carrots, French beans, cabbage, capsicum)
1 small bunch of celery stalks, chopped fine (discard the leaves)
1 small bunch of spring onions, chopped fine
2 tsp of soya sauce
1 tsp of green chilli sauce (this is my favourite brand)
2 tsp of tomato sauce or ketchup
1 tbsp of freshly minced ginger + garlic
2 onions, sliced
1 tsp of freshly cracked black pepper
1-2 tbsp of oil
How to make Vegetable Fried Rice:
1. Heat oil and add the onions. Let them fry on medium heat until light golden brown, don't let them brown too much. Then, add the ginger + garlic and saute for another 2 mins.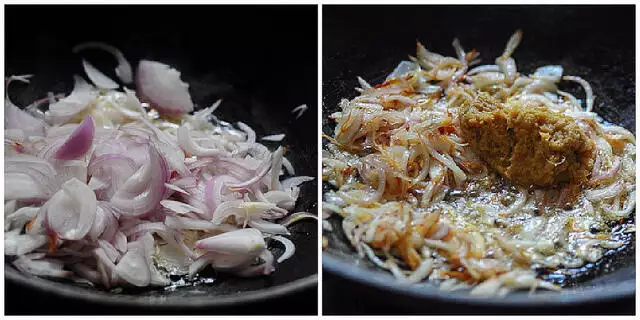 2. Add the finely chopped vegetables and celery and mix well. Cook for 2-3 mins until they wilt just a bit. Then add the soya sauce, tomato sauce, and green chilli sauce. Fry on high heat until the sauces bubble and reduce flame to medium-high, stirring constantly. Continue to stir-fry for another 2-3 mins. The vegetables should be cooked yet crunchy and not mushy or soft.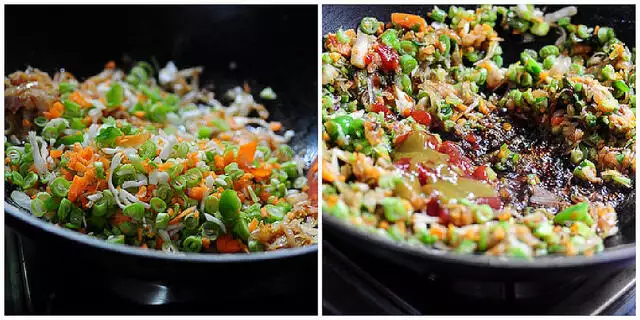 3. Add the cooked rice and stir well to combine. Switch off flame, check for salt and add more if required. Finally add the pepper powder and spring onions (we used coriander leaves that day since we couldn't find spring onions in the market). Stir well and pat down and keep partially covered for the flavours to combine.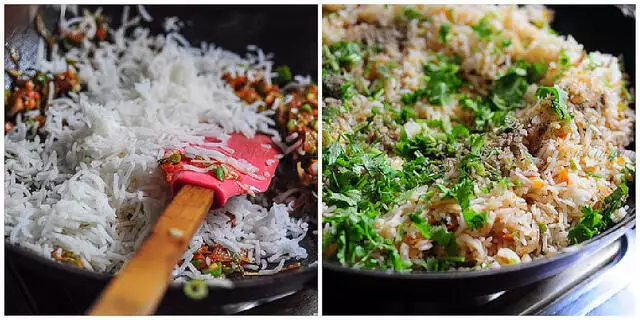 That's it. Delicious Indo-Chinese Vegetable Fried Rice is ready.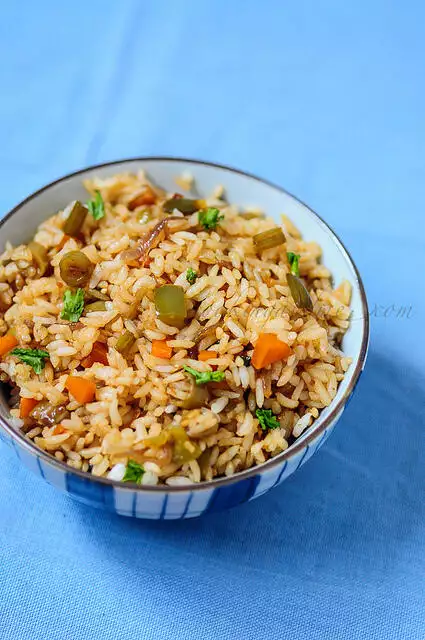 Here are some great side dish recipe ideas for Vegetable Fried Rice you may like:
– Gobi Manchurian
– Chilli Soya Chunks
– Chilli Paneer
– Schezwan Vegetables
– Chilli Chicken
Notes:
– Basmati tastes best for vegetable fried rice; we have used seeraga samba here
– Chop the vegetables fine otherwise the stir-frying won't cook them through and they will taste raw
– We used dark soya sauce here which is the reason for the darker colour of the vegetable fried rice. If you use the regular kind, your fried rice will be lighter in colour
– Be careful when adding salt since the sauces we add all have salt in it already
– If you want to make Egg Fried Rice, add 2-3 scrambled eggs to this rice towards the end and you have easy Egg Fried Rice ready!