I wasn't really familar with
poricha kozhambu
varieties until my mom in law made it during their last visit. I had some fresh peas in the fridge and along with some drumstick, it made for a super simple and flavourful kozhambu for our lunch that day.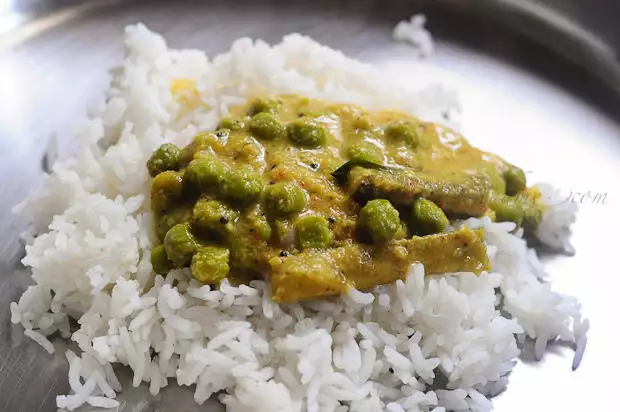 Poricha kozhambu literally means roasted kozhambu because the base has some roasted spices that are ground along with fresh coconut. The vegetables are flexible and the more common ones are chow chow, pumpkin, and snake gourd (podalangai). Check out pudalangai poricha kuzhambu recipe here.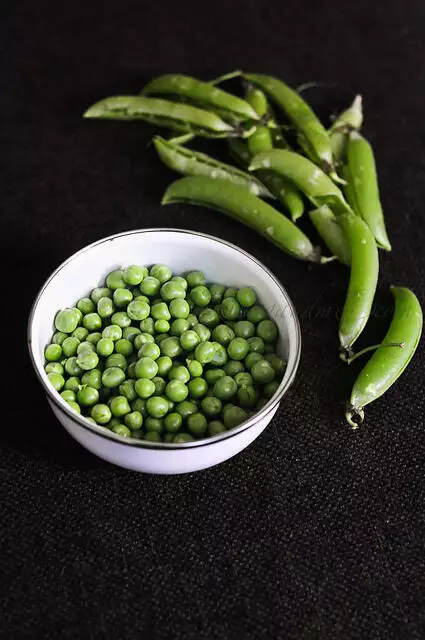 You may also like:
Green Peas Poricha Kozhambu Recipe
Preparation time: 15 minutes
Cooking time: 25 minutes
Serves 4-6
Recipe Source: mom-in-law
Ingredients:
1 cup of green peas (fresh or frozen)
1/2 cup of toor dal / tuvar dal / pigeon peas
1/2 cup of grated coconut
3 tsp of urad dal
A few of black peppercorns
1/2 tsp of jeera / cumin seeds
4 of dry red chillies
1/4 tsp of turmeric powder
1 generous pinch of hing / asafoetida / perungaayam
1 tbsp + 1 tsp of oil
1/4 tsp of mustard seeds
A few of curry leaves
1 of drum stick, cut into 4″ long pieces
INSTRUCTIONS: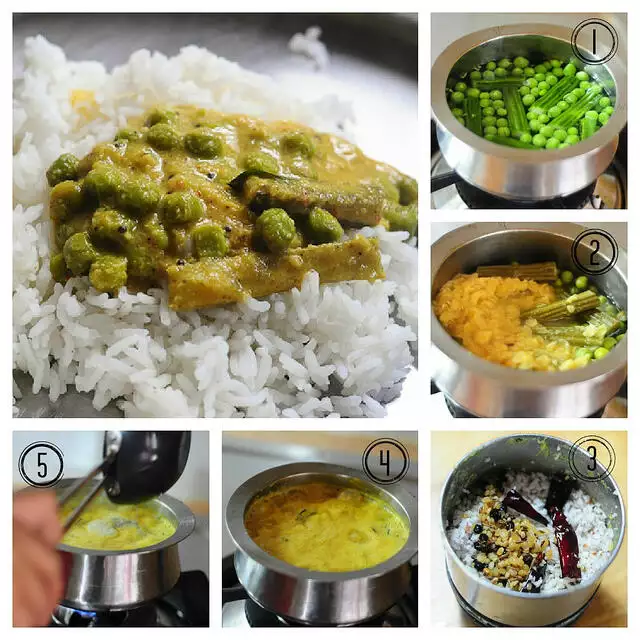 0. Pressure cook the toor dal until soft and mushy.
1. Add the peas and drumsticks to a pan and add enough water to cover it. Bring to boil and cook until sof (about 5-6 mins).
2. Add the cooked dal along with the turmeric and hing to the peas and drumsticks mixture and simmer for a few more mins.
3. Meanwhile, heat 1 tsp oil in a small pan and roast the urad dal, red chillies, peppercorn, and jeera until the dal turns golden brown. Cool slightly and grind along with the coconut into a smooth mixture.
4. Add the ground masala to the peas-dal-drumsticks mixture and bring to boil. Add salt and curry leaves. Continue to simmer until the desired consistency is reached. If too thick, add some water while boiling. If too watery, increase heat and cook until the kozhambu thickens.
5. Heat the 1 tbsp oil and add the mustard seeds. When they begin to pop, remove from fire and dunk into the kozhambu.
Serve hot with rice and side dish of choice.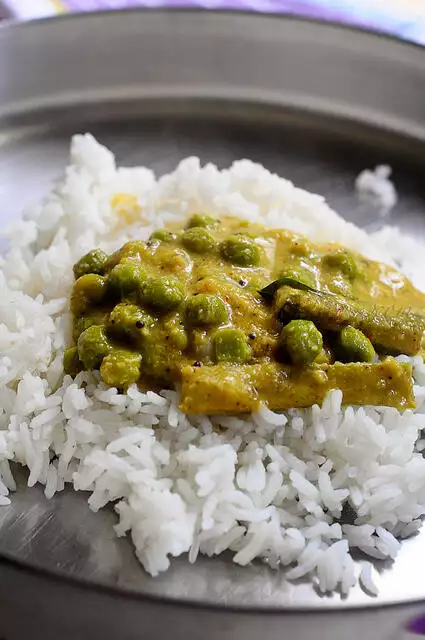 Check here for more kozhambu recipes.