Mor Kozhambu / Moru Kachiyathu
is my go-to kozhambu recipe when I am in a hurry or I have spent too much time making the side dishes. Its quick, easy, and delicious and both of us like it.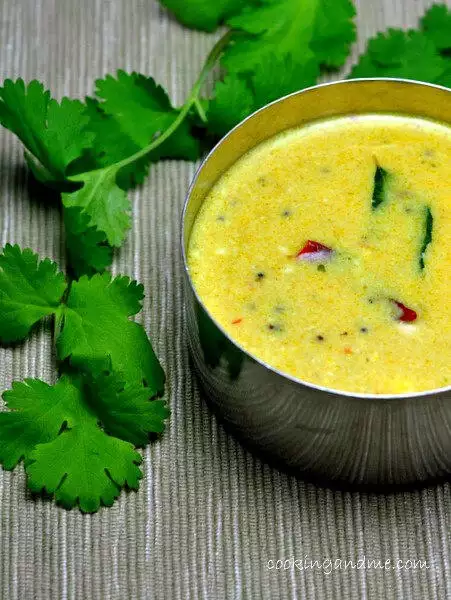 Pin
There's a small twist to this recipe – I added fresh coriander leaves to the coconut paste. The flavour is distinct and very enjoyable. A great idea if you have coriander-indifferent people in the house.
Mor Kozhambu Recipe
Serves 2-4
Ingredients:
2 cups buttermilk + 1 cup water
Salt to taste
Grind Together:
1/2 cup grated coconut
1/2 tsp jeera
A pinch of turmeric powder
1/2 cup coriander leaves, loosely packed
For Tempering:
2 tsp oil
1/4 tsp mustard seeds
5-6 fenugreek seeds
1″ piece of ginger, crushed
1 dry red chilli, halved
A few curry leaves
How to Make Mor Kuzhambu:
1. Heat oil for tempering. Add the rest of the ingredients in the order given. When the mustard seeds pop and the fenugreek seeds turn a golden brown and fragrant (take care not to burn!), add the ground coconut paste. Mix well and turn off heat.
2. Add the diluted buttermilk, mixing well as you do. Add salt.
Serve with warm rice and side dish of choice.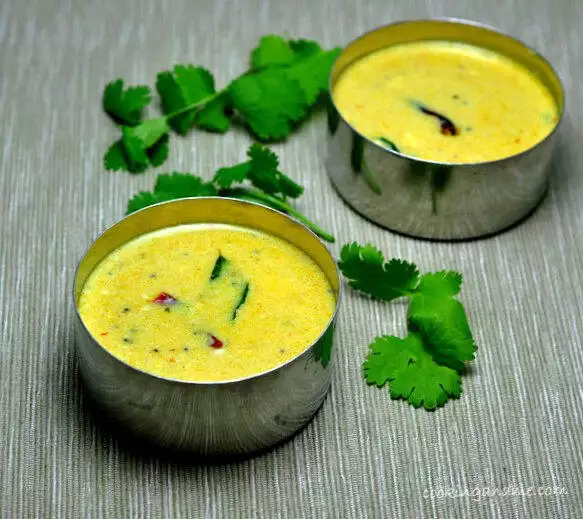 Pictures taken in the
home made light box for food photography