I have been making this
green chutney
(hari chutney) for years now. This mint coriander green chutney goes with all types of
chaat
,
masala papad
– this is the same green chutney or dip Indian restaurants serve with papadas as soon as you sit at your table – a
spread for sandwiches
, with dhokla and pakoras, heck, I even serve it with South Indian bajjis. One of my favourite ways to use green chutney is in a sandwich with cheese. Just these two ingredients and bread makes for an amazingly
quick snack
. One of my favourite ways to use this chutney is in
bhel puri
or
vada pav
.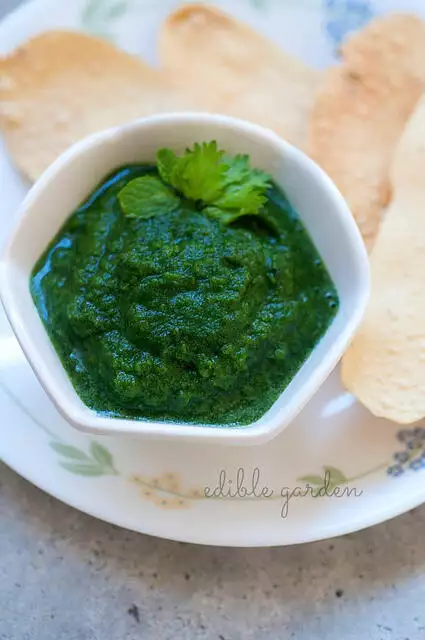 The reason why I have never shared the recipe is because the green chutney I make at home wasn't the best. I mean, it still works great with chaat and in sandwiches but I had a feeling it could be better. And so I never bothered sharing my just above-average green chutney recipe here.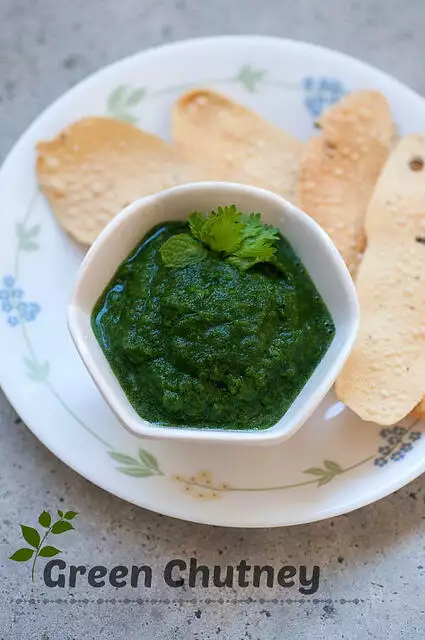 Then, Jey, Raks, and I met for tea at Jey's place one day and that's where this story takes a happy turn. She had make dhokla and some green chutney to go with it and it was fabulous! I immediately asked her for the recipe and realised it was Raks' recipe. The missing link between mine and this green chutney was the amount of garlic and the addition of chaat masala. I had been adding way too little garlic and no chaat masala at all! Instead, I was adding roasted jeera powder instead and some sugar. I still like the bite of jeera in green chutney and the mild sweetness but I reduced the amount in this batch and altered proportions to make it my own. Hello, green chutney perfection!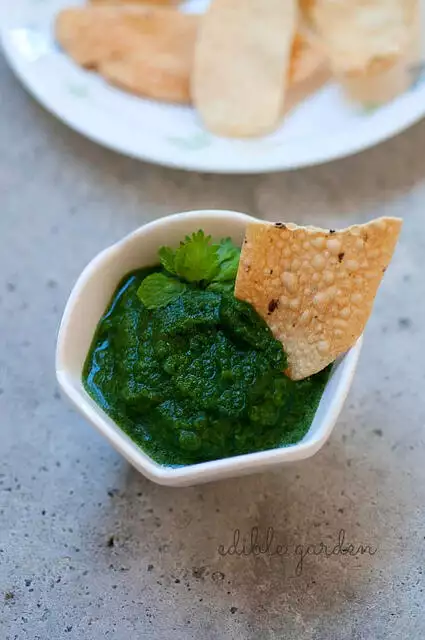 Chutneys are a great way to add an extra something to your meal very easily and I make a large-ish batch of this green chutney and store in the refrigerator for up to a week. This is great when TH needs a quick breakfast – all he needs to do is spread some chutney on toasted bread, add slices of cucumber or tomato or both, sprinkle some salt, and take large bites. He loves savoury sandwiches for breakfast and this is a clear winner which doesn't require any interference from me in the mornings. Green chutney sandwiches work equally great for tea time snacks for kids after school and as a quick snack for parties too. Also check out my date tamarind sweet chutney recipe.
GREEN CHUTNEY FOR CHAAT (MINT CORIANDER CHUTNEY)
Preparation time: 10 minutes
Makes ~ 1 cup
Ingredients:
2 cups of fresh coriander leaves (cilantro)
1 cup of mint leaves, packed
2-3 of green chillies (I like a less spicy green chutney – adjust to your taste)
1/4 cup of chopped onions
2 cloves of garlic (the large kind, if smaller, use more)
1 pinch of roasted cumin / jeera (optional)
1 heaping tsp of chaat masala
1/4 tsp of sugar
A squeeze of lemon or lime juice
How to Make Green Chutney:
Grind all ingredients together with enough water and salt to a smooth chutney. Adjust ingredients and taste as you grind because from what I have seen, personal preferences change a lot with this chutney
These proportions make a perfect chutney to me and I have nailed it down in my head and make no changes anymore. You can store this chutney in the refrigerator for up to a week but freshly made chutneys always taste be
Enjoy green chutney with chaat, paani puri, as a sandwich spread, as a dip for masala papad, pakora, etc, and with samosas!