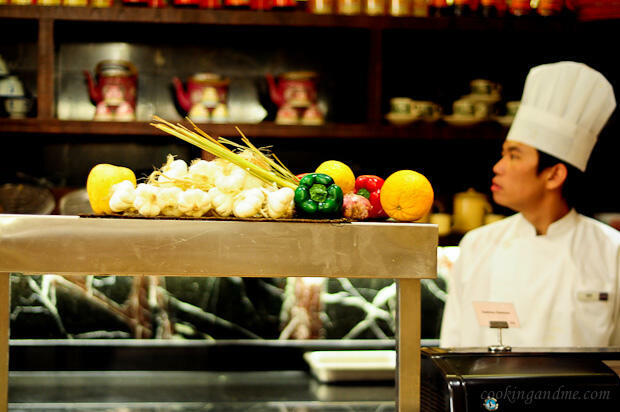 If you follow my Project 365 blog, you would have seen this picture before. The vegetables are fake, the chef is not. Just saying.
This is one of those restaurants where there's enough space for a family dinner but at the same time, the ambience is cosy enough for a dinner date or celebration for two.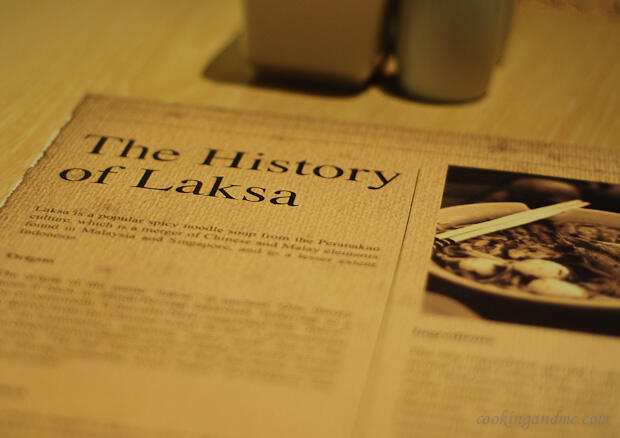 The placemats listed the history of some popular dishes in Singapore. Groovy idea, I say!
Oh, before I start talking about the food, I should mention that I was offered an assignment by Women't Weekly Singapore to review this restaurant for their June 2011 edition.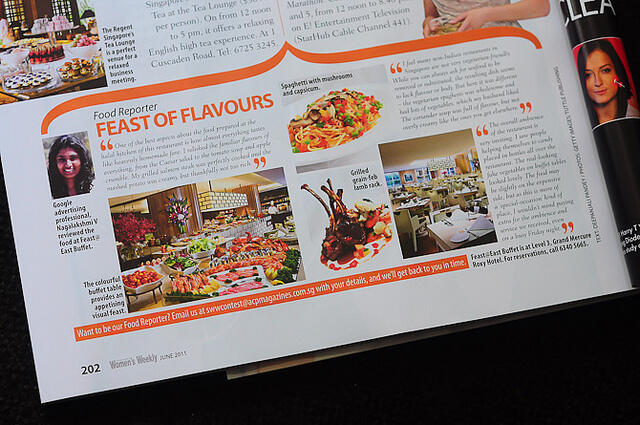 Please don't squint too much. You have the review coming up below anyway, and not a condensed version at that! 🙂
We were treated to a set menu and had 2 choices for drink, soup/salad, main course, and dessert.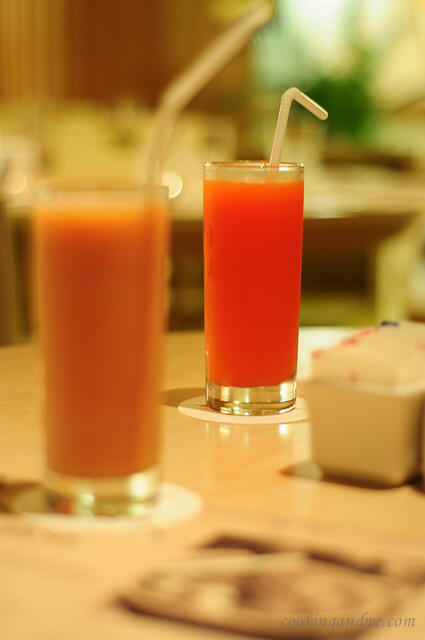 I picked pink guava juice and TH picked fruit punch.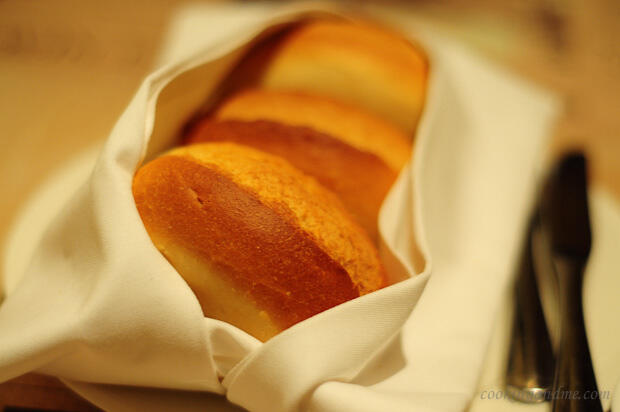 Some rolls to start the meal. They were crusty and chewy and warm. With some salted butter at the beginning of a meal? Divine.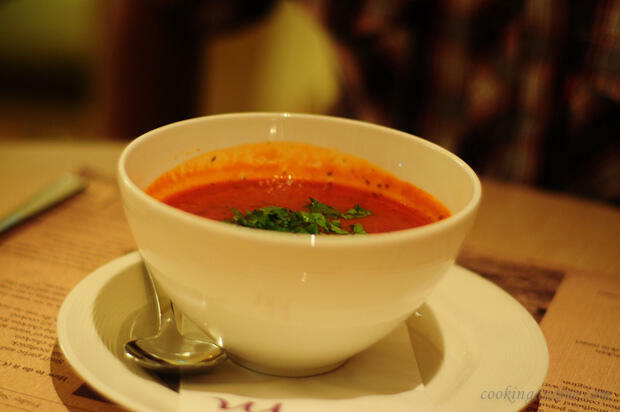 Pin
TH's chunky tomato soup. It was very different from any tomato soup we have ever tasted. There were chunks of tomato in the soup and lots of coriander. There wasn't any cream in it as far as I could tell. Quite a homely, wholesome bowl.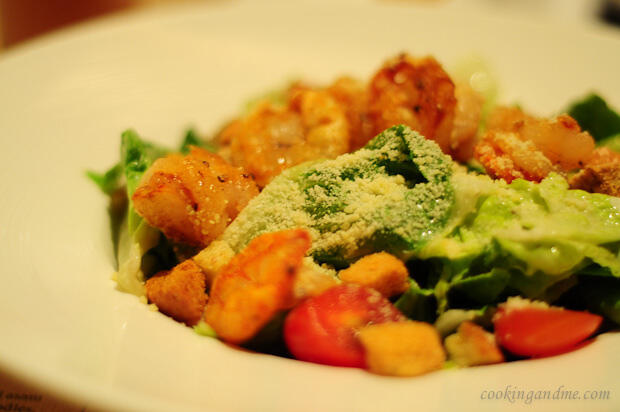 My caesar salad with grilled prawns. This is hands down the best caesar salad I have tasted and I have tasted my fair share I must say. The dressing was spot on and not too heavy as some caesar salad dressings tend to be. The prawns were cooked perfect and didn't have any annoying pieces of shell or tail ends still on it.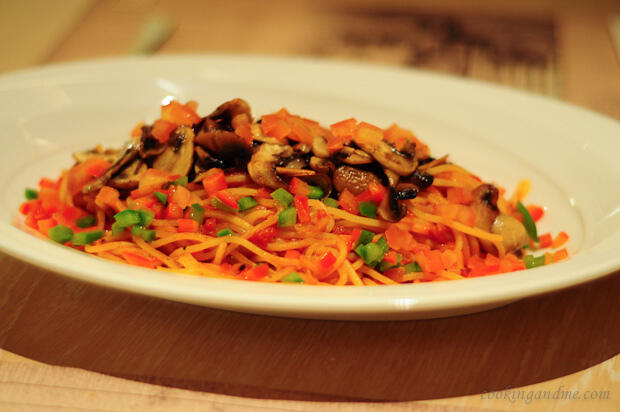 TH's entre. He could pick between pizza and spaghetti and he picked spaghetti (and I almost fell off my chair in surprise). This is probably the homeliest spaghetti we've tasted. There were lots of vegetables, the sauce was mild and had the right amount of flavour. The portion was huge and can easily serve two. So I think its safe to say that the vegetarian fare in Feast @East is like home made food 🙂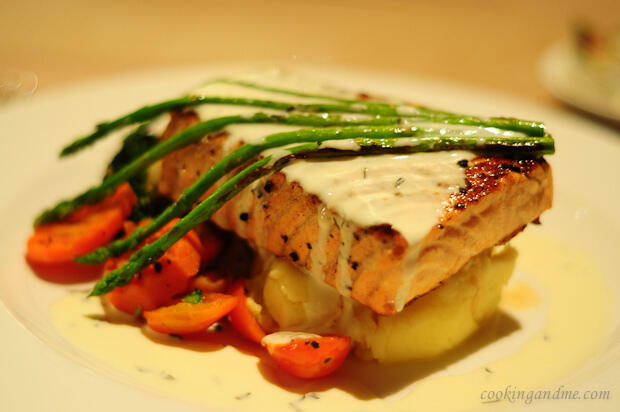 Pin
My entre. (btw, how do you make that small line thing appear over the 'e'? I don't know how to do that. Ok, so this is grilled salmon with some yummy sauce over it, served on creamy mashed potatoes. Again, the portion size was huge and after that salad, I couldn't even get through 1/3rd of it. So I packed the rest. It was the right thing to do.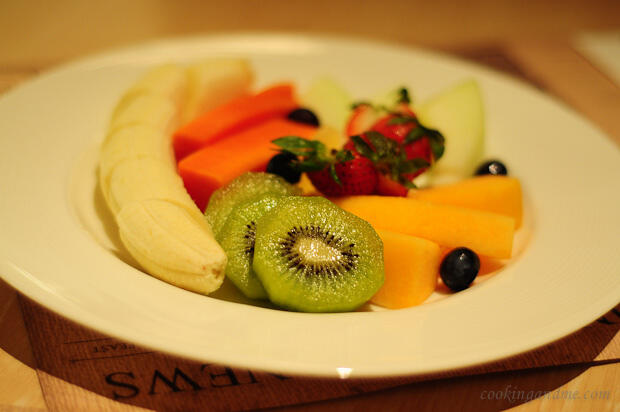 TH's fruit platter. It was kinda forced on him as dessert that comes with the vegetarian set menu. Its like in-flight meals. If you are vegetarian, you get a vegan (sometimes fully raw) meal while your neighbour is downing a yummy looking chocolate cake and you are telling yourself "but I don't mind eggs in hidden form"). Anyway, fruits, I don't need to review.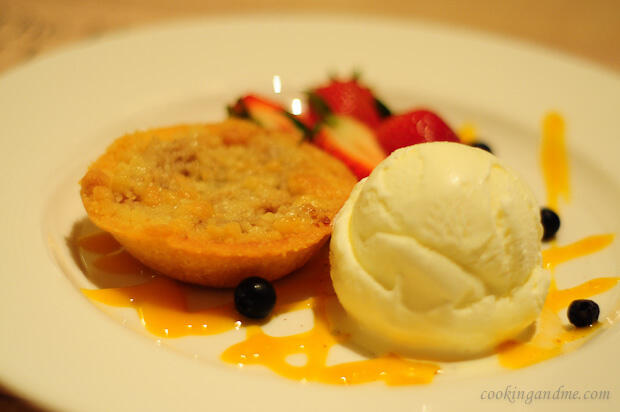 This right here is a plate of heaven. That mini apple die was to die for and paired with good quality vanilla ice cream and butterscotch sauce, it was perfect. We both fought over it (in a dignified way) and then polished off the fruits after that. I was glad I didn't try to finish the salmon.
The restaurant also had pretty interesting deco. They had huge jars of candy all over the place and I saw people helping themselves to it. Groovy idea, again.
I would recommend this place if you wish to have a quiet dinner with your partner, a celebration dinner for your family, or even a work team dinner for a large group. The food is slightly pricey, especially some particular dishes, but our entire meal was very satisfactory.
The average price for a meal (like this, with all these courses) will be around SGD 80 but they do have a very popular buffet for SGD 44++.
Feast @East
Grand Mercure Roxy Hotel
50 East Coast Road, Roxy Square
(Opposite Parkway Parade Shopping Centre)
Singapore 428769
Reservations
Ph: +65-63405665
**Disclaimer**
This is not a paid advertorial and I am under no obligation to Women's Weekly or Grand Mercure to write this review on this site. The assignment was for the food article that appeared in the Women's Weekly magazine.