Falafel recipe, how to make falafel at home.
When we eat out at a Middle Eastern place, Falafel is TH's vice. He loves anything fried and falafels are no exception. Considering how ridiculously easy they are to make at home, I have tried to deter him from ordering Falafels outside but once he very rightly pointed out that I say this all the time but never really made Falafels at home – ever! So here they are, a quick and easy snack recipe that's kid-friendly and you can make in bulk in advance if you are entertaining. They are hard to get wrong and taste fabulous with a simple hummus or tahini sauce (or even with our Indian chutneys).
Of course I picked the theme fully intending to deep-fry, why do you ask? My initial idea was to go with cocktail samosas but had to ditch it for falafel because the shaping and filling of cocktail samosas is not exactly quick and this had to be a recipe that can easily be multiplied, leaving you time to make an effort to look good for your party.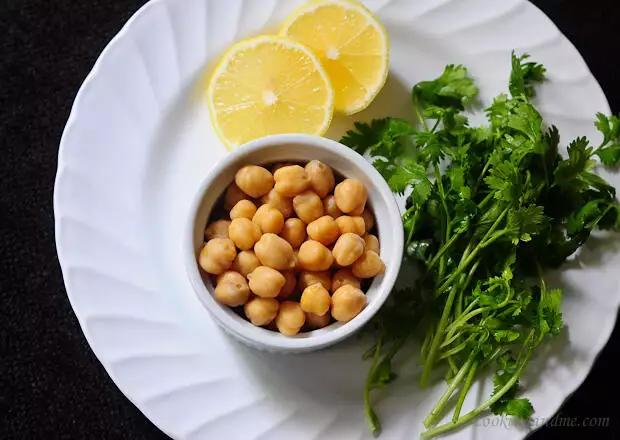 Pin
The Egyptian version of falafel is flatter,bigger, and greener because of the use of Lima beans. I know because I had that in Egypt. Sorry for showing off.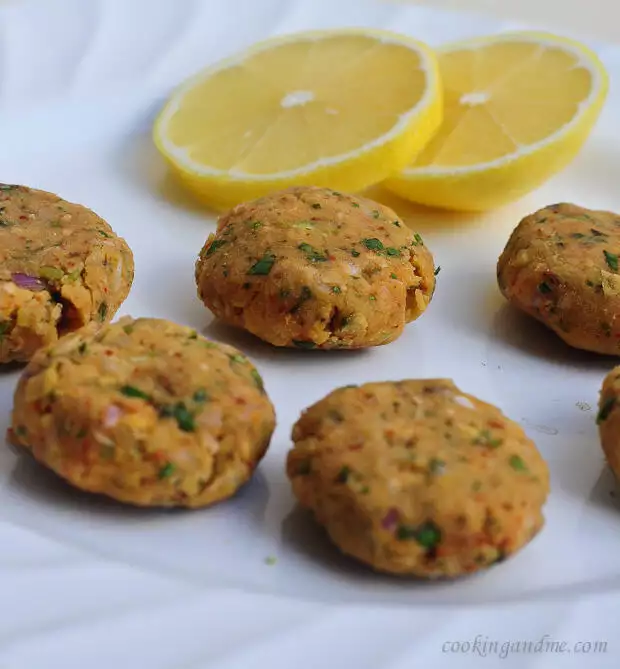 Pin
My version however, is the kind you would get in your local Middle Eastern restaurant. Its flavourful, easy to make, and absolutely delicious, not to mention photogenic.
Falafel Recipe
Makes 16 small-ish falafels (easily doubles or triples)
Ingredients:
1/2 cup dry chickpeas, soaked overnight or atleast 10 hours (will be about 1 cup when soaked through)
1 tsp cumin seeds / jeera
1/2 tsp coriander powder / dhania
1/2 tsp red chilli powder
1/2 tsp minced or crushed garlic (about 4-5 cloves)
One bunch fresh coriander leaves / cilantro, chopped
1 small red onion, chopped fine
1-2 tbsp freshly squeezed lemon juice
2-3 tbsp plain flour (or crumbs from 2 slices of stale bread)
Salt to taste
Oil to deep fry
How to Make Falafel
1. Drain the soaked chickpeas on kitchen towels or leave them in a colander with a suspended base. Its important to drain out as much moisture as possible.
2. Transfer the chickpeas with rest of the ingredients to a food processor or mixer jar and grind until smooth and dry. You should be able to shape them easily into small discs. If the mixture is too moist or sticky at this stage, which it shouldn't be, add more flour but don't be liberal.
3. Shape into small discs and deep fry on medium heat until dark brown on both sides. Make sure you regulate the flame, otherwise the outside will get burned or cooked too soon and the inside will be raw.
4. Drain on kitchen towels and serve with tahini lemon sauce (recipe below).
Tahini Lemon Sauce Recipe
I didn't use any particular recipe or measurement for this. I thought of making hummus to go with with the falafel but didn't remember to soak enough chickpeas. I had fresh tahini that my ex-boss, brought from his home town Lebanon so it would've been a sin not to use it in some way. Thank you Charif!
How to Make Tahini Lemon Sauce for Falafel
Mix 3 tbsp of tahini, 1 tbsp freshly squeezed lemon juice, a pinch of paprika (or maybe pepper?), salt to taste and enough water to make a smooth paste. You can add some roasted garlic pieces to this but I didn't have the patience time patience.
Dip the falafels in and enjoy.
Notes:
– canned and drained chickpeas should work as well but I read in many places that freshly soaked ones taste better. I have used canned chickpeas for hummus and liked it just fine so it should definitely work for falafels too
– if you plan to make this for a party, grind the ingredients and leave it in the fridge. You can take it out in advance the next day, shape up quickly (doesn't take more than 4 seconds per falafel, I timed myself) and fry up in batches.
– falafels taste just fine when gone cold too and the sauce can hold its own until a party winds down too. Just make sure you add water if the sauce thickens up on you.