I know it's really really lame to post an eggless fruit cake recipe right after Christmas and I wasn't really meaning to do it. But then I realised I will have to wait a whole year and I was positive I would forget the recipe and my notes if I postponed this recipe that long so here goes.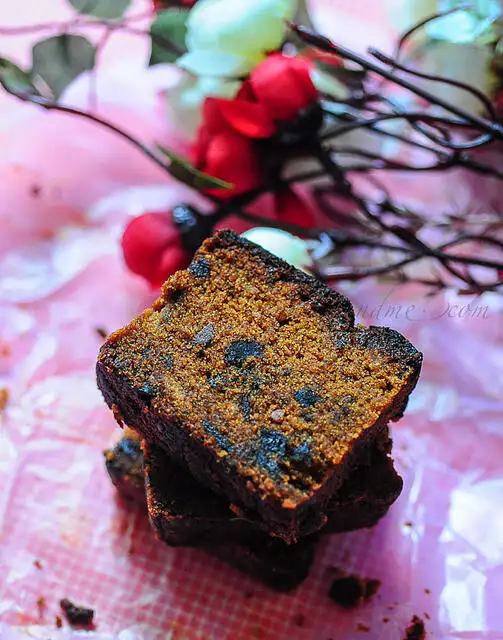 I shared Omana Paul's Plum Cake Recipe last year and quite a few people have tried it and shared feedback. However, as with any other cake recipe, I also got a ton of requests for an eggless plum cake recipe.
I don't like slaving over anything in the kitchen and most of the recipes I saw online for eggless plum cakes were lengthy and required quite a lot of ingredients. So I decided to adapt what I thought looked good and make it simpler. I am super happy with the result although the top of my cake burned a little bit.
I should've covered the baking tray with some aluminium foil but I realised I was all out of foil and just had to leave the cake to its fate. It didn't turn out too bad though, the slight bitterness added more character to the cake 😉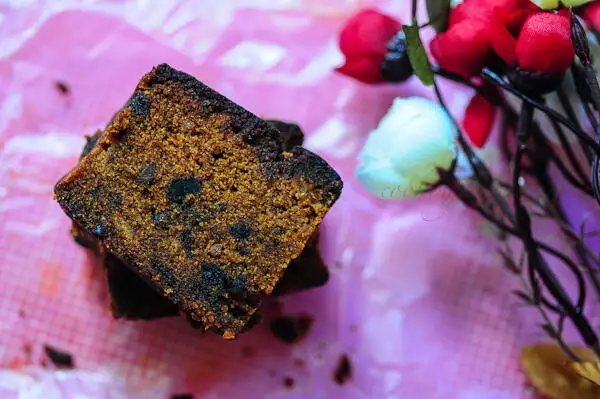 I baked mini loaves of these eggless plum cakes to give away and kept just 3 pieces for TH and I. I didn't take step by step pictures either but will surely update it as soon as I bake these again. This recipe is loosely adapted from Food.com.
Check here for more Christmas recipes including no bake chocolate biscuit balls, chocolate crinkle cookies, tutti frutti cake, etc.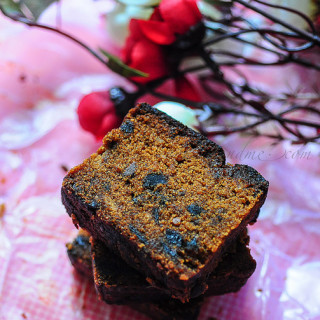 Eggless Plum Cake, Eggless Fruit Cake Recipe
Eggless plum cake or fruit cake for Christmas for those allergic to eggs or can't consume it as part of their diet. Perfect for the holiday or Christmas season!
Ingredients
1.5

cups

of all-purpose flour

maida

1/2

cup

of dark brown sugar

white sugar may also work but colour will be lighter

1

cup

of mixed dry fruits like raisins

sultanas, dates, cherries, tutti frutti, etc

2

tbsp

of finely chopped cashew nuts

2

tsp

of baking powder

1

tsp

of baking soda

1

tsp

of vanilla extract

or 1 tsp orange or lemon zest works better

1

tsp

of mixed spices like cinnamon

nutmeg, allspice, etc

1/2

cup

of unsalted butter

2.5

tbsp

of any neutral oil

like veg oil

A pinch of salt

2/3

cup

water
Instructions
Pre-heat oven to 350F / 180C. Grease and line an 8" cake pan or muffin tray / mini loaf pan, whatever you prefer.

Bring the water to boil in a pan and add the dry fruits (leave out the tutti frutti if using them) and the sugar.

Simmer for about 7-10 mins until the dates have softened ,yet don't turn mushy.

Turn off heat, remove the pan and set aside for 5 mins to cool slightly.

Then, add the butter, vanilla (or citrus zest) and baking soda. The mixture will foam a bit, that's normal and fine.

Set aside to cool.

In another bowl, sift together the flour, baking powder, and salt.

Add the spice powders and mix well to combine.

To this, add the cashew nuts and tutti frutti, if using. You can also add some chopped glazed cherries at this stage if you'd like

Add the cooled fruit mixture to the flour mixture and add the oil.

Gently fold until the batter has no flour streaks left in in it.

Pour into the prepared cake pan and bake in the pre-heated oven for about 50 mins.

If the top seems to be cooking too quickly, loosely cover the cake tray with aluminium foil and leave a slit in the middle for air to escape.

Let cool in the pan for 15 minutes before transferring to a cooling rack.

Cool completely before slicing and store in airtight containers.
Notes:
– this eggless plum cake is denser than your regular cakes so don't expect light and fluffy. Think a moist, dense, and delicious fruit cake!
– you can add a tablespoon or two of rum or brandy to the cake and make it taste "better".
– the cake is sweet on its own but if you want to frost it, reduce the amount of sugar in the cake batter.
– I got a few questions on the colour of the eggless fruit cake. Mine is a darker brown because I used very dark and moist brown sugar. Also, my dates were a dark colour as were the raisins (and I used a lot of raisins). These are the two reasons why I feel the colour of the cake may be affected. I should also probably add that the top of my cake burnt a little giving it that almost black colour. Usually the colour of fruit cake comes from caramelising sugar which we don't do in this cake. You can definitely do that though, just follow steps in my Christmas fruit cake recipe.
For eggless fruit cake recipe in Hindi, Tamil, Malayalam, Telugu, Urdu, etc please use the Google translate button in the sidebar.