Its strange how this lemon poppy seed muffins got into my head. Strange because I don't like citrus-y or lemon-y desserts. I am more of a chocolate person, or if not, I pick a Creme Brulee or a custard from the choices. Also strange because poppy seeds are not available in Singapore and I haven't seen the black ones in India either (let me know if you know where to find them in India).
I did manage to pick up two packets of black poppy seeds from Sydney and then the muffins started to haunt me until I baked them recently. I am still not a fan of lemon-y desserts or sweets but these were definitely tasty.
I realised I didn't have eggs when I reached the stage in the recipe where I was supposed to add eggs! So I just used yogurt as a substitute and hoped for the best. The muffins turned out super soft and yum, so here's an unintentional eggless adaptation of the classic lemom poppy seeds muffin recipe.
Eggless Lemon Poppy Seed Muffins
Adapted from: Baking from my Home to Yours by Dorie Greenspan

Makes: 6
Ingredients:
1/3 cup regular white sugar
zest and juice of 1/2 a lemon (use lesser if using Indian lime)
1 cup all-purpose flour
1 tsp baking powder
A pinch of baking soda
A pinch of salt
1/2 cup buttermilk or sour cream (I used sour cream)
2 heaping tbsp of yogurt (or use one egg)
1/2 tsp vanilla extract
1/4 cup (4 tbsp) butter
2 tbsp poppy seeds
For Glaze:
1/2 cup powdered sugar mixed with 2 tbsp of lemon juice
How I Made It:
1. Preheat oven to 375F / 190C. Mould or grease a muffin tin and set aside.
2. In a bowl, rub the white sugar with the lemon zest until the sugar is lightly colored and scented with lemon. In another bowl, whisk in the flour, baking powder, baking soda and salt. In a third, whisk together the yogurt (or eggs), buttermilk (or sour cream) vanilla extract, melted butter, the lemon infused sugar, and lemon juice.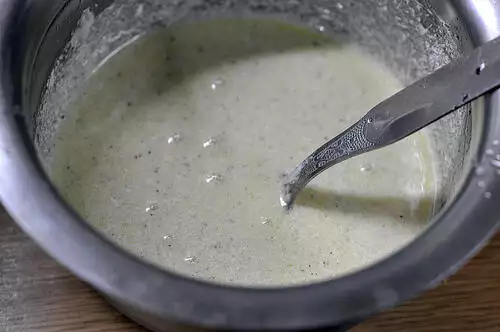 Pin
3. Add the wet ingredients to the whisked flour mixture and fold together (the specks you see in this pic are not the poppy seeds – which are added at a later stage – its the vanilla powder I used instead of extract)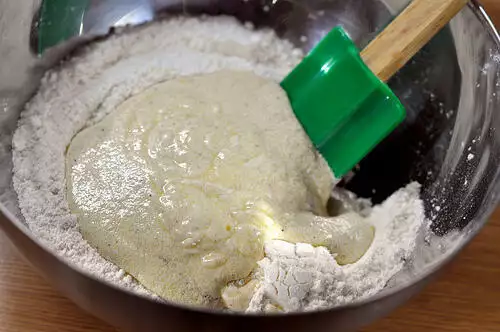 Pin
4. When almost thoroughly mixed, add the poppy seeds. Divide batter between muffin cups.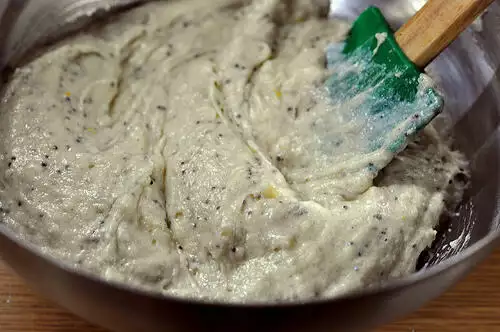 Pin
5. Bake for 30-35 minutes or until the tops are golden and a skewer inserted in the center of the muffin comes out clean.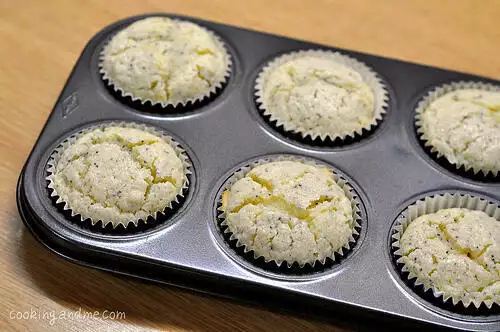 Pin
6. Let cool in the pan for 5 minutes then transfer to a wire rack to cool completely before glazing. I didn't add lemon juice to the glazing, just a few drops of milk, since I didn't want an overpowering flavour of lemon in my muffins.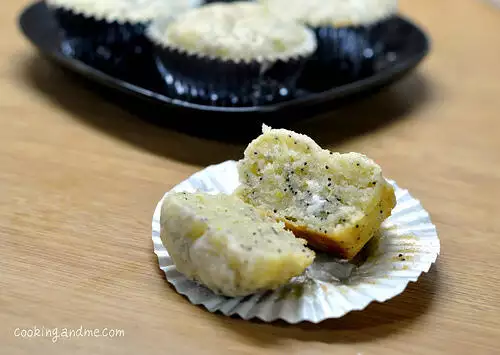 Note: my muffins turned out a tad under-baked. The baking time mentioned in the book was 15-20 mins and they passed the skewer test at that time but the top didn't turn a golden brown. I have adjusted baking time in the recipe mentioned here but look out for a golden top and you should be fine.