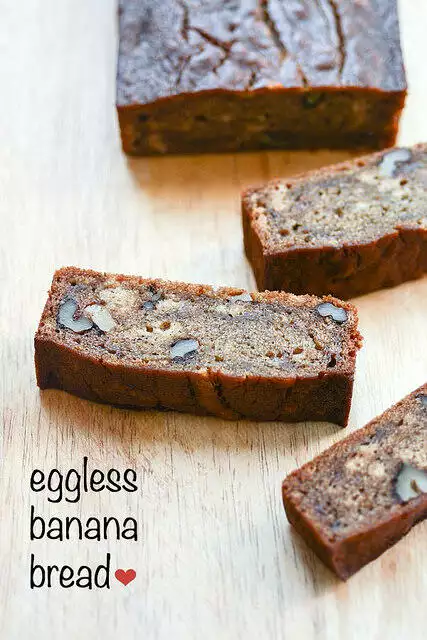 Eggless banana bread recipe: a super simple and healthy banana bread that's eggless and contains the crunch and goodness of walnuts.
Banana bread is one of my favourite things. There's something to be said about the consistency of a banana bread, so intriguingly named because it's actually more like a cake than bread but can be toasted like bread and with some salted butter on the side and a cup of coffee – ah, delicious!
Some amazing banana-based recipes for you:
Banana bread recipe with eggs
Banana cake with cream cheese frosting
Eggless banana chocolate cake
Oatmeal cookies with banana and choc chips
I baked my first banana bread with macadamia and it was a wonderful coincidence because the banana bread I tasted on my first visit to Australia was also a macadamia banana bread, so perfect and delicious. As you can see, I am a huge fan and can go on and on describing it.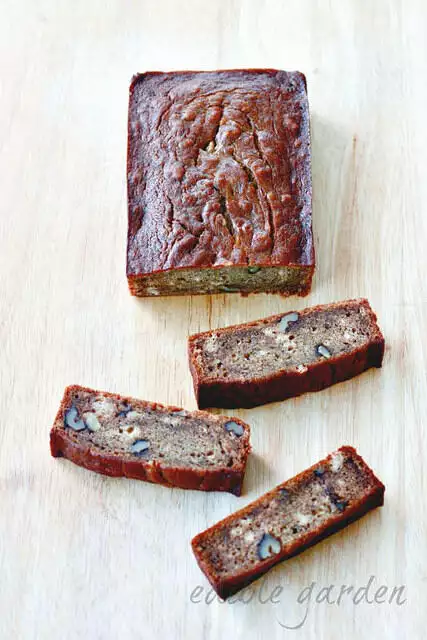 Pretty much every cafe in Australia would serve you a version, sometimes even multiple versions, of banana bread toasted on request with butter on the side. It's really easy to bake your own though, and the options to add different nuts, chips, flavours, etc are endless. This is a classic eggless banana bread recipe.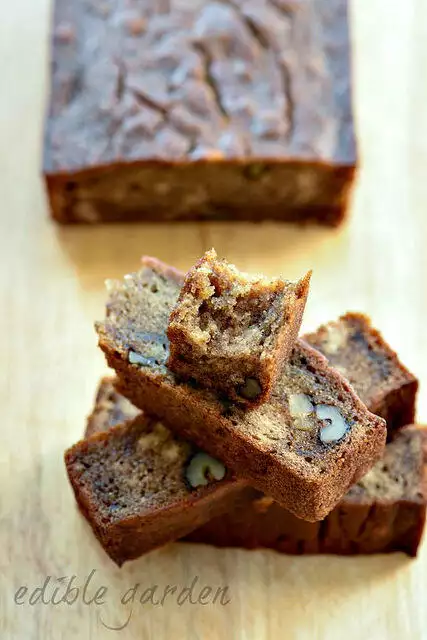 Don't be fooled by the dense-looking slices of banana bread in the first pictures. It's quite spongy but holds its shape when sliced or toasted. Also, don't be like me and use the right-sized loaf pan for square slices. I halved a recipe meant for my 9×5 loaf pan and got a shallow loaf which makes the banana bread look more like bars. Original recipe is from here.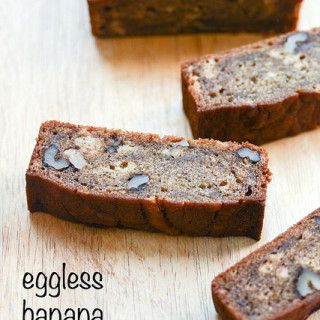 Eggless Banana Bread Recipe
Eggless banana bread, a delicious and healthy banana bread recipe made eggless with some added walnuts
Ingredients
4

cups

of pureed ripe banana

1.5

cups

of plain flour

1/2

cup

of melted butter

3/4

cup

of brown sugar

1/2

cup

of milk

1

tsp

of baking soda

1

tsp

of vanilla extract

A pinch of salt

1/2

cup

of chopped raw walnuts
Instructions
Pre-heat oven to 350F / 180C

Grease a 9x5 loaf pan with butter or cooking spray

Puree bananas to a smooth pulp. Measure out 4 cups after pureeing and transfer to a wide bowl

Add melted butter. Mix well

Now add milk and vanilla to the above and mix again

Now add sugar, baking soda, and salt and mix until well combined

Finally add the flour in 3-4 additions, gently folding it in. Do not over mix once the flour is added to the batter

Now thrown in the chopped walnuts and give everything one or two final stirs

Transfer to the greased pan and tap once on the kitchen counter to get rid of air bubbles

Bake in the pre-heated oven for about 45-50 mins or until a skewer inserted into the centre of the loaf comes out with moist crumbs. If you feel like the top of the banana bread is browning too quickly, loosely cover the pan with some aluminium foil and continue to bake. I add a couple of slits in there so the hot air can escape

Once done, leave it in the pan for about 15 mins and then gently invert onto a wire rack to cool completely

Slice and serve toasted with some salted butter to enjoy it best
STEP BY STEP BANANA BREAD RECIPE (EGGLESS)
Use very ripe bananas for banana bread. The kind with almost black skins and squishy on touch are best. If in India, use the larger bananas. Puree bananas to a smooth pulp before measuring.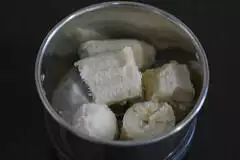 Add banana pulp to a bowl and add melted butter.
*Tip for melting butter straight from the fridge: cut into smaller pieces and set microwave to 'defrost' mode. Give it a spin for 1 minute or until you find some chunks of butter and some melted butter. Give everything a good mix. This way the butter doesn't heat up and you can get melted butter in a jiffy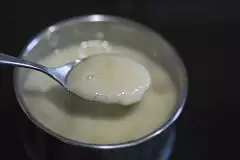 Pin
Mix pureed bananas with the melted butter.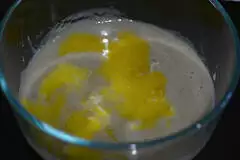 Pin
Add the milk + vanilla and mix well again.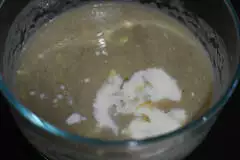 Pin
Then add sugar, baking soda, and salt. Mix well.
Pin
Add the flour in small additions (about 1/4 or 1/3 cup at at a time).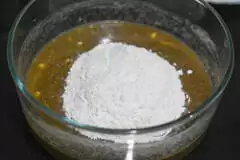 Pin
Fold gently until no streaks of flour are remaining.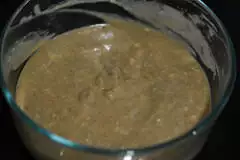 Pin
Add chopped walnuts at the end and mix gently once to distribute it evenly through the loaf.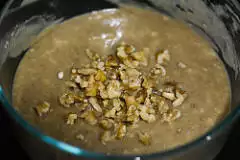 Pour into the prepared pan and tap gently to remove any air bubbles.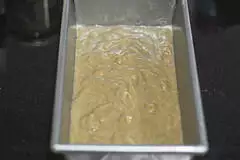 Pin
Bake in the pre-heated oven (350F / 180C) for about 45-50 mins.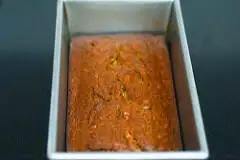 Pin
 Cool and slice before serving. This is by far the best eggless banana bread recipe I have tried. Give it a shot and let me know how it turns out!
Note – I halved the above recipe which is why my slices are not square. If you follow the recipe above and bake in a 9×5 loaf pan or similar, you should get lovely slices of the right size.
For banana bread recipe in Hindi, Telugu, Malay, Tamil, Marathi, Urdu, etc, please use the Google Translate button in the sidebar.