These
eggless banana oats chocolate chip cookies
are cake-y and fudge-y with the goodness of banana, oatmeal and also eggless. Chocolate chips make anything better – cookies, cakes, it doesn't matter. These rustic fudge-y
cookies with banana
are the perfect hostess gifts, which is why I baked up my first batch a few weeks ago. Since then I've tried these cookies with a few variations and I've added those notes at the end of this post.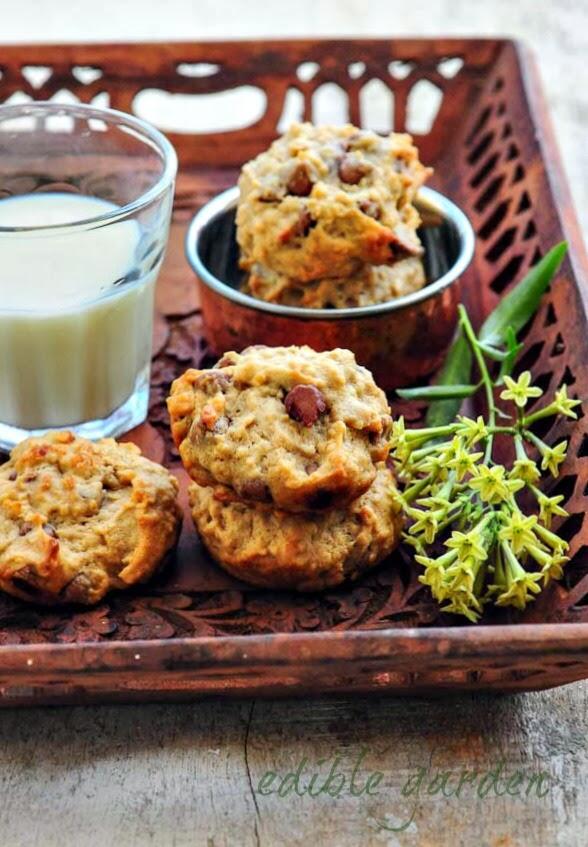 I got a bit tired of baking the same old banana bread and the (although fabulous) banana cake with cream cheese frosting all the time. Since banana cakes travel well, I almost always default to them when baking something to carry as a gift. So recently I wondered if I could bake cookies with ripe banana and if I could make it healthier than my usual bakes tend to be.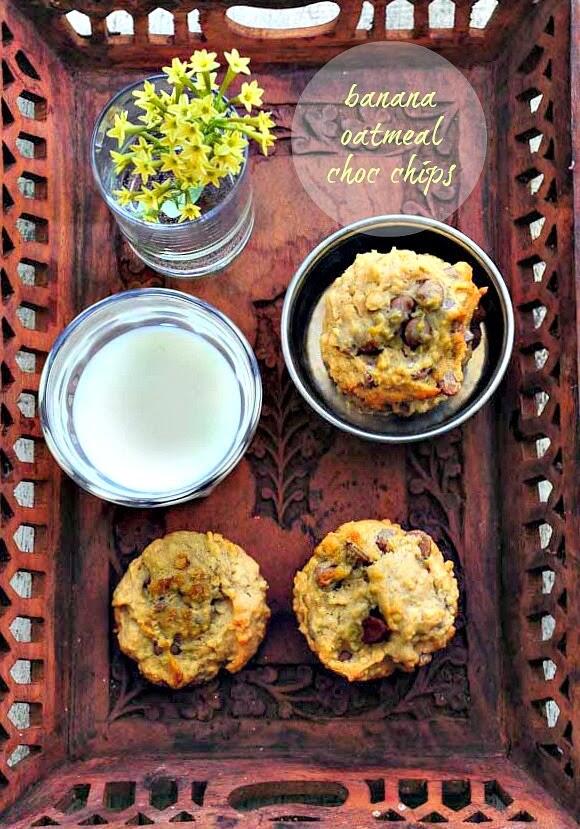 The resultant banana cookies were soft with some bite from the added oatmeal and a lovely chocolatey flavour from the chips. I made them chunky and thick so that one cookie goes a long way and you can even have it as a snack during the day with a glass of milk. YUM!
Some of my other favourites:
Eggless Almond Cookies (another great hostess gift idea)
Eggless Chocolate Chunk Cookies
Double Chocolate Biscotti
Eggless Banana Oatmeal Chocolate Chip Cookies
Preparation time: 10 minutes
Cooking time: 15 minutes
Makes ~15 cookies
Recipe adapted from: Buttercream and Chantilly
INGREDIENTS:
2/3 cup of ripe banana, mashed well or pureed
1 tsp of vanilla extract or essence
1 cup of flour
1/2 cup of uncooked oats (any kind should do)
1 tsp of baking powder
1/4 tsp of salt
1/4 cup of butter, at room temperature (55 gm)
1/2 cup of brown sugar
1/2 -3/4 cup of chocolate chips
INSTRUCTIONS:
1. Pre-heat oven to 350F/180C. Line a baking tray with aluminium foil, parchment paper, or a baking sheet and set aside.
2. Puree or mash the banana and set aside.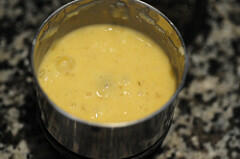 3. Sift the flour, salt, and baking powder into a bowl.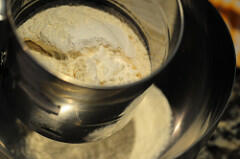 4. Add the oats and mix well to combine. Set aside.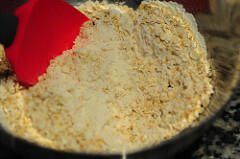 5. In another bowl, beat the butter and sugar together until creamy (about 3-4 mins). You can do this by hand, in a stand mixer, or using an electric beater.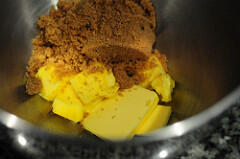 6. Add the vanilla extract to this and beat for another minute.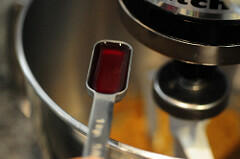 7. Add the pureed banana and gently combine until you get a smooth mixture.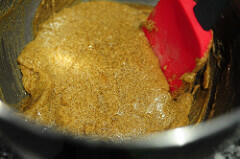 8. Add the oats flour mixture to this and fold gently until well combined and you don't see any traces of the flour.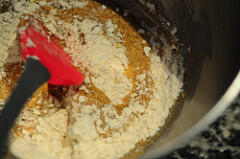 9. Finally, add the chocolate chips and fold in. You can reserve some to add on top of the cookies before baking. I didn't do this since the batter was thick enough to hold the chips in place. Also, I used 1 cup chocolate chips as in the original recipe and felt it was way too much. You can adjust this to your preference.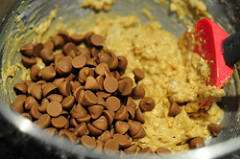 10. Using an ice-cream scoop or a large spoon, gently scoop out 2 tbsp mounds of batter and plate on the lined baking tray with about 2 inches between cookies.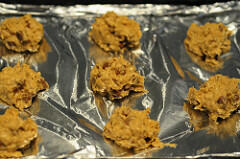 11. Bake in the pre-heated oven for about 15 mins. The edges will start to brown and you will see some brown patches on the cookies too. These cookies don't spread much.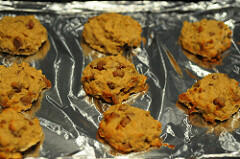 You should eat them when warm and it's super delicious. Cool completely before packing it up for a friend or storing it away for later. They stay good in an air tight container for up to 2 days. Refrigerate if keeping them longer.
NOTES:
– You can vary this recipe a lot to your preference and taste. I have made about 4 batches so far. The recipe above is the first one I tried. In the second batch, I added 1 cup oats and half cup flour and replaced brown sugar with powdered jaggery. This tasted more chewy and less sweet but overall was nice. I replaced flour with atta in a batch and the cookies turned out a bit rubbery and slightly bitter so I don't recommend that
– You can add 1/4 tsp powdered cinnamon to the dough if you like the flavour. I once tried this and omitted the vanilla. It was nice but I prefer the original version
– Replace chocolate chips with chopped dates or raisins (although, why would you remove chocolate from anything?)