These
heart-shaped two-toned sugar cookies
are hands down the nicest looking things I have ever baked or cooked. While looking for
easy Valentines Day desserts
, I realised I barely bake cookies anymore and I have a pretty nice collection of cookie cutters that haven't even been taken out of their packaging. A quick flick through my latest cookbook addition brought me to these gorgeous cookies and I knew I
had
to bake them.
Sugar cookies are very simple to make and just involve the usual suspects in a cookie, mainly flour, sugar, butter, eggs, and some flavouring, usually vanilla. These cookies just take the humble sugar cookies up a notch by being two-toned and looking so darn cute. I only had to go out and buy red food colouring, the rest of the ingredients were ready to go in my pantry. You also need two cookie cutters (any shape will do) of different sizes.
If you've been reading me long enough you'd know that I don't often produce elaborately pretty things on the blog. My baked goodies simply aim to be easy, tasty, and are often plain and simple. The main reason for this is that I lack the patience to do much beyond the very basics that produce satisfactory results. So the process of cutting these cookies in two sizes and interchanging the centres was something that needed me to go beyond my usual acceptable amount of effort but the results, they are oh so pretty.
So bake some nice sugar cookies for your loved ones this Valentines Day and get some love your way along with lots of wows. The cookies can be stored in an airtight container for up to 4 days so make these ahead to avoid last minute rush on V-day.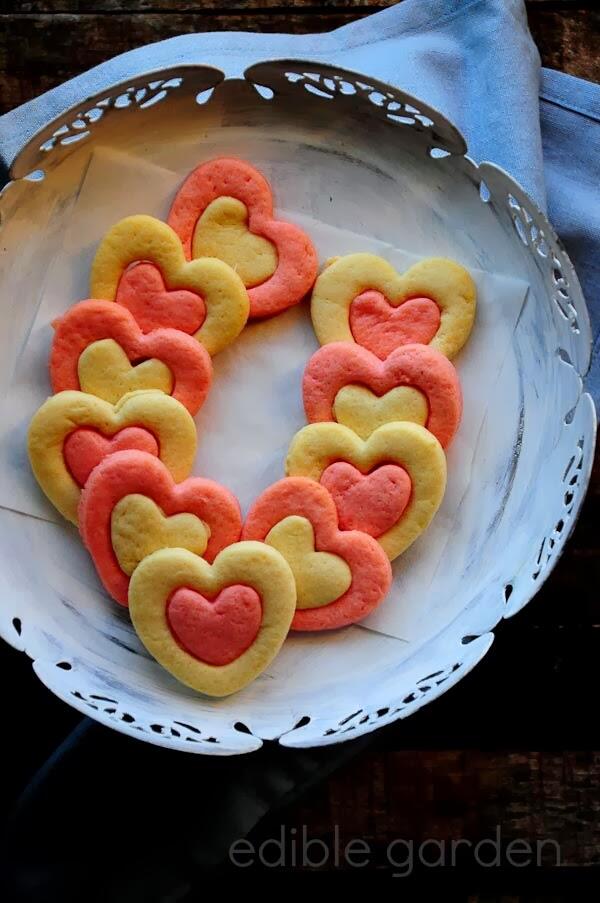 More Valentines Day Recipe Ideas
Eggless Strawberry Mousse
Molten Chocolate Lava Cakes
Eggless No-Bake Mango Cheesecake
Rich Chocolate Fudge Cake
Browse all dessert recipes to get more inspiration for your Valentines Day menu.
SWEETHEART SUGAR COOKIES RECIPE
Preparation time: 30 minutes
Cooking time: 15 minutes
Makes ~ 20 2″ cookies
Adapted from: Mastering the art of Baking (a fabulous book!)
INGREDIENTS:
4 tbsp (~60 gm) of butter, softened to room temperature
1/3 cup of icing sugar
1 egg, lightly beaten (we only need half of this)
2-3 drops of red food colouring
1/2 tsp of vanilla extract
1 cup + 2 tbsp of plain flour
INSTRUCTIONS:
0. Pre-heat oven to 180C/350F.
1. Place the butter and icing sugar in a wide bowl.
2. Whisk rigorously until you have a smooth mixture. You can do this by hand or electric beater.
3. Add half of the beaten egg. Ignore my picture where there's an entire egg – I was making a double-batch.
4. Mix gently to combine.
5. Divide half of the above mixture into another bowl and add the red food colouring and 1/4 tsp vanilla.
Mix well and set aside.
6. To the other half, add the remaining 1/4 tsp vanilla and mix well.
7. Divide the flour into two equal halves of 1/2 cup + 1 tbsp each and add to both the mixtures. First mix with a spoon and then use hands to gently form a soft dough. I don't have pictures of this step for some reason. Sorry!
8. Transfer one portion of dough between two pieces of parchment or grease paper.
Gently roll to about 1/4″ thickness.
9 .Use both cookie cutters to cut out hearts (or whatever shapes you prefer).
10. Repeat with the other dough too and gently swap out the inner smaller hearts.
Be very gently while doing this and I felt that removing the inner hearts is easier than moving the entire cookie since the dough is soft and you may find the shape going wonky.
I mushed together the remaining scraps of dough and make some marbled heart-shaped cookies. Much easier, still pretty, and tastes the same 🙂
11. Bake on a lined baking tray in the pre-heated oven for about 12 mins. You can turn the baking tray around halfway for uniform baking. The cookies won't turn very brown in this time and this is perfect.
Cool on wiring racks completely before transferring to an airtight container.
NOTES:
– I felt like the cookies could have been a bit sweeter so add a bit more sugar if you'd like. Taste the dough to check, if you don't mind raw eggs
– Add more flour by the teaspoon if you find the dough too sticky
– You can use any shape for the cookies, the recipe makes very good sugar cookies
– Instead of the red food colour, you can try adding chocolate to one batch. I wanted to do this originally but decided to stick to the original recipe idea since the cookies looked so cute and pretty, perfect for Valentines Day