Learn how to make a chocolate cake in 7 minutes or less in your microwave. This
cake is self-saucing so once you are done, there's a layer of gooey chocolate sauce on top
to keep it moist and it needs no oven, no beating the batter until your elbows ache, and no fancy ingredients. Dangerous, I know!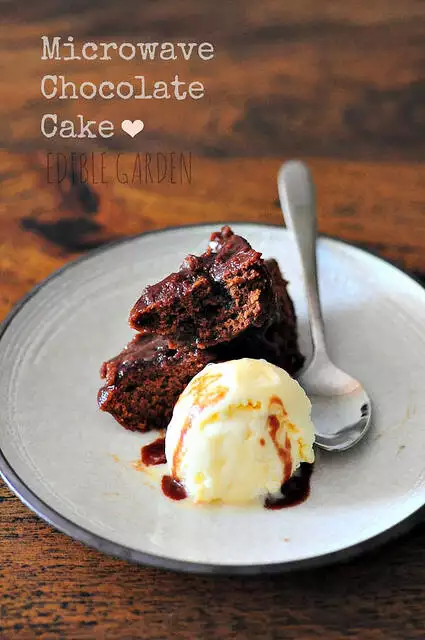 When I made the 5-min Chocolate Mug Cake for the first time, my life changed a little. Before I knew it, I was whipping up 'cake' in a mug in less than 5 minutes whenever my tastebuds demanded, which was very often. After 2 weeks of too much mug cakes, I told myself to stop it already. While the microwave is not really meant for baking, these quick cakes are definitely an exception.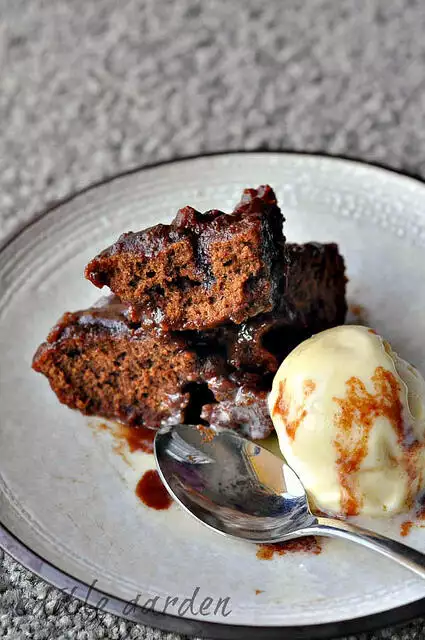 I had bookmarked this self-saucing microwave chocolate cake ages ago and finally got to making it a couple weekends ago. The thing with the mug cake is that if you let it sit for a while after it's cool, it turns rubbery and possibly inedible. This cake, however, has a lovely gooey chocolate sauce on top that keeps it moist and nice for up to a day. Fresh out of the microwave, you can't even tell it was whipped up in the microwave in a few minutes and not really baked.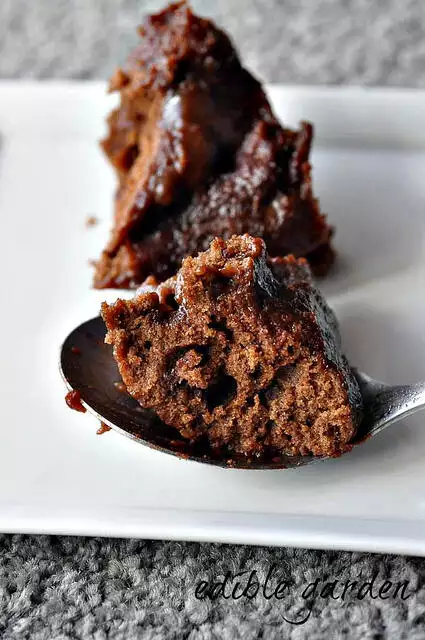 I made a couple of minor errors when making this cake in the microwave which I don't want you guys to repeat. Learn from my mistakes, you know?
– I overcooked the cake a tad. I halved the recipe but didn't reduce the cooking time. I know this seems obvious but, ah well, I'm not perfect you guys. I have adjusted this in the recipe instructions below
– I halved the sugar in the sauce and this was a big mistake. The cake wasn't very sweet at all and no one likes a not-sweet cake, definitely not me, so we rectified it by eating the cake with vanilla ice-cream
– I scooped the cake out with a spoon and didn't cut it with a knife like a civilised person would do, which explains the wonky pieces in the pictures. This is not really a 'mistake' but hot cake and vanilla ice cream is a killer combo and I admittedly got a bit impatient.
Ok that's it, on to making cake in the microwave. Let's go!
MICROWAVE CHOCOLATE CAKE IN 7 MINS
Preparation time: 4 minutes
Cooking time: 3 minutes
Makes One small 5″ Cake
Serves 4
Adapted from: allrecipes
INGREDIENTS:
1/2 cup of plain flour
1/2 cup of sugar
1/2 tsp of baking powder
1/4 tsp of salt
2 tbsp of cocoa powder
2 tbsp of melted butter
1 of egg
2 tbsp of milk
1 tsp of vanilla extract
For the sauce:
1/2 cup of brown sugar (or just use white sugar)
2 tbsp of cocoa powder
75 ml of warm water
INSTRUCTIONS:
0. Mix the flour, cocoa powder, sugar, and salt in a bowl with a whisk.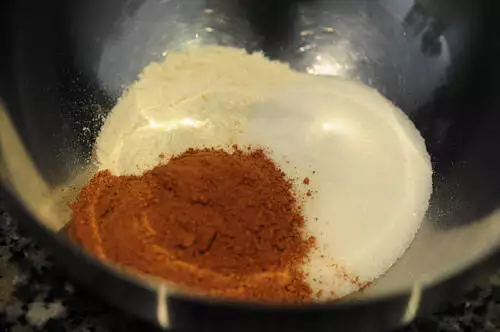 1. Add the egg, melted butter (I didn't melt it though), milk, and vanilla to this.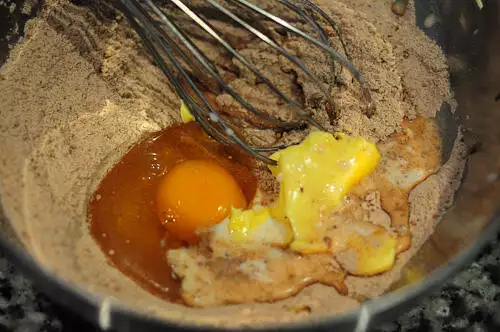 2. Whisk again gently until well combined.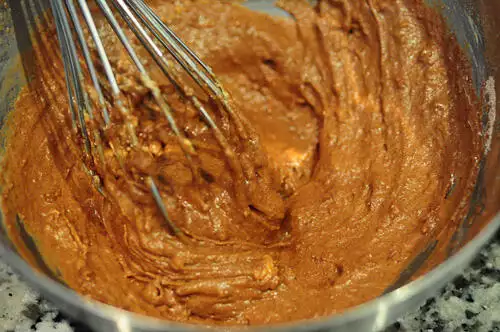 3. Grease a microwave-safe glass or ceramic bowl with some butter and pour the batter in. If the batter is too thick, add a couple of teaspoons of milk. It should be thick, yet pourable. Use a spatula to flatten the top of the batter as much as possible so it cooks up evenly. Also, use a bowl that is large enough for the sauce to bubble up in the microwave.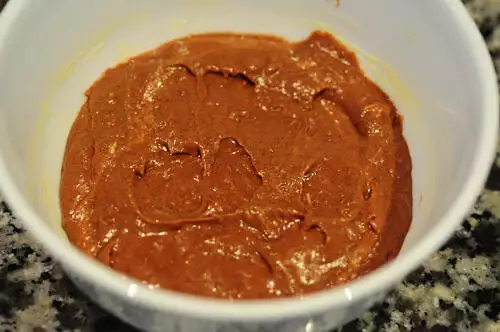 4. In a small bowl, whisk the brown sugar and cocoa for the sauce.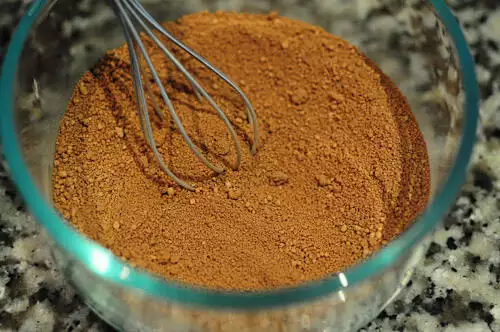 5. Lay this mixture evenly on the cake batter.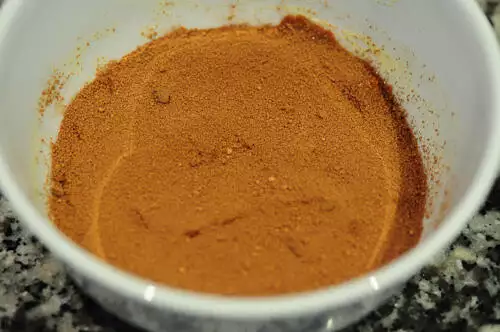 6. Pour the warm water gently over this so as not to disturb the batter too much.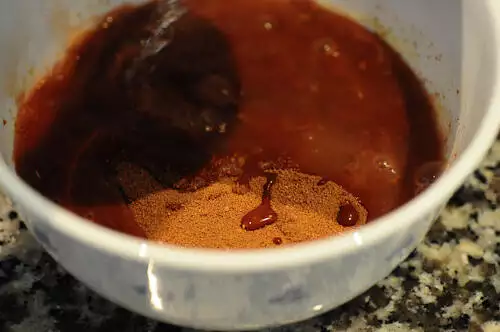 7. Use a fork to prick the batter below so that the sauce seeps through the batter.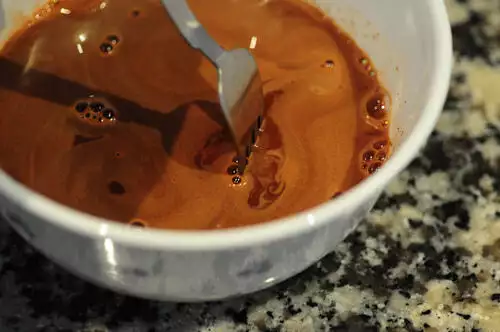 8. Microwave on high for about 3 mins. The total time required will depend a lot on the size of your bowl, power of your microwave (mine is 1100 W), etc. So start with 3 mins and if the cake still looks too watery, give it another 30 seconds. Remember that the cake will get really hot in the MW and will continue to cook a bit further after done so it's better to stop when you feel l like it needs one more 30-second round. The sauce will also bubble up quite a bit as it cooks.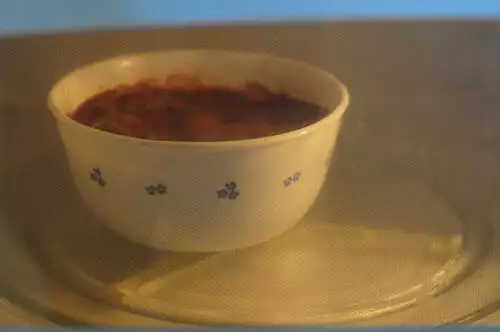 9. Done! A bit overdone in this picture, actually. Stop when there's still some sauce swimming around the cake. I know this is not the prettiest looking cake but it tastes pretty great for a chocolate cake that gets done in the microwave in 7 minutes!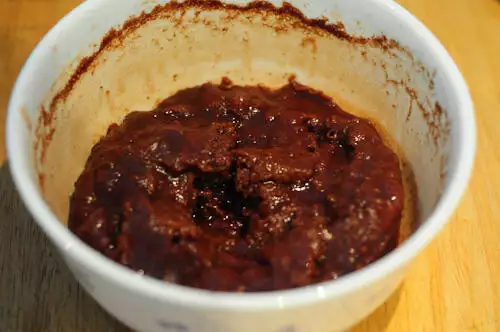 Let it cool down a bit before you cut. I tried to unmould it but the shape was all wonky. Doesn't matter if it's odd shaped, place a piece on a plate, pour some sauce from the bowl on top, and enjoy with some vanilla ice-cream.
Notes:
If you want to make an eggless chocolate cake in the microwave, try the usual egg replacements like flax seed powder or yogurt. You will have to experiment a bit with the quantities. I haven't tried this myself
You can try replacing the butter for vegetable oil, worth experimenting if you so feel inclined
The cake keeps well for a day or two in the refrigerator but it's best eaten warm as it does tend to dry out a bit when left for long. Re-heat for 20 seconds in the MW if you are serving later
Obviously, you can customize this the way you want by adding chocolate chips, dried fruits, nuts, etc
Disclaimer: a cake made in the microwave is never going to taste the same as a baked one so set expectations accordingly. The total time taken to prepare/cook will depend on your speed of cooking, your microwave and power, etc and may go over 7 mins
For microwave chocolate cake recipe in Hindi, Tamil, Telugu, Marathi, Urdu, etc, please use the translate button in the sidebar.