Gobi Mushroom Masala recipe
with gobi (cauliflower), and button mushrooms cooked in an onion-tomato spiced gravy. This gobi mushroom masala goes best with pulao or
jeera rice
but will also serve as a good side dish for roti or chapati.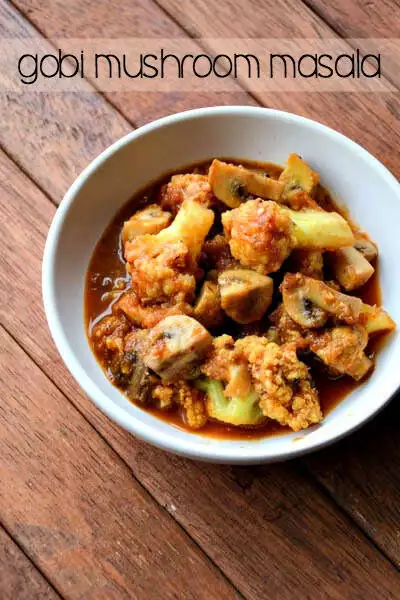 My everyday recipes are often the same, following the same method using similar ingredients and cooking method. I often share these recipes with you all in the hope that it helps your menu planning and getting some food quickly on the table. This particular gobi mushroom masala recipe has a tomato onion base and I have used some whole spices (garam masala) for tempering to give it more flavour. Mushrooms and cauliflower is also TH's favourites so it was a no-brainer to combine the two vegetables to make a quick curry.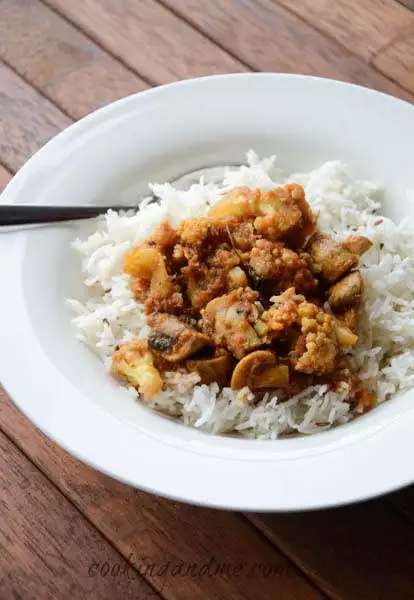 One quick word on herbs, curry leaves, and coriander leaves. When in Sydney, I found that curry leaves were near impossible to find fresh and coriander leaves were quite expensive for the kind of lavishness I am used to when using them. So I resorted to kasuri methi a lot. For the uninitiated, kasuri methi is dried methi or fenugreek leaves which has a wonderful, deep, smoky flavour. It's also faintly bitter like the fresh leaves are. Of course, kasuri methi is not a direct substitute for fresh coriander leaves but for most tomato-onion based gravies and curries, I found it to be a great addition that almost made me not miss fresh coriander in my life.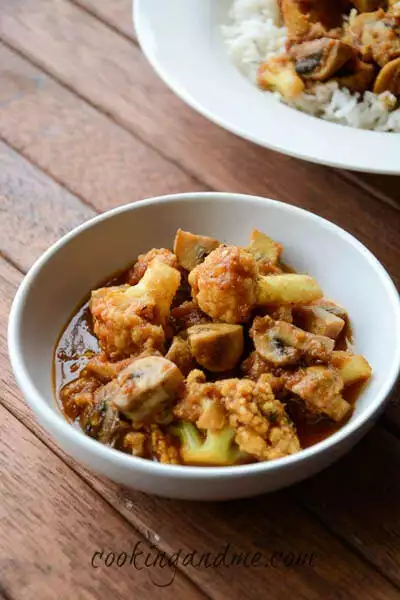 For most of my North Indian curry recipes like paneer butter masala, paneer jalfrezi, and even palak paneer, I use kasuri methi quite generously but this gobi mushroom masala is more of an experiment. Do let me know if you try and like the recipe too!
GOBI MUSHROOM MASALA RECIPE
Preparation time: 15 minutes
Cooking time: 30 minutes
Serves 4
INGREDIENTS:
4 cups of cauliflower florets
2 cups of chopped button mushrooms
1 tbsp of canned tomato paste (see notes)
2 cups of sliced onions
1/2 tsp of Kashmiri chilli powder (or any red chilli powder)
1/4 cup of raw cashew nuts
2 tsp of oil
1 bay leaf
A few cloves
1″ piece of cinnamon
1/4 tsp of turmeric powder
1/2 tsp of cumin seeds
1 tsp of coriander powder
1 tbsp of kasuri methi (dried fenugreek leaves)
2-3 green cardamom pods
1 tsp of ginger garlic paste
INSTRUCTIONS:
Soak the cashew nuts in warm water for 30 minutes and set aside.
Heat 1 tsp oil in a pan and add the sliced onions. Saute until golden brown and add the tomato paste along with 1/4 tsp red chilli powder, ginger garlic paste, and some salt.
Cook for a while longer until the mixture turns fragrant and is well roasted, like below.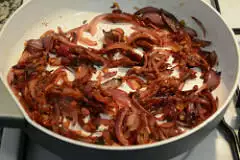 Cook and grind the above along with the soaked cashew nuts to a smooth paste. Add water as needed when grinding.
Heat the remaining 1 tsp oil in the same pan and add cumin seeds, cinnamon, cardamom, and bay leaf.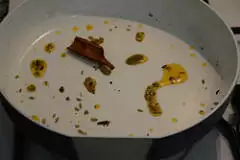 Toss around for 15 seconds and then add the cauliflower florets. Mix well to combine. Let the cauliflower roast on low heat until semi cooked.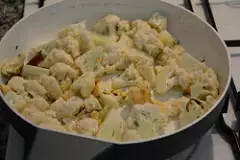 Then, add the mushrooms and mix well again.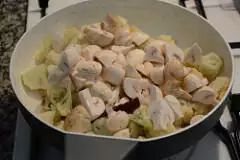 Add the remaining 1/4 tsp chilli powder, turmeric powder, coriander powder and some salt. Mix well.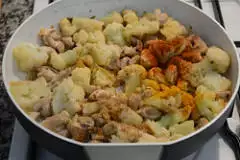 Now add the cashew-onion-tomato paste along with 1/2 cup water.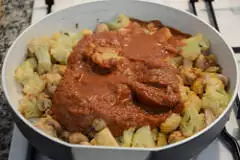 Mix well and simmer on low heat until the mushrooms and cauliflower are cooked through. Adjust salt as needed. When the vegetables are cooked, sprinkle the kasuri methi on top, give everything a final stir, and remove from heat.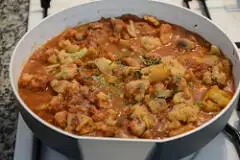 Add more or less water as needed for the right consistency. This gobi masala should typically have some gravy.
Notes:
– I use tomato paste in a lot of my recipes since it's easier than chopping up and grinding tomatoes on a busy day and also, the paste gives the dish a deeper colour and flavour. You can replace the 1 tbsp tomato paste in this recipe with 1 cup fresh tomato puree. Expect the colour of the final dish to be a lot lighter in that case
– You can omit the cashew nuts and 2 tbsp cream at the final stage along with kasuri methi
– Instead of adding whole spices like cardamom etc in the beginning, you can finish off the dish with 1 tsp garam masala powder when adding the kasuri methi
– A fistful of peas would fit right into this gobi mushroom masala recipe so add some if you have any handy