I made 2 easy Gujarati Recipes last week, my first time ever! From the title you all know where this is going, right? Yep! Right over to Mythili's RCI – Gujarati Cuisine. As always I did some research on the state's cuisine and came across some amazing dishes like Khandvi, Dhokla (both of which I am dying to try, but couldn't this time cuz of some logistical issues) and mostly sweet and vegetarian dishes. I zeroed in on some easy dishes to make a simple Saturday brunch.
I made a simple meal of Channa Moong Dal, Gujarati Khattay Aloo and Rice.
Chana Moong Dal Recipe
Ingredients:
Yellow moong dal – 1/2 cup
Oil – tbsp
Garam masala – 1/2 tsp
Red chilli powder – 1 tsp
Turmeric powder – 1 pinch
Coriander powder – 1/2 tsp
Juice of – 1/2 lemon
Grated giner – 1/2″ piece
2 cups water
How to Make Gujarati Dal Recipe:
1. Pressure cook dal with one cup water and a pinch of turmeric for approx 4 whistles.
2. Mix all the spice powders in 1/2 cup water to make a thin paste.
3. Heat oil in a pan. Add some cumin & coriander seeds. Once they splutter, add the ginger.
4. Add the paste of spice powders, fry for a minute, and then add the dal. Bring to a boil.
5. Add lemon juice and required amount of salt.
Gujarati Khattay Aloo Recipe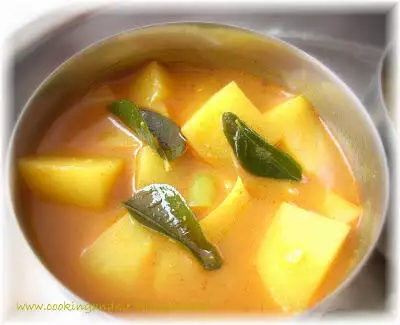 Ingredients:
Potatoes – 3 big
Tamarind pulp – 1 tbsp
Sugar – 1/2 tsp
Mustard seeds
Turmeric powder – 1 pinch
Chilli powder – 1/2 tsp
Coriander powder – 1 tsp
Cumin powder – 1 tsp
Fresh green chilies – 2
Grated coconut – 2 tbsp
How to make Khattay Aloo Recipe:
1. Peel and dice potatoes.
2. Soak tamarind in hot water for 5 minutes and then squeeze it firmly to extract all the juice and strain the liquid through a seive. Dissolve the sugar in the liquid.
3. Heat 1 tbsp ghee or oil and fry some mustard seeds until they pop. Add the turmeric, chilly powder, coriander and cumin and fry for about 1 minute on low fire.
4. Add the potatoes and toss for about a minute. Sprinkle with salt and little water, (about 1/4 cup) cover tightly and cook on a very low flame for about 15 minutes.
5. Add the tamarind juice, sliced chillies and coconut and stir well. Cover and cook for about 10-15 minutes or until the potatoes are cooked through.