Here's a picture of one of the softest cupcakes I have ever made –
Devil's Food Cupcakes with a Vanilla Cream Filling.
It's every bit as delicious as it sounds.
Filled cupcakes were new to me so I actually made these in a hurry on the day I was leaving for India. The cupcakes were so soft that I couldn't do the filling process easily.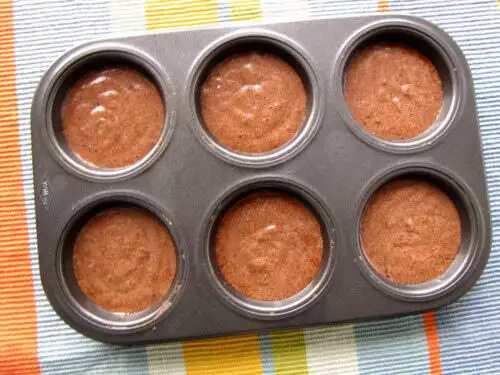 The colour was deep and the best part is, these cupcakes bake very quickly, in about 15-20 mins!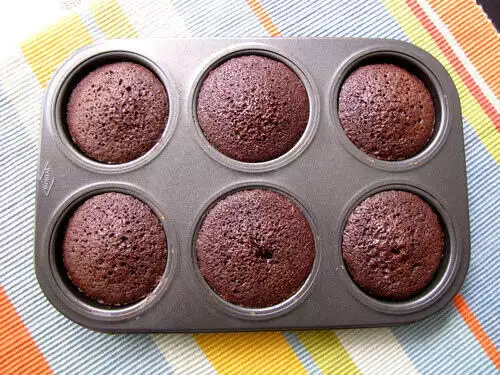 The recipe is below but a few notes from me:
– Like I mentioned, the cupcakes were very very soft so it they were hard to handle but a dream to eat. I may try adding lesser baking soda in my next batch.
– There are 2 frostings but I made only one – the filling. The frosting you see on the cupcake above is a readymade one from Pillsburry
.
– I used sour cream as the recipe requires but want to try with yogurt the next time, as that's a more easily available ingredient.
– The recipe method seems slightly confusing – I wasn't sure when to add the sour cream, whether I should add it to the beaten butter-sugar mixture or alternate with dry ingredients, but I did the latter and the results were beautiful.
– I halved the recipe and got about 14 cupcakes. The original recipe requires 3 large eggs and I added 2 normal sized ones. All other ingredients were accurately halved.
Devil's Food Cupcakes with Vanilla Cream filling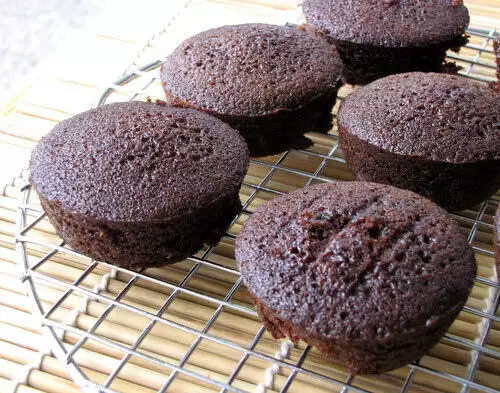 Pin
Recipe Source – Baking Bites
Makes about 24 cupcakes
Ingredients:
1/2 cup butter, room temperature
2 cups sugar
3 large eggs
3/4 cup sour cream (low fat or full) – can be substituted with yogurt or cream mixed with a tsp of yogurt
1 tsp vanilla extract
2 cups all purpose flour
2 tsp baking soda
1/2 tsp salt
1/4 cup cocoa powder
2-oz dark chocolate
1 cup water, boiling
How to Make Devil Food Cupcakes
Preheat the oven to 350F and lightly grease two 12-cup muffin tins.
In a large bowl, cream together butter and sugar until light.
Beat in eggs one at a time, followed by sour cream and vanilla extract.
In a small bowl, whisk together flour, baking soda and salt.
Add half of flour mixture to the butter mixture, followed by the sour cream and vanilla extract, followed by the addition of the rest of the flour mix.
Stir well between each addition and mix until no streaks of flour remain.
Stir the cocoa powder and the dark chocolate into the boiling water (easiest in a large measuring cup).
Pour chocolate water into the rest of the batter and stir until uniform.
Evenly distribute batter into prepared baking cups. Bake for 13-15 minutes, until a tester comes out clean and the cakes spring back when lightly pressed. (It's fine if you can't fit both trays into the oven at the same time, just wait until one batch finishes before putting in the second pan)
Turn cupcakes out onto a wire rack to cool completely before frosting and filling.
Vanilla Cream Filling
3 tbsp all purpose flour
1/2 cup milk (low fat is fine)
1/2 cup butter (or trans fat-free shortening)
1/2 cup granulated sugar
1/2 scraped vanilla bean or 1 tsp vanilla extract
Whisk together the flour and milk and cook in a small saucepan over medium heat until thick. This will only take a few minutes.
Stir continuously to prevent the mixture from clumping and do not bring all the way to a boil.
When thickened (consistency will be that of a thin pudding or custard), strain with a mesh strainer into a small bowl, cover with plastic wrap and let cool completely to room temperature.
When the milk mixture is cool, cream the butter (or shortening) and sugar together in a medium bowl until lightl. Add in the milk/flour mixture and the scraped vanilla bean seeds (or vanilla extract) and beat at high speed with an electrick mixer for 7 minutes, until light and fluffy. Scrape into a pastry bag fitted with a plain tip, or a large ziplock bag with the corner cut off, and set aside until ready to fill your cupcakes.
Chocolate Buttercream Frosting (I didn't make this)
1/2 cup butter, room temperature
1/2 cup unsweetened cocoa powder
2-3 cups powdered sugar
1/4 cup milk
1 tsp vanilla extract
Combine all ingredients in a large bowl and beat, with an electric mixer, until frosting is creamy, 3-5 minutes. Add additional powdered sugar as needed to achieve a thick, but not stiff, frosting that is easy to spread. Add additional milk, if necessary, to thin the frosting if it gets too thick.
Assembly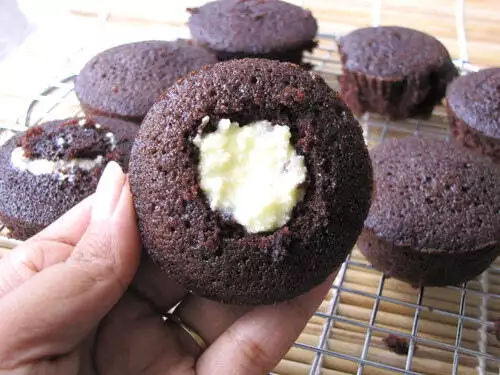 Pin
Take a cooled cupcake and, using a small pairing knife, cut a cone of cake (1-inch across by 1-inch deep) out of the top. Trim off the pointy end of the cone, leaving a flat circle of cake. Set aside and repeat this process for all the cupcakes. Take the cream filling and squeeze a tablespoon or so into each cupcake cavity, filling the hole up to the top with filling.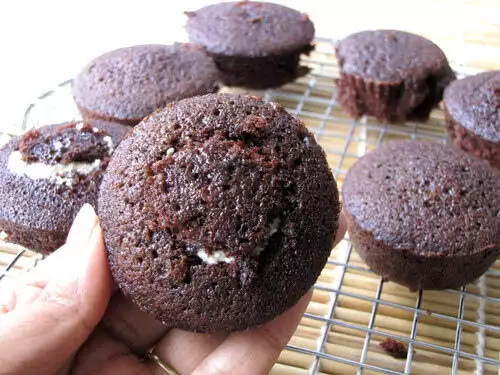 Pin
Top off with a flat circle of cake to plug the hole and keep the filling in place.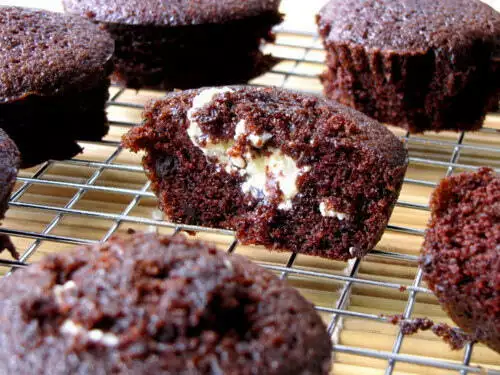 Pin
Yum!