I have posted my original
dal makhani recipe
before. The problem with that recipe was, it lacked colour although the flavour was just fine. Also, that recipe has cream in it. Why use cream when you can get lovely, creamy Dal Makhani without the cream. I've been 'hooked' to this Dal Makhani recipe since coming across the recipe in Hooked on Heat.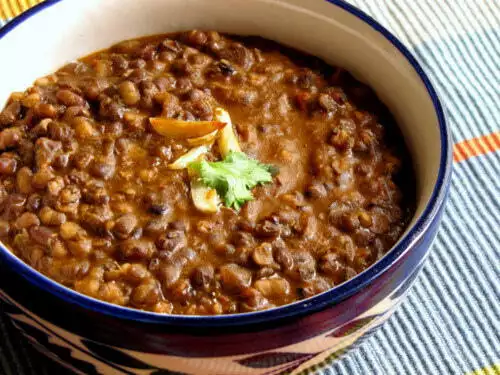 Admittedly, dal makhani is not my favourite Indian dal recipe and I tend to lean towards the simple dal tadka, methi dal, or the fabulous panchratan dal when eating out, but since this creamy dal dish is so popular, I make it now and then, especially when we have guests and I need a good side dish for my tawa naan recipe.
Dal Makhani Recipe
Serves 2


Ingredients:
1/2 cup whole black lentils / whole urad dal
1 onion, minced
1 tomato, finely chopped
2-3 cloves of garlic
1 tbsp ginger-garlic paste
1 tbsp tomato paste (or 1 large tomato, pureed)
2 tbsp milk
1/2 tsp red chili powder
1 tsp coriander powder
1 tbsp butter
1 tbsp oil
fresh coriander leaves, for garnish
water, 1 to 2 cups
salt to taste
Instructions:
1. Heat the oil in a pressure cooker and saute onions till lightly browned. Stir in salt, chilli powder, coriander powder, ginger-garlic paste, and tomato paste and fry for a few seconds.
2. Add in the chopped tomatoes and cook for a few minutes to combine well. Add dal and enough water to cover them (about 2 cups). Pressure cook for 4-5 whistles minutes till lentils are soft and done. Stir in milk and let it come to a boil.
3. In a separate pan, heat butter and add whole garlic cloves slit in the middle. Stir the tempering into the lentils and garnish with fresh coriander leaves.
Serve with warm rotis or a simple pressure cooker vegetable pulao.