Cumin Rasam
or jeera rasam is a South Indian Iyer style rasam recipe that I got from my MIL long back. Then I duly forgot the recipe and made up my own. It's quite similar to her
pepper rasam recipe
but is more heavy on the cumin which gives it a wonderful aroma and taste and doesn't use tomatoes or garlic. This is also a rasam with no dal so that means less time spent on making it but we do use fresh rasam powder so there's a bit of roasting and grinding involved. I love preparing this cumin rasam in bulk which means I can easily use it for 3-4 meals, mostly weeknights for dinner.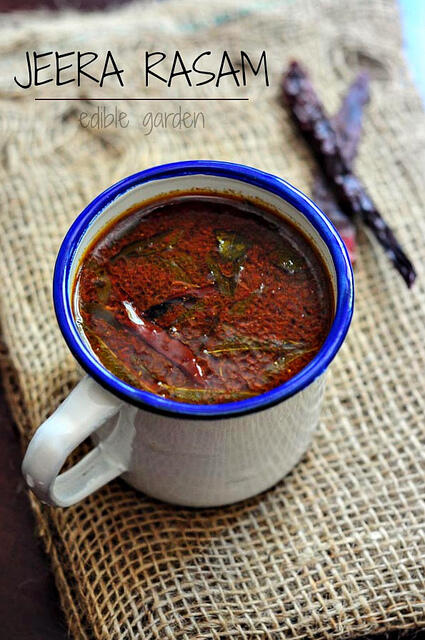 In a way, it truly amazes me how many different varieties of rasam I know to cook now. When growing up, rasam was served in our home only if someone was sick or amma was feeling too lazy to make a 'nicer' thakkali kuzhambu or ullipaya pulusu. And, I have mentioned this before, we only make one version of rasam which has lots of crushed pepper and garlic, and no dal.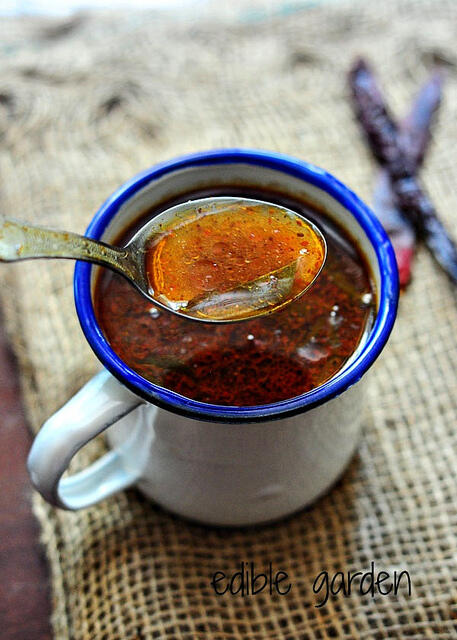 Being married to a Tamil Brahmin has opened up this whole world of rasams and boy, am I grateful! But the biggest food discovery for me has been paruppu usili. I love that thing and totally regret the years lost not knowing of its existence.
My top 3 favourite rasams are Milagu Rasam, Tomato Rasam, and Mysore Rasam. Here's the entire list of rasam recipes if you want to browse around a bit.
JEERA RASAM RECIPE
Preparation time: 5 minutes
Cooking time: 20 minutes
Serves 4
INGREDIENTS:
1 lime-sized ball of tamarind
1 pinch of hing or asafoetida
1/4 tsp of turmeric powder
To Roast and Grind:
1 tsp of oil
1 tsp of cumin seeds (jeera)
1/2 tsp of black peppercorns
2 dry red chillies
1.5 tsp of toor dal or channa dal
For Tempering:
1 tsp of ghee or oil
A few of curry leaves
1/2 tsp of mustard seeds
1 of dry red chilli, halved
1/4 tsp of methi seeds (menthayam)
INSTRUCTIONS:
0. Add about 1 cup warm water to the tamarind, extract juice, and discard the pulp and seeds, if any.
1. In a pan, heat 1 tsp oil and add the spices to roast.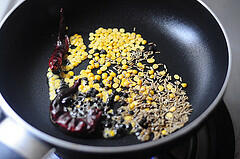 2. Roast until the dal turns golden brown. Turn off flame, add the hing, mix well, and set aside to cool.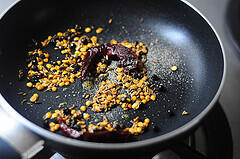 3. Meanwhile, heat the ghee or oil in a pan and add the mustard seeds. When they pop, add the halved red chilli, methi seeds, and curry leaves. Fry for 5 seconds, taking care not to burn the methi seeds.
4. Add the tamarind juice along with 2 more cups of water and bring to boil. Simmer for about 12-15 mins until the raw smell of the tamarind goes.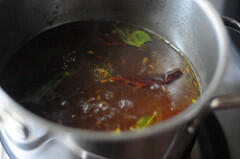 5. Meanwhile, powder the spices as fine or coarse as you want.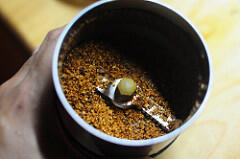 6. Add this to the simmering tamarind mixture along with required amount of salt. You can add half the spice mixture, taste as you go and then add more if you need it. I used up the entire thing. Some may find the spice levels too high, in which case, adjust the amount of pepper or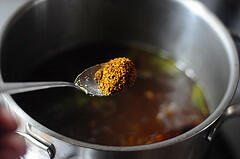 7. After add the spices, don't boil the rasam for too long. When it begins to simmer, remove from flame.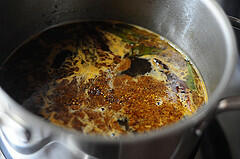 Keep covered until ready to serve. This Jeera Rasam tastes fabulous with banana stem usili and cabbage thoran.