Bitter gourd fry or pavakkai fry recipe – I can't believe I am posting a bitter gourd (karela, pavakkai) recipe. TH and I avoid the vegetable like a plague and although those small, very green, very bitter variety is available here in Singapore, I hardly ever give it a second glance. In Kerala, bitter gourd, or pavakka, is fatter, a very light green, and significantly less bitter than the darker green ones we see everywhere else.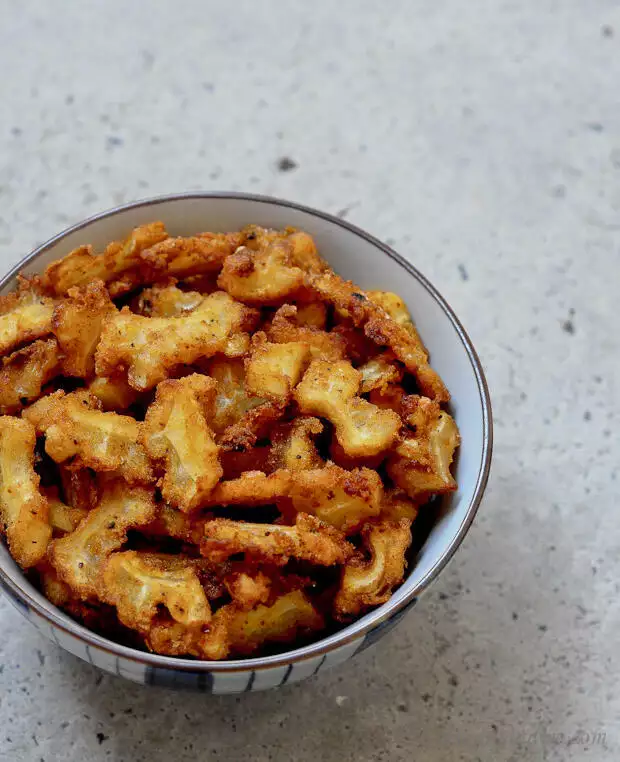 Pin
But I've never seen bitter gourd like this before. It was white and very chubby. These are from Taiwan and they were so cute that I had to pick them up, even if its pavakka and TH was gasping at the idea!
Also check out these recipes:
Chow chow capsicum curry
Dry mushroom peas masala
Kerala chena fry
Arbi fry recipe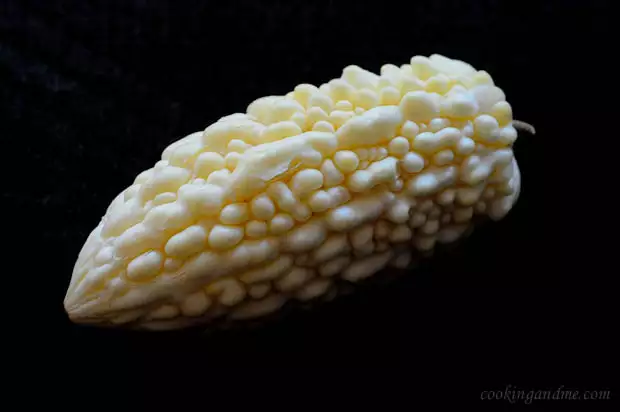 I used the same strategy on this bitter gourd that I do on another vegetable that we don't like much – okra. I fried it. It was delicious and for once I didn't mind the bitterness, although TH still didn't have more than one spoon.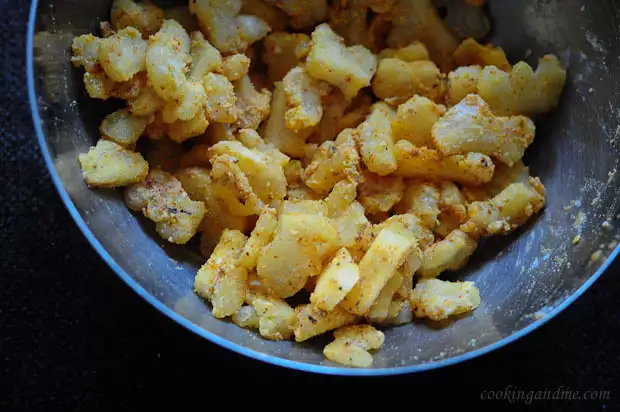 Pin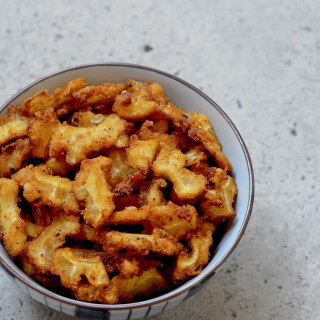 Bitter Gourd Fry Recipe
Fried bitter gourd in a rice flour and spice mixture, Tamil Nadu style. Perfect with rice and rasam
Ingredients
1

medium-sized bitter gourd

cut into thin 2" pieces (about 3 cups)

1/2

tsp

salt

3-4

tbsp

rice flour

1/2

tsp

red chilli powder

A generous pinch of hing / asafoetida /perungayam

1/4

tsp

turmeric powder

1/2

tsp

garam masala

1/4

tsp

pepper powder

Oil for deep frying
Instructions
Rub salt into the cut bitter gourd pieces and set aside for an hour. Once the hour is up, squeeze all moisture from the bitter gourd pieces and transfer to another bowl.

Add rest of the ingredients to the pieces and stir well to dredge. There should be enough rice flour to coat all the pieces well (not too thickly) so if you feel you need more, adjust the quantity. The initial salt you added should be enough but add more to taste if you feel you require it.

Let the dredged bitter gourd pieces rest for 15 mins or so while you heat up the oil to deep fry. Fry in batches until dark brown and cooked through. Drain on kitchen towels. Its important that you make sure the pieces are thin, otherwise the inside won't be cooked.
For bitter gourd fry recipe in Hindi, Tamil, Telugu, Kannada, Urdu etc please use the Google translate button in the sidebar