I saw this vegetable – chow chow aka chayote squash – in Reliance Fresh and immediately wanted to try it out. I had heard about chow chow bhath but I had a certain someone visiting me over the weekend and he is not much of a variety rice person. So we decided on a simple chow chow sambhar to be served with curd rice.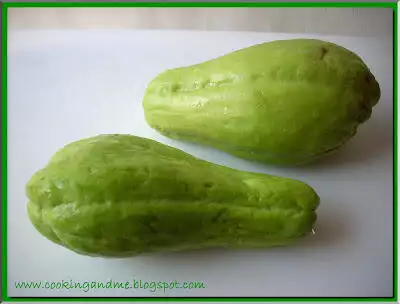 Chow chow/Chayote Squash
Chow chow is rich in Vitamin C and potassium, and 1 cup counts for around 40 calories. The vegetable in itself is quite tasteless but chow chow bhath and chow chow kootu recipe seem to be quite popular, especially in Andhra cuisine. I've also made a delicious chow chow chutney recipe you may wish to try.
Here is the recipe for Chow Chow Sambar (Chayote Squash Cooked with Lentils)
Ingredients:
Chow chow – one, cubed
Toor dal – 1/2 cup
Water – 2 cups
Turmeric – one pinch
Green chillies – 2, slit on the sides
Onion – 1
Salt – to taste
Tamarind paste – 1 tbsp
Sambar powder – 1 tbsp
For seasoning
Mustard seeds, curry leaves, chilly powder, chopped coriander leaves.
Instructions:
1. Pressure cook the dal with chillies, turmeric, cubed onions, and chow chow.
2. Add tamarind paste to the cooked dal. Also add the sambhar powder. Adjust water to get the consistency you like.
3. Heat oil in a separate kadai, add mustard seeds, chilly powder and curry leaves and fry for 10 seconds. Add to the dal mixture. Mix well. Garnish with chopped coriander leaves.
I served chow chow sambar with some curd rice.