Chow chow chutney is tough to imagine, right? I mean, there's this vegetable, and I am saying I made chutney with it. It looks fine but you have no idea how it tastes. I know, I understand. But trust me when I say it was delicious. I had my moments of doubt too, but in the end, it turned out fabulous. What's more, this is a chutney recipe that uses no coconut!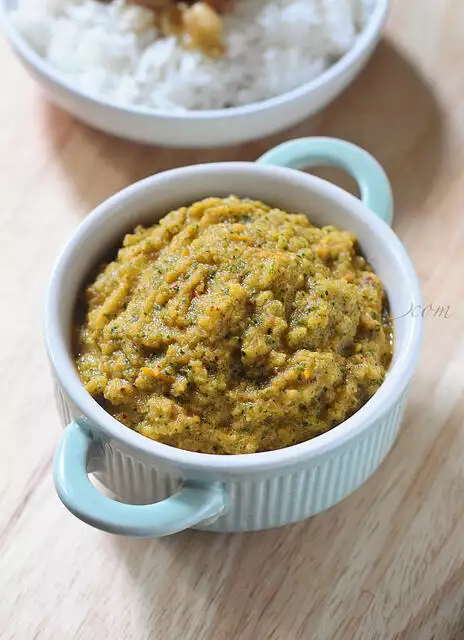 Pin
I like chow chow and make chow chow sambar or chow chow kootu very regularly since it's easily available in the vegetable markets here. But a chutney? Let's see how that goes.
Chow Chow Chutney (Thuvaiyal) Recipe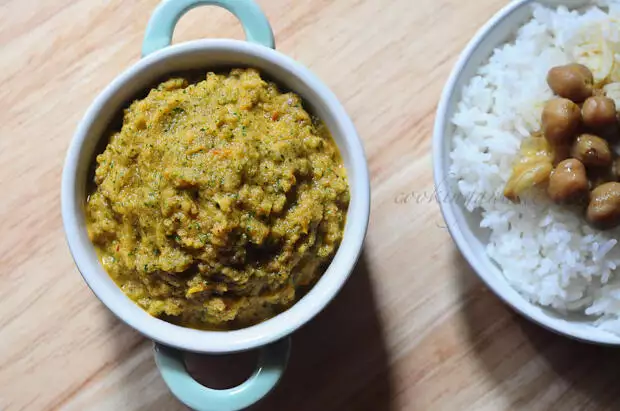 Preparation time: 10 minutes
Cooking time: 15 minutes
Makes ~2 cups chutney Serves 4-6
Adapted from: Dakshin by Chandra Padmanabhan
Ingredients:
1 medium-sized chow chow
1 tomato
1 tbsp of oil
1 green chilly
1 small bunch of coriander leaves (cilantro)
2 tbsp of toor dal
1 tbsp of skinned urad dal
2-3 dry red chillies
1/2 tsp of hing/asafoetida/perungaayam
Salt to taste
How to make Chow Chow Chutney:
1. Peel and grate the chow chow. Chope the tomatoes into small pieces and roughly chop up the coriander leaves.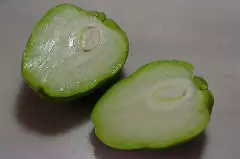 Pin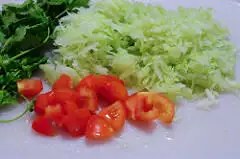 2. in 1/2 tbsp oil, fry both the dals along with the hing and dry red chillies.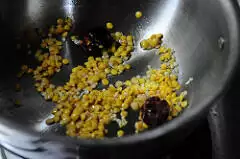 When the dals turn golden brown, remove from pan and set aside to cool.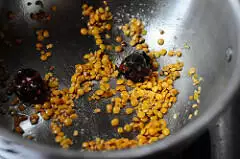 Grind the cooled dal mixture to a fine powder. MIne wasn't super fine, and that's just fine. Heh.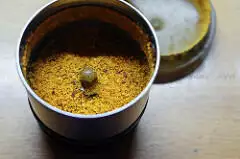 3. In the same pan, add 1/2 tbsp more oil and add the grated chow chow, chopped tomatoes, and the green chilly.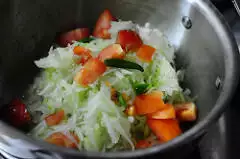 4. The chow chow will let out water and turn a duller colour. Cook until the water has evaporated and the tomatoes turn softy and mushy – around 5-6 minutes. Set aside to cool.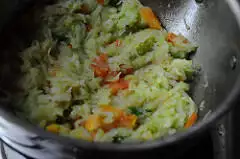 5. Once cooled, transfer the chow chow mixture to a blender, add the coriander leaves, and blend to a paste without adding any water.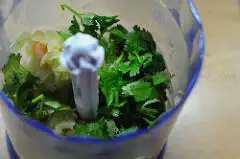 Add the dal mixture and some salt and blend again scraping down the side a couple of times. Don't add any water.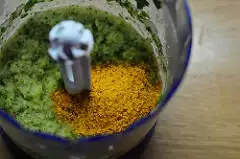 Done! Goes super well with plain white rice and ghee. I served it with rice and kadala kozhambu.