An easy chocolate chip banana bread that can be made in one bowl, a nice recipe to bake with your kids.
I have been getting a few messages recently on why banana bread is called a bread and not cake, which it more closely resembles. That's a great question and having lived in Australia briefly where banana bread is super popular, here's my guess – the banana bread is baked in loaf pans and sliced into squares which are normally toasted and served with salted butter. It's delicious when had this way with coffee. A cake is obviously sliced differently and often frosted which is the key difference I can see.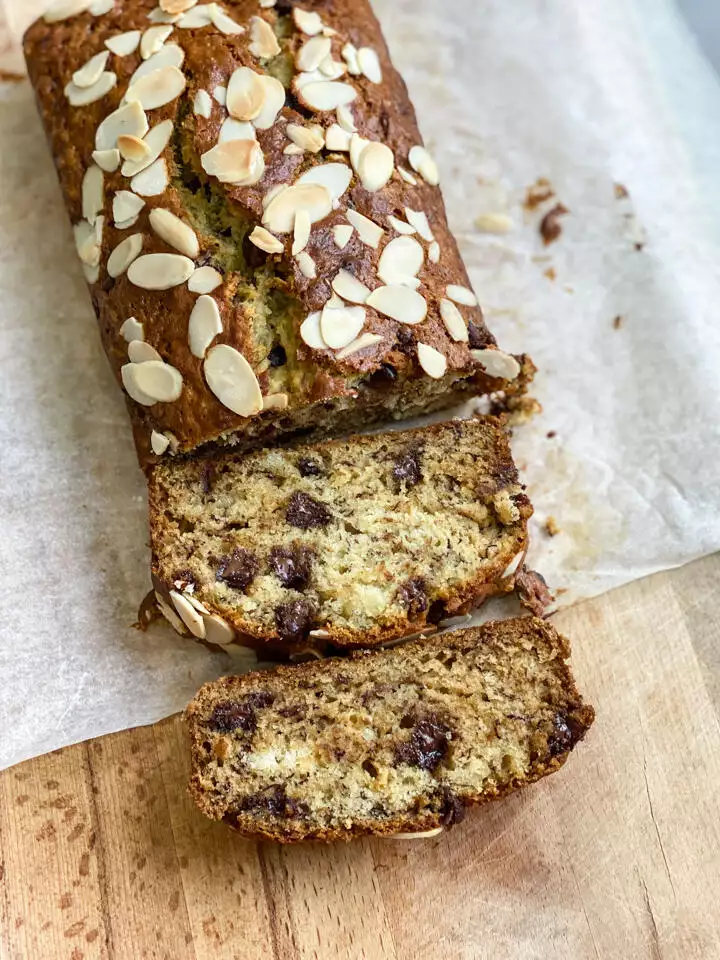 Anyway, this one bowl chocolate chip banana bread is my favourite for a number of reasons:
It requires only one bowl to mix everything in, if you don't count the bowl you would need to melt the butter in
The recipe works with slightly lesser amount of bananas in it which I have tried numerous times with good success
Any recipe that calls for melted butter is a win for me. It's so much easier than remembering to keep the butter out to soften to room temperature and way less messy
The recipe doesn't require any hand mixer or Kitchenaid and is so easy for even a child to make
Kids loving baking this with you because mashing the banana and then adding the chocolate chips, etc is so much fun!
Check out my best banana cake recipe if you want a slightly different take on the banana bread. It's truly delicious!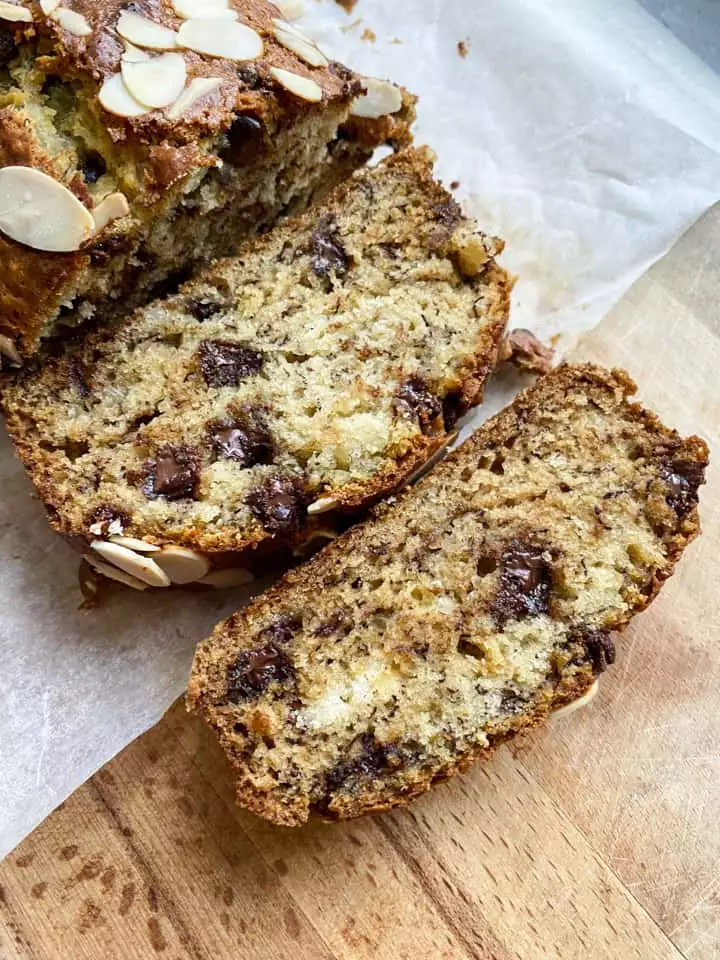 The original recipe is from Tasty and I have made a few minor changes over the many times I have attempted this. This chocolate chip banana bread is super versatile and I will leave notes below on the various substitutions and changes you can make.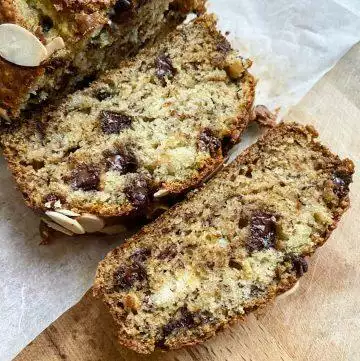 One Bowl Chocolate Chip Banana Bread
A simple one bowl chocolate chip banana bread recipe that's perfect to bake with your kids.
Ingredients
3

ripe bananas

1/3

cup

unsalted butter

melted

1/2

cup

sugar

1

egg

1

teaspoon

vanilla extract

1

teaspoon

baking soda

A pinch of salt

1

and a 1/2 cups flour

1/2

cup

chocolate chips

1/4

cup

almond flakes

optional
Instructions
Pre-heat oven to 350 F / 180 C

Grease a 9 x 5 loaf pan with some butter and set aside

In a bowl, add the bananas and mash with a fork until fairly smooth

Add in the melted butter and stir until well combined

Next, add the sugar, egg, vanilla, baking soda, and salt and stir to combine

Add the flour next and fold it in until the batter is smooth

Add in the chocolate chips and fold well to distribute them well through the batter

Pour the batter into the greased loaf pan

Top with almond flakes or additional chocolate chips

Bake for 50-55 minutes or until a skewer inserted into the banana bread comes out clean

Leave in the pan for 10 minutes then invert onto a cooling rack

Cool completely before slicing and serving
Notes
You can replace the flour with whole wheat flour (atta) without much compromise in taste or texture
It's best to beat the egg in a separate bowl and then add to the batter. This will make sure that the egg is not spoilt and if you add directly to the batter, you'll need to discard the entire batter if you got a bad egg
The chocolate chips can be regular sized or mini ones. I prefer the regular sized ones, they make the banana bread so chocolate-y
The egg can be replaced with 1 tablespoon flax seed powder + 3 tablespoon water. Personally, I don't like the texture this substitute gives in this recipe - a bit more fudgy and gooey rather than spongy. If you can, don't replace the egg and instead try this eggless banana bread with walnuts
The almond flakes are optional but I highly recommend them
I once had only two ripe bananas and so added 2 tablespoons milk and went ahead with the same measurements for all other ingredients. Came out with less banana flavour but a great tasting banana bread nevertheless
You can reduce the sugar and / or chocolate chips to suit your taste
Step by Step One Bowl Chocolate Chip Banana Bread
Pre-heat oven to 350F / 180C. Grease or line a 9 x 5 loaf pan and set aside
In a bowl, add the bananas and mash with a fork until fairly smooth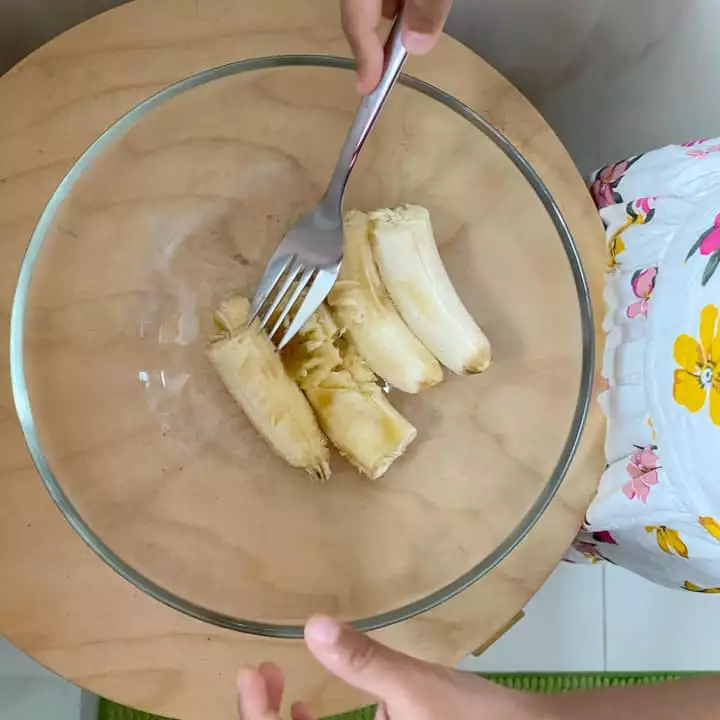 Add in the melted butter and stir until well combined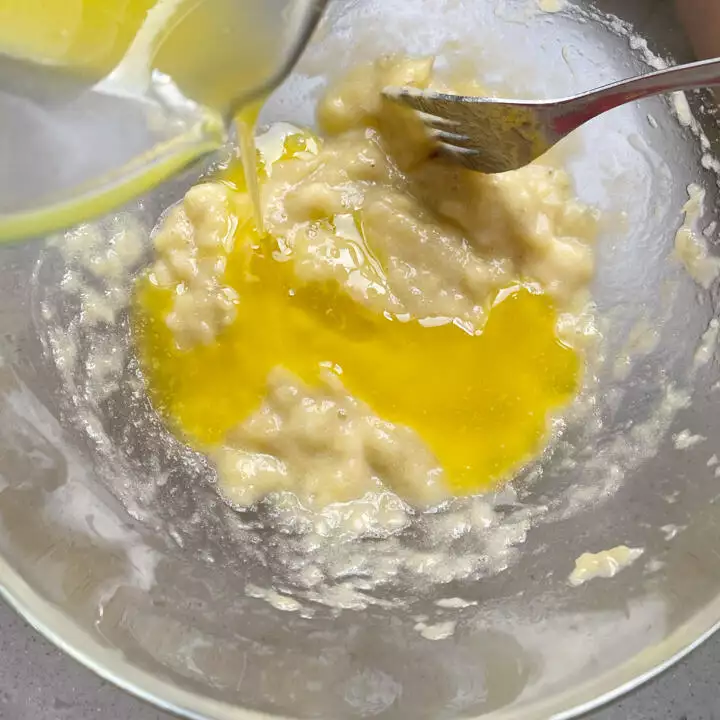 Next, add the sugar, egg, vanilla, baking soda, and salt and stir to combine. Add the flour next and fold it in until the batter is smooth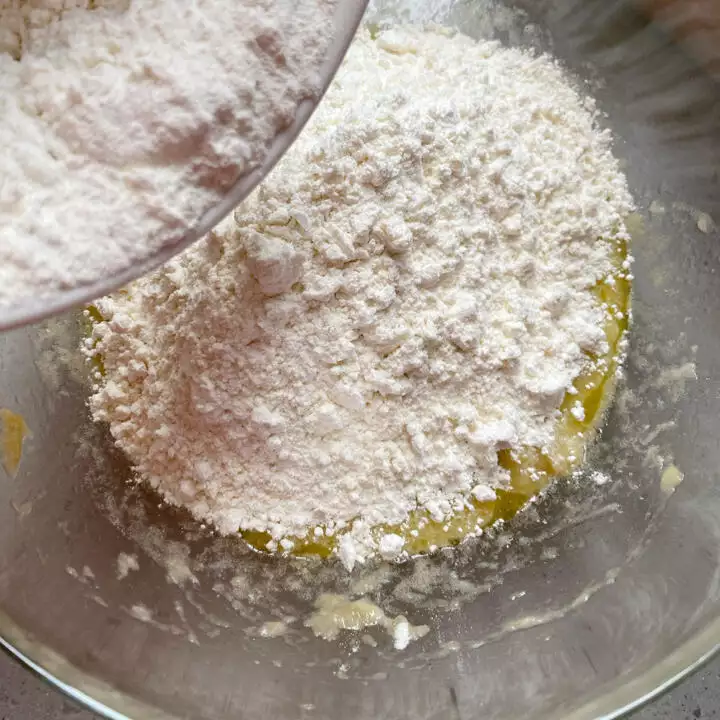 Add in the chocolate chips and fold well to distribute them well through the batter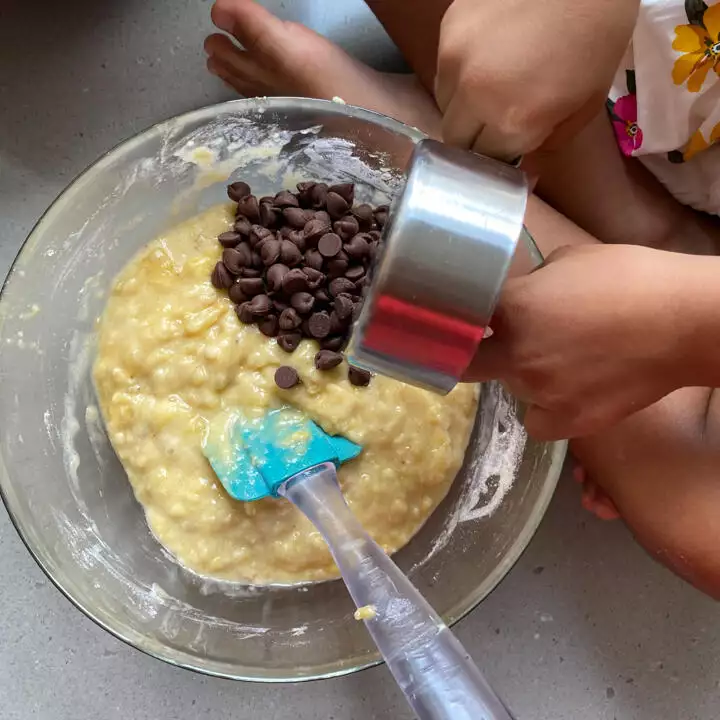 Pour the batter into the greased loaf pan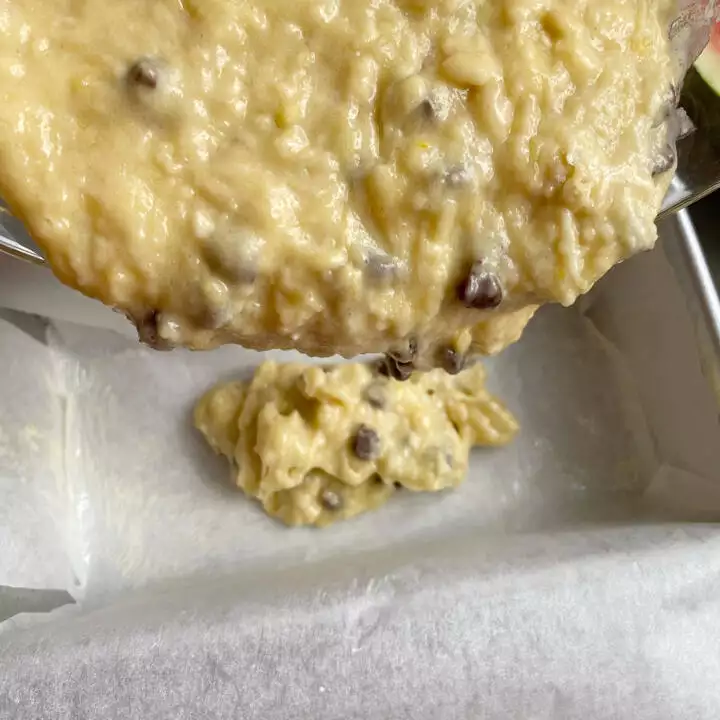 Top with almond flakes or additional chocolate chips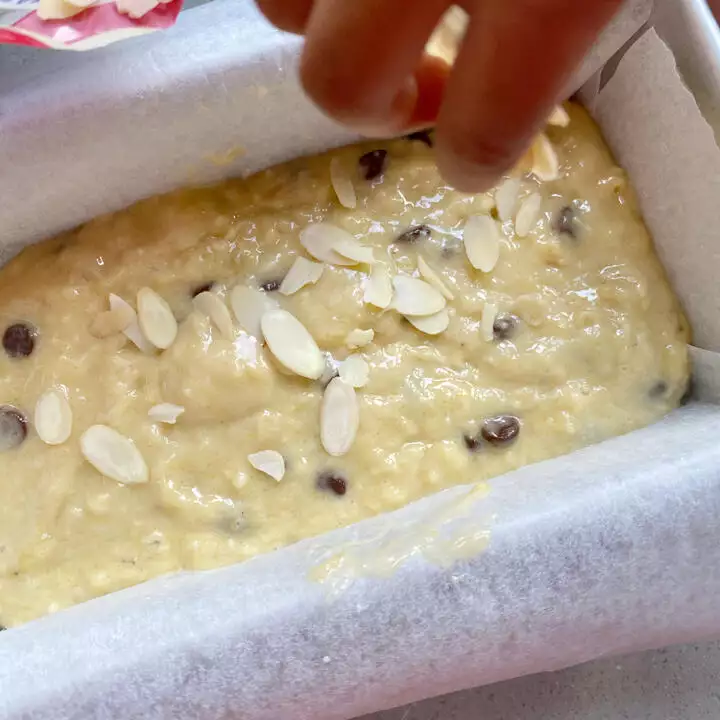 Bake for 50-55 minutes or until a skewer inserted into the banana bread comes out clean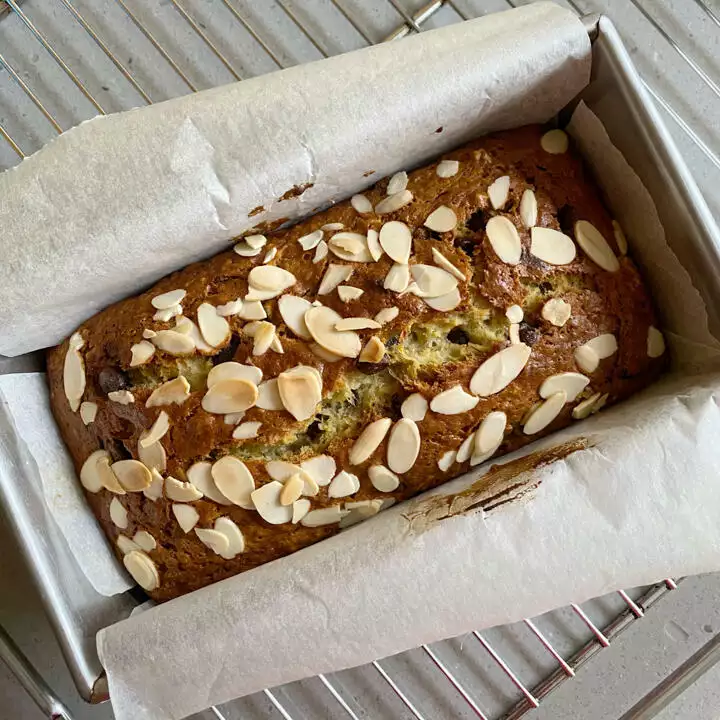 Leave in the pan for 10 minutes then invert onto a cooling rack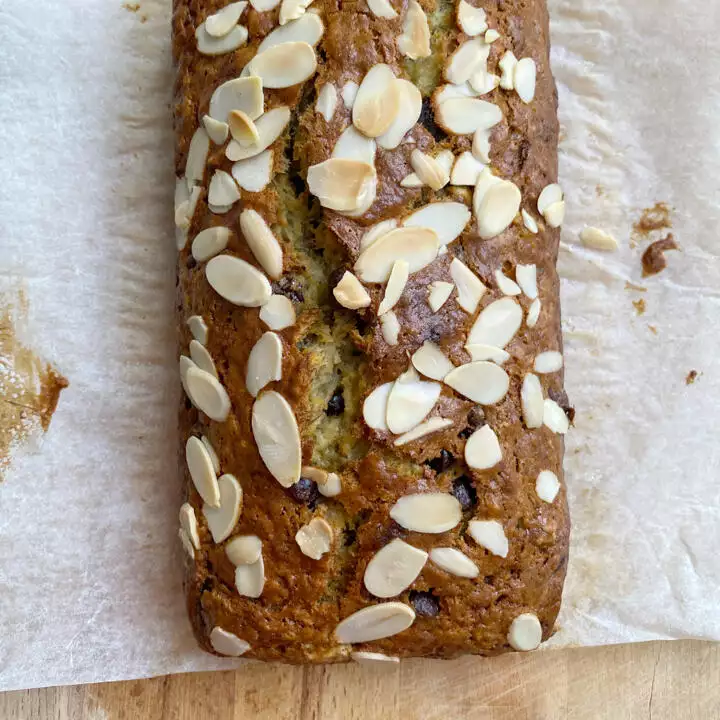 Cool the chocolate chip banana bread completely before slicing and serving