Cheese omelet recipe – I mean, is this even worth doing a full recipe post on? Why not, I ask! I am pretty certain there are as many ways to make cheese omelet as there are kitchens in the world so here's my little recipe I am throwing out there.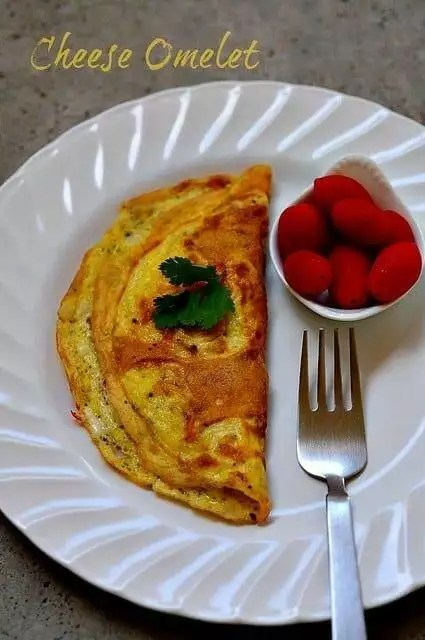 Cheese omelet makes a wonderful breakfast recipe for when you have guests or when you need to get out the door as quickly as possible in the mornings. For days I have no time or inspiration, this is my go to recipe.
Usually, the ingredients for a cheese omelet are lying around in your pantry anyway.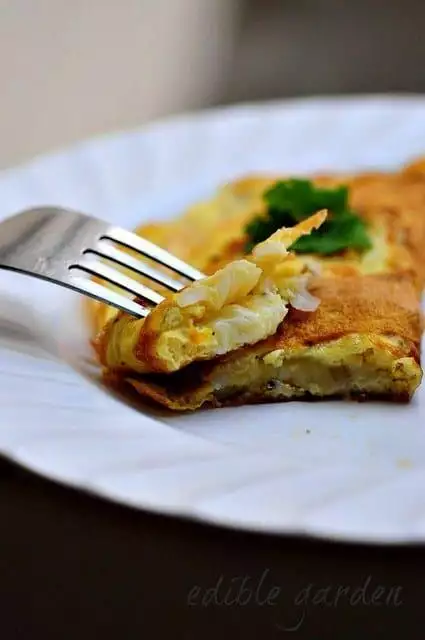 Here's another favourite egg recipes of ours – Egg curry in coconut milk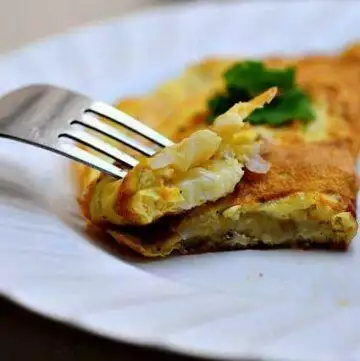 Cheese Omelet Recipe
A fluffy and cheesy omelet that's super quick to make and delicious
Ingredients
4

eggs

1/4

cup

of minced onions

1/8

tsp

of salt

adjust to taste

1/2

tsp

of black pepper powder

1/2

cup

of grated cheese – I use a mix of cheddar and mozzarella

1

tsp

oil
Instructions
Break the eggs into a bowl and whisk for a few seconds with a mini whisk or a fork to aerate them. Add the salt, pepper, and onions to the mixture and mix again.

Heat a small non-stick pan and add half the oil. Gently pour half the egg mixture to the pan. Make sure the heat is low.

Cover and cook for a minute. The sides of the omelet will start to curl up and the centre should be mostly cooked yet still a bit runny. Sprinkle half the cheese to one side of the omelet.

Gently fold in from the other side and let it sit for about 15 seconds. This will help the cheese melt. Melted cheese is always a good thing – always!

Serve hot with some sriracha sauce – that's our favourite combination – and some fruits on the side.
Notes
Why does my omelet break when I flip it?
This usually happens when you are spreading the egg mixture too thin. Either use a smaller cooking pan or add more of the mixture. Also, wait for the first side to cook properly before flipping.
Why is my omelet too brown or dark?
Always cook omelettes in low flame so that the eggs don't get overcooked. There are very few things more unpalatable than overcooked eggs, in my opinion.
What are some topping ideas for omelettes?
You can really get creative here. I have topped omelettes with vegetarian sausages, onions, tomatoes, mushroom, spinach, spring roll filling, boiled and grated potatoes, etc.
What type of cheese should I use for making cheese omelet?
I generally use a mix of cheddar and mozzarella, the same kind I use for my homemade pizza. You can use just cheddar, or experiment with a different kind of cheese too. No hard and fast rules here.
What type of oil should I use to make cheese omelet?
I normally use olive oil but my mom uses coconut oil and we love that too!