Chambakka pickle recipe: recipe for chambakka pickle or water rose apple pickle, a popular backyard fruit available in Kerala.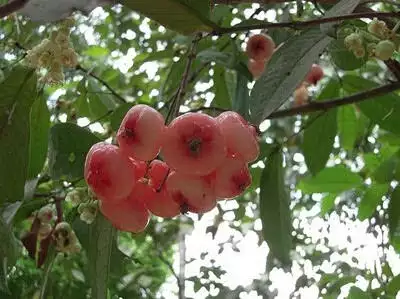 Pin
Chambakka (pic courtesy Sig)
This is my first pickle recipe on Edible Garden but the thing is, I didn't make this! The fact is, ever since I moved out of Kottayam for my first job and later, marriage, I have always been given jarfuls of pickles and podis. Neither TH nor I eat too much pickle and usually stick with having kozhambu with curd rice, rather than, say, mango pickle. Weird, but true.When Amma was here last month I told her this and said I need to get some of her pickle recipes. My favourite is the sweet mango pickle (which will be posted very soon) which she made for me when she was here.
On to the chambakka pickle recipe now. I did a search to see what chambakka is called in English. I used to call it rose apple after I checked with my Biology teacher when I was in school, but this was before the days of the Internet so I had to verify if she was right. Looks like the right term is water rose apple so she wasn't totally off!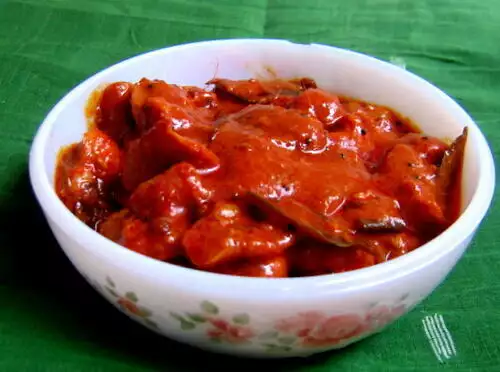 This recipe is special for a couple of reasons. It came from Amma (translated and emailed by my fave uncle, Radha Mama), which is reason enough, but she actually made it, put some in her 'pretty bowl', got my brother's dear friend Rajesh Anna to click pics and he then emailed it to me. There were about 8 pics, all in different angles, in true food blogger style!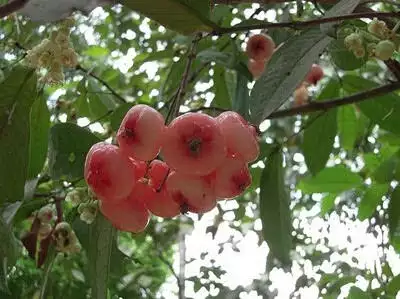 Chambakka Pickle Recipe
Chambakka pickle recipe or water rose apple pickle. A popular fruit available in Kerala that's sour and tangy, perfect to be pickled!
Ingredients
Chambakka

Water Rose Apple - 250gm

Chilly powder - 3 tbsp

Asafoetida / Hing / Perungaayam - 1/4 tsp

Fenugreek seeds / menthayam / uluva - 1/4 tsp

Turmeric powder - 1/4 tsp

Oil - 4 tbsp

Mustard seeds / kaduku - 1/4 tsp

A few curry leaves

Salt to taste
Instructions
Wash the rose apples thoroughly. Cut into halves, de-seed and set aside.

Heat oil in a pan and add mustard seeds. Once the seeds pop, add the fenugreek seeds and fry lightly until fragrant and the colour starts to change. (Make sure you don't over do this otherwise the pickle will turn too bitter. )

Add the rose apples next with some salt. Saute lightly until the colour starts to lighten and its cooked more than half way through (about 7-10 mins).

To this, add the chilly powder, hing, turmeric powder and the curry leaves and mix well, frying lightly for another 5 mins or so on low heat.

Store in a clean, dry jar and use after let all the flavours mingle for 2 days.
This pickle doesn't keep for too long so refrigerate and consume within 2 weeks.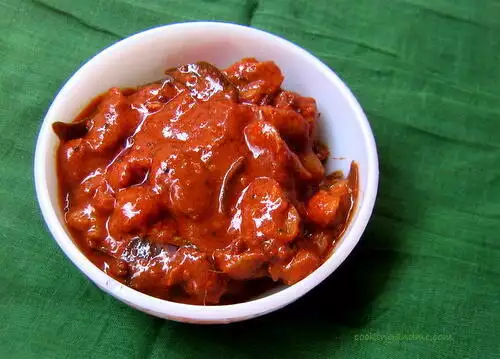 Huge thanks to Amma, Radha mama, and Rajesh anna for making this first pickle post on Edible Garden possible 🙂
For chambakka pickle recipe in Malayalam, Tamil, Telugu, Kannada, etc please use the Google translate button in the sidebar.