Learn how to make this eay Stir-Fried Jackfruit Seeds recipe or Chakkakuru Mezhukkupuratti. Recipe tested and learnt from my mom.
Jackfruit seeds or Chakkakuru is a childhood favourite for both me and my brother. Chakkakuru Aviyal is a family favourite, really, closely followed by this mezhukkupiratti. Looking back, I realise a lot of vegetables we ate growing up in Kerala were received or grown and not bought. Most homes would have a parambu or a backyard that had all sorts of things growing there, and most homes had atleast one jackfruit tree, mango tree, coconut tree (of course!), and random things like mangosteen, rose apple, custard apple, lots of banana trees etc. Since most people can't really consume all that their backyard produces, often organically, neighbours and friends become grateful recipients of these super fresh fruits and vegetables.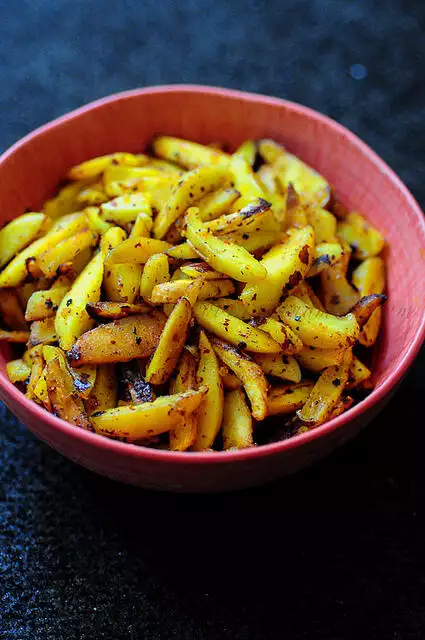 This whole cycle of sharing and giving and receiving was so interwoven that amma actually knows whose jackfruit tree produces the sweetest fruits and who has the orange-red seedless papaya that's actually a hybrid plant and whose backyard produces the best ethappazham that calls for making nothing but ethakka appam with it.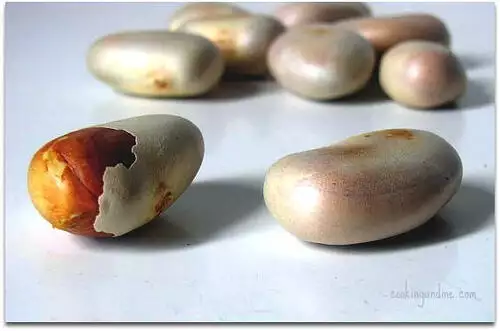 Chakkakuru – Jackfruit Seeds
TH loves jackfruit and every time we go back to Kottayam, amma would have sourced jackfruit from at least 3 homes, taste-tested them all, and kept aside the best and sweetest fruits for us – or, more for her son-in-law, actually. However, having always lived in cities, he had never tasted jackfruit seeds.
Jackfruit seeds take some time to prep before cooking (see notes below recipe) if you are not a patient cook, this dish is probably not for you. That said, I promise that the end result is well worth it.
Roasted Jackfruit Seeds – Chakkakuru Mezhukkupuratti
Preparation time: 30 minutes
Cooking time: 30 minutes
Serves 4-6
Recipe source: Amma
Ingredients:
4 cups of cleaned and prepped jackfruit seeds, sliced long
1/2 tsp of turmeric powder
1-2 tbsp of oil (preferably coconut oil)
4-5 crushed red chillies (or 1 tsp red chilli powder)
6 cloves of garlic, crushed
1/2 tsp of freshly cracked black pepper
1 tsp of salt (adjust to taste)
How to Make Chakkakuru Mezhukkupuratti:
1. Prep the jackfruit seeds for cooking (see notes below). Heat oil and add the sliced jackfruit seeds. Keeping fire on medium-low, stir-fry them until the seeds start to sweat a bit. Add the turmeric powder and salt.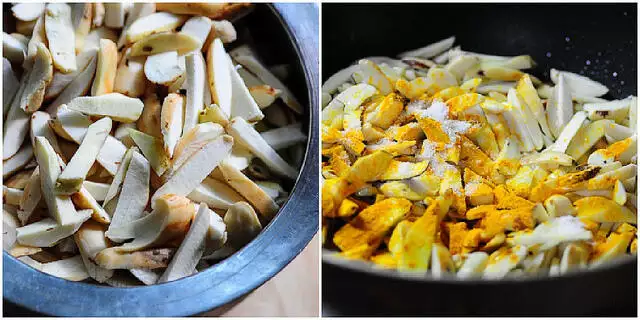 2. Keep stir-frying until the seeds turn soft yet hold their shape. This will take about 10-15 mins depending on the freshness of the seeds. It's hard to overcook the jackfruit seeds so don't worry. Once they are cooked, add the crushed garlic and red chillies. Please don't use garlic from a bottle, that really won't taste good in this recipe.
Continue to stir and roast until the oil does its magic and the seeds start to get nicely browned. This will take about 10-12 mins.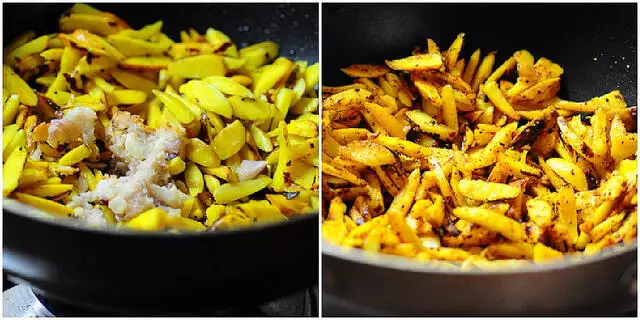 3. We like our chakkakuru kinda halfway done but you can continue to roast until it's golden brown or stop when it's partially browned like below. Switch off the flame and add the freshly cracked pepper on top. Mix well.
PS: That's my mom in the picture below. Pretty hands, no? 🙂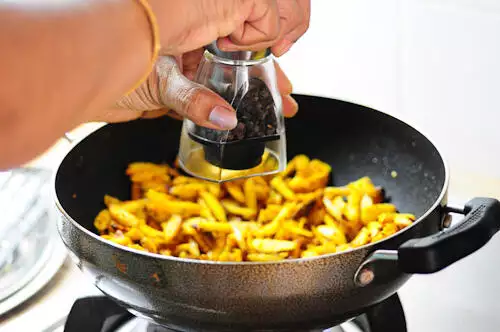 That's it! You are done making stir-fried jackfruit seeds the authentic Kerala way.
Notes:
– How to prep jackfruit seeds for roasting: Remove the outer white layer and soak the seeds in warm water for 30 mins. Scrape off the brown thinner skin using a paring knife. It's tough to get it off clean so a few bits here and there is ok. In fact, I have seen dishes where this brown skin is not removed so I guess it's optional. We always remove it though so I just can't bring myself to leave it on. Wash the peeled seeds and cut each into 4-5 pieces length-wise.
– Mustard seeds and curry leaves are usually not added to this mezhukkupuratti since it alters the flavour a lot.
– Use coconut oil for the best flavour and use fresh garlic and crush your red chillies (as opposed to using a store-bought powder).
Serve Chakkakuru Mezhukkupuratti with rice and any of the below Kuzhambu / Chaaru recipes:
– Kerala Parippu Curry
– Thakkali Kuzhambu
– Mullangi Sambar
– Moru Kachiyathu
– Poricha Kuzhambu
– Kara Kuzhambu
More Indian recipes with Chakkakuru or Jackfruit Seeds: