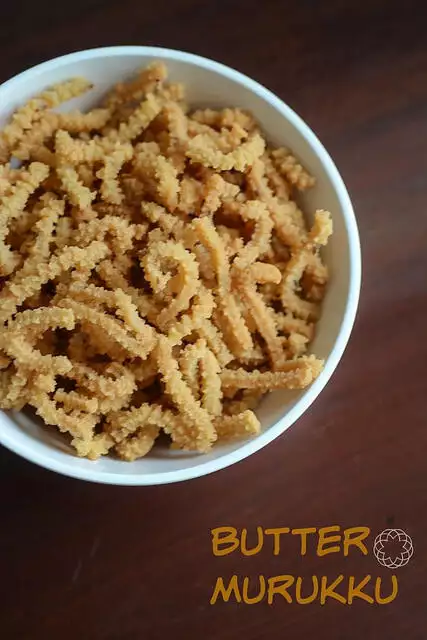 Butter murukku recipe: learn how to make butter murukku this Diwali season, easy and step by step recipe.
Butter murukku is the first murukku recipe I tried and it was a huge success! I was wary of making any traditional sweets or snacks for Diwali this year since, you know, I had never done it before but this butter murukku really made me very confident to try more snacks for Diwali, recipes of which will be coming soon.
If you are a beginner in making murukku or chakli at home, fear not. This is possibly the simplest recipe you can try which is sure to give your confidence a boost. Just make sure you read the recipe instructions fully, including the notes at the end.
More Diwali Snacks Awesomeness:
Kai Murukku
Thenkuzhal
South Indian mixture
Thattai
Ribbon Pakoda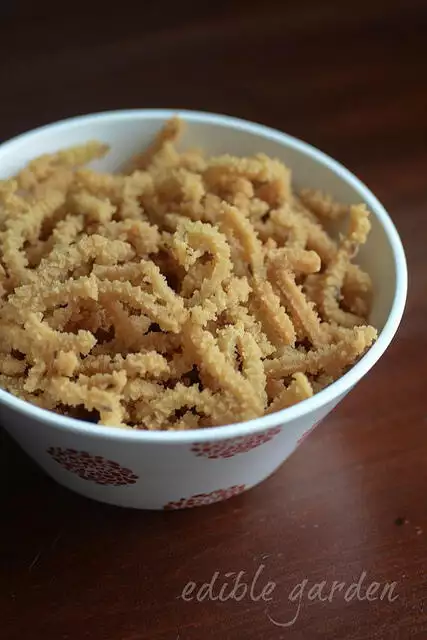 It's been about 2 years since Amma gave me my grandmom's press that we use to make idiyappam, ribbon pakoda, murukku, thenkuzhal, etc. Every time I see it, I tell myself I need to try something at home. Finally, this year, it happened. Mine is an old-fashioned murukku press that requires some effort to use so if you are getting a new one,I recommend the ones which you can swivel and turn to get the murukku out. I hear they require little to no effort and are easier to control and shape the murukku.
The measurements and proportions for my butter murukku recipe is from my MIL and it really turned out perfect. I recommend measuring the ingredients carefully to make sure the texture of the butter murukku is perfect and crunchy. I have also given notes and details on which rice flour is best to use for preparing murukku and other snacks.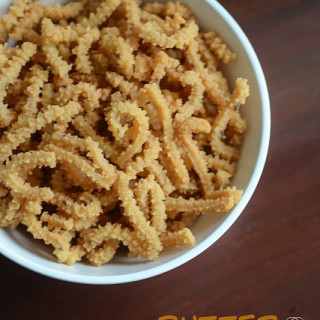 Butter Murukku Recipe
Butter murukku is an easy murukku recipe with butter in the dough which gives a crispy yet soft burukku. Perfect as an evening snack with tea or a special savoury snack for Diwali.
Ingredients
1

cup

of rice flour

2

tbsp

of roasted gram powder

pottukadalai powder

2

tbsp

of besan

kadalai mavu

1

tbsp

of butter

softened to room temperature

1

tsp

of cumin seeds

1/4

tsp

of asafoetida

hing, perungaayam

Salt to taste

Oil for deep frying
Instructions
Prepare the roasted gram powder first. I powdered about 1/4 cup very finely in a spice grinder and then measured out the required amount

Add the rice flour, besan, roasted gram powder, cumin seeds, hing, and salt to a wide bowl

Add butter to this mixture and use your fingertips to mix well. The resulting mixture should resemble bread crumbs but won't be too moist, which is fine

This is a good time to set a kadai or pan on heat and add enough oil to deep fry the murukku. As it heats up, you can prepare the dough for murukku

Add water a little at a time to the murukku mixture and make a dough that's moist and holds its shape when punched. Poke a finger into it and the dough should dent easily without cracking or breaking

Take your murukku press and add the right disc to it for butter murukku. The star-shaped ones are perfect, same disc we use for mullu murukku

Take a good amount of the dough and make a long log shape out of it

Insert into the murukku press and check that the oil is ready by adding a small amount of dough to the hot oil. If it sizzles up immediately, the oil is ready

Press the murukku directly into the hot oil. The dough should be relatively easy to press through and will break into smaller pieces automatically as you press over the oil

Keeping flame medium-high, gently turn the murukku pieces until so that they are uniformly cooked

The sizzle of the oil will subside and the murukku pieces will also shrink in size as the moisture leaves the dough

When golden brown, drain and remove into a plate or bowl lined with paper towels.
Step by Step Butter Murukku Recipe
Place the roasted gram in a spice grinder or mixer grinder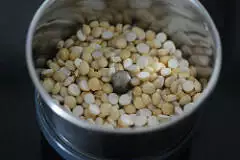 Grind to a fine powder and measure out the required amount (2 tablespoons).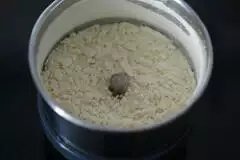 A note on the rice flour to be used. Idiyappam flour will work, or buy rice flour that specifically mentions "good for snacks, murukku, etc). Always buy your rice flour from an Indian store if you live outside India, the other Asian varieties may not work.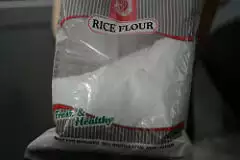 Place the rice flour in a wide bowl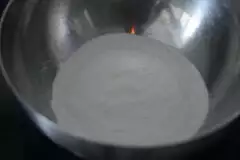 Add the besan, roasted gram powder, cumin seeds, hing, and salt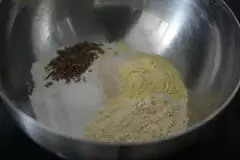 Use a whisk or fork to mix well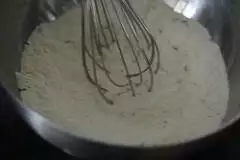 Add butter to this mixture and use your fingertips to mix well. The resulting mixture will resemble bread crumbs.
At this point, place a kadai or pan on heat and add oil for deep frying the murukku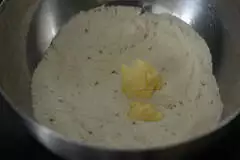 Add water to the dough mixture a little at a time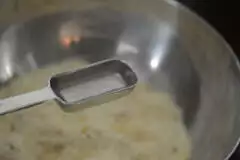 Keep mixing the dough and adding water as needed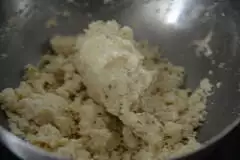 You should aim for a soft dough that doesn't show any cracks if you press down. A moist dough is important to make sure you can press the murukku properly and it fries up to the desired crispness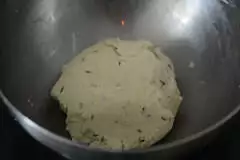 Place the right disc in your murukku press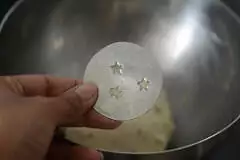 Add a small amount of dough into your press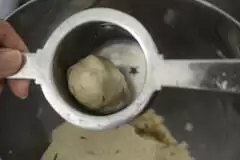 Once the oil is smoking hot, press directly into the oil. The dough should fall naturally into long pieces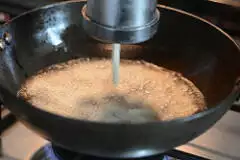 Maintain flame at medium-high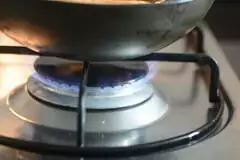 Fry until the murukku pieces turn golden brown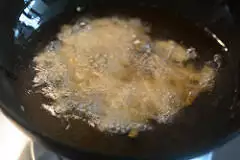 Drain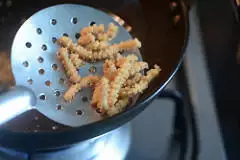 Set aside in a bowl as you proceed with the next batch. Make sure that your keep the dough moist by covering with a damp kitchen towel as you fry the batches of murukku.
If you feel the dough has turned dry, use wet hands to add some moisture and fill the murukku press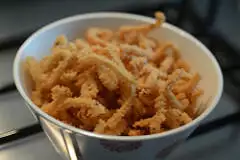 Notes:
– Make sure you use a careful hand when adding water to the mixture. If you add too much, adjust it is a bit tough since our murukku flour is prepared per specific proportion
– Check for salt in the flour mixture before you add water so you can adjust if needed. It's tough to adjust this at a later stage, as you can imagine
– Butter murukku should be made with butter in the flour (obviously!) but if you want a vegan murukku recipe, then just add hot oil when making the dough
– Cool completely and store murukku in airtight containers to retain freshness. It will taste good for up to two weeks
Have a wonderful Diwali! If you try to make Butter Murukku at home, please leave a comment to let me know.
For Butter Murukku recipe in Tamil, Telugu, Hindi, Marathi, Urdu, Kannada, etc, please use the Google translate button in the sidebar