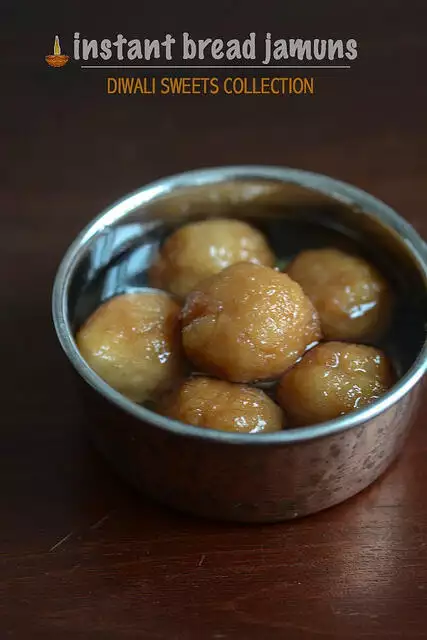 Gulab Jamun with bread: learn how to make instant gulab jamuns with bread slices. This easy, step by step recipe will walk you through the easiest method to make gulab jamun at home, although it may not be a traditional method. Read on!
Gulab jamuns. The quintessential dessert that's present at pretty much every party, wedding, festival, and Indian buffet is a rich Indian sweet that's made with reduced milk solids (mawa) made into balls, fried, and then dunked in rose-flavoured thick sugar syrup. Because of the very reason that it's so popular, there are also many different methods to prepare gulab jamuns, including blasphemous shortcuts like using bread to make the jamun balls before soaking them in sugar syrup.

My mom usually made instant jamuns with a mix of flour and milk powder but I haven't tried that yet. I have, however, tried the traditional way of making gulab jamuns with khoya and they turned out fabulous. These bread gulab jamuns were surprisingly similar to taste to the traditional kind and I wouldn't think most people would know the difference if they tried it without you telling them the jamuns were made with bread.
For those of you who prefer making sweets the traditional way, this recipe is not for you. Those who like some shortcuts or interesting new methods of preparing our popular recipes, jump on board!
Verdict: do gulab jamuns made with bread taste like, well, bread? Not really. The consistency is a bit more spongy and not grainy as the khoya jamuns but you can't really taste the bread, especially if you flavour the sugar syrup with rose water or cardamom powder. This definitely worth a shot and it's so easy, so why not?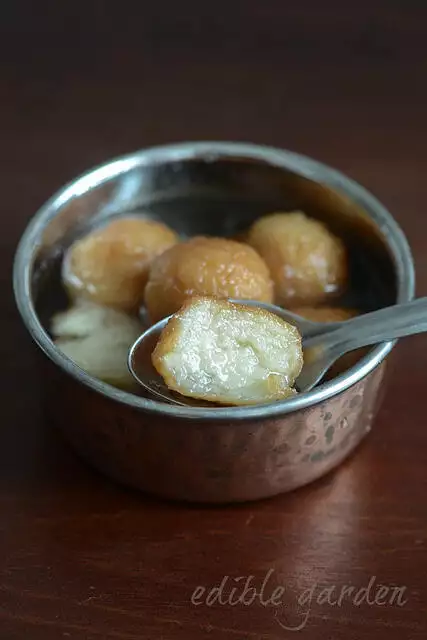 Here is a list of Diwali sweets recipes I have compiled for easy browsing.
My favourites:
Kaju Katli or Kaju Barfi
Bengali Rasgullas
Apple Kheer in 15 minutes
Double ka Meeta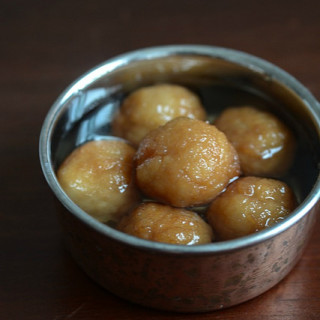 Bread Gulab Jamun Recipe
Gulab jamuns with bread, an instant variation to make this popular dessert with very simple ingredients from your pantry.
Ingredients
4

bread slices

2-3

tbsp

of milk

1/4

cup

of white sugar

1/4

cup

of water

A pinch of cardamom powder

optional

Oil for frying
Instructions
To make the sugar syrup:
Mix the water and sugar in a sauce pan

Bring to boil and simmer until you have a thick syrup . This shouldn't take more than 10 minutes. I usually don't check for the one string consistency, etc. Add the cardamom powder (if using) and mix well

Once the sugar syrup is ready, start on the jamuns
To make the jamuns:
Remove the crust from the bread slices

Chop up into small pieces and transfer to a bowl

Add 2 tablespoons of milk and use your fingertips to gently start mushing up the bread slices

Don't press or knead too hard, the bread will become hard on frying

Add more as needed by the spoonful and keep mixing until you get a dough that can be shaped. Be careful not to add too much milk, it can make the mixture very sticky and hard to shape

Once done, shape into small balls. You can grease your hands with ghee or oil when shaping if that helps

Set aside on a plate and make balls with the entire mixture

Heat oil until almost smoking and gently drop the bread balls into the hot oil

On medium heat, fry until golden brown. You can fry these until they are a very dark brown, I feel like I didn't fry long enough since the jamuns turned a lighter colour after soaking in the syrup

Make sure you keep the flame medium when frying, otherwise the inside won't get cooked properly

Once the bread balls are a dark golden brown, drain add to the warm sugar syrup

Proceed with the remaining jamuns until all are done

Let the jamuns soak in the sugar syrup for a few hours until softened

Serve warm or chilled
Step by Step Pictures to Make Bread Gulab Jamun
For the sugar syrup, mix together the water and sugar.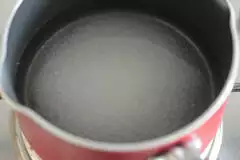 Bring to boil and then simmer until the mixture turns thick. No need to check for one string consistency. Add the cardamom powder (if using) and mix well. When ready, set aside and make the bread jamuns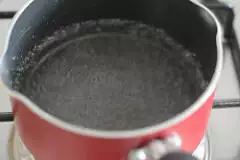 Remove the crust from the bread slices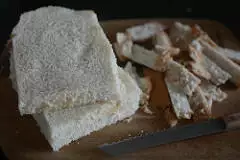 Roughly chop up the pieces and add to a bowl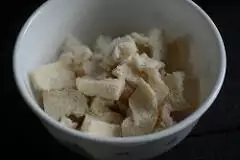 Add 1-2 tablespoon milk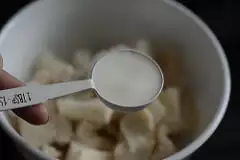 and mix with a spoon or your fingertips until you get a dough that you can shape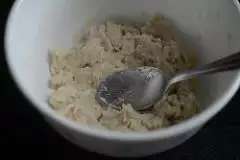 Make small balls with this dough and set aside on a plate. Remember, the jamuns will swell when soaked in the sugar syrup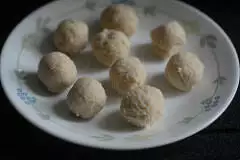 Heat oil until smoking and reduce flame to medium. Gently drop the bread balls in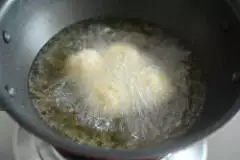 Turn evenly as they cook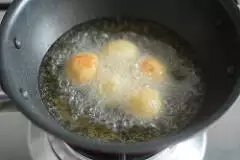 and drain once the bread balls are golden brown in colour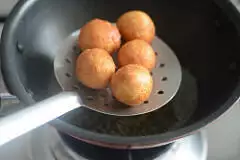 Drop these directly into the sugar syrup and fry the rest of the bread balls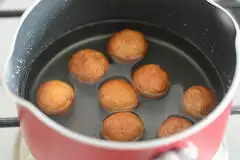 Let the jamuns soak for a few hours before serving. You can serve gulab jamuns warm with vanilla ice cream or chilled.
So make some bread gulab jamuns this Diwali and drop me a comment if you do!
For bread gulab jamun recipe in hindi, tamil, telugu, marathi, kannada, urdu, etc, please use the Google translate button in the sidebar